Voice of Rapture: The Soprano represents a new benchmark in solo vocal sampling for classical operatic voices. We recorded in a close, totally dry studio environment with exceptional microphones and preamps to capture every subtle nuance. We then carefully prepared and edited each sample and hand-programmed each element into an unrivaled performance interface that delivers both efficiency and control. We've also included our comprehensive FX Rack panel, with multi-effects, compression, EQ, amp/speaker simulation and convolution reverb, featuring dozens of our most popular custom recorded rooms, halls, cathedrals and otherworldly fx impulses easily available right through the interface. The Soprano brings together superior programming, performance, quality and living, breathing soul into an unprecedented solo vocal solution that you will not find matched anywhere else!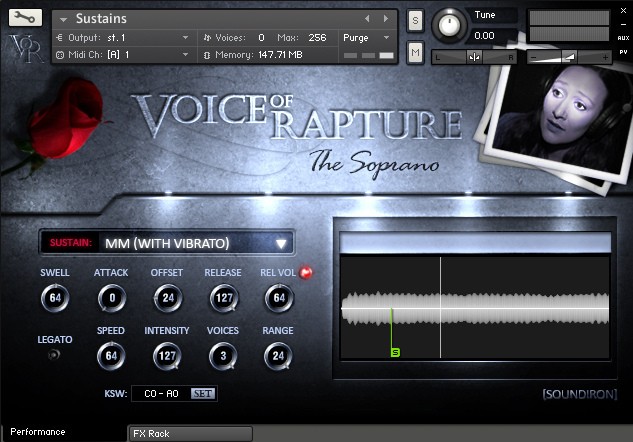 About The Soprano: Our virtuosic soprano soloist Nichole Dechaine received her Bachelor of Music degree from the University of Redlands and her Master of Music and Doctor of Musical Arts degrees in vocal performance from the University of California, Santa Barbara. She has performed a variety of leading roles in opera and musical theater productions, and regularly appears as soloist with numerous choirs, orchestras, and ensembles in the US and abroad. She enjoys working with many composers performing their works and recording for film. In addition to performing Dr. Dechaine teaches private voice and music courses at Westmont College and Santa Barbara City College and maintains an active private voice studio.
Solo Articulations
Ah (f, w/vibrato) and Oo (p, no vibrato) natural true legato vowels with infinite sustain
23 Staccatos
Ah, Eh, Mm, Oh and Oo vowel sustains non-vibrato (piano)
Ah, Eh, Mm and Oh vowel sustains w/vibrato (forte)
12 full range Latin Polysustain chants w/releases & tempo-synching/time-stretching
French, Latin and pure Vowel melodic phrases in the keys of A – G, with pitch transposition, instant pattern sequencing, legato blending, tempo-synching/time-stretching, shaping and more.
Whistling melodic phrases with pitch transposition, instant pattern sequencing, legato blending, tempo-synching/time-stretching, shaping and more.
Whispers, Breaths, Warm-ups and other vocal effects.
Tons of bonus vocal Ambiences, Atmospheres, Tuned Pads and other custom melodic instruments crafted directly from Nichole's voice.
Swell control allows real-time dynamic performance shaping.
Full Multi-FX rack panel with Chorus, Compression, Distortion, Amp and Cab simulation, EQ, Delay and Reverb
Our Reverb rack unit includes 25 unique creative FX convolutions and 45 excellent live rooms, studios, chambers, cathedrals, halls and other real-world environments, with flexible tone, size and mix controls.
Fully automatable, with customizable key switch and GUI controls.
Convenient real-time visual wave-form display in every preset.
Info
3,061 samples
3.46 GB Installed
81 nki Kontakt instrument presets (35 K4 / 46 K5)
24 bit / 48kHz stereo PCM wav format
Open format to allow user customization
Format(s): Kontakt 4 & 5 .nki and pcm .wav
Releasetime.de 02-2015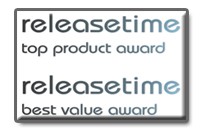 Fazit
Soundiron Voice of Rapture: The Soprano präsentiert eine außergewöhnliche, virtuose und vielseitige Sopranistin: Dr. Nichole Dechaine. Deren Präsentation gelingt in vorzüglicher Klangqualität, nah mikrofoniert, detailreich und intim.
Nichole Dechaines Stimme verfügt über mehr als zwei Oktaven Umfang, eine lebhafte Dynamik und eine erstaunliche Wandlungsfähigkeit. Auch gepfiffene Melodien, gesprochene und gehauchte Gedichte und Geflüstertes sind an Bord.
Die Library zielt in erster Linie auf Filmmusikkompositionen und artverwandte Genres, kann jedoch auch weit darüber hinaus eingesetzt werden.
Zahlreiche temposynchrone Phrasen laden zur Erstellung sowohl klassisch ambitionierter als auch extravaganter Songs ein, ein Step-Sequencer bietet hohes Experimentier-Potenzial.
Sehr natürlich klingen die True-Legato-Vokalgesänge, deren Dynamik man bei Bedarf zusätzlich durch eine Animation des Swell-Parameters beeinflussen kann.
Eine Besonderheit stellen die Polysustains dar, kurze Phrasen, bei denen man die Noten während des Playbacks beliebig ändern und kleine Melodien einspielen kann.
Der Beipack von Ambiences, die unter Verwendung der Originalaufnahmen erstellt wurden, stellt eine nicht zu unterschätzende Fundgrube kunstvoll gestalteter, teils minutenlanger Klangevolutionen dar – eigenständige Kompositionen oder ideale Backgrounds für die Filmmusik.
Obwohl The Soprano auch auf der Vollversion von Native Instruments Kontakt 4 läuft, ist Kontakt 5 wegen seines deutlich besseren Timestretch-Algorithmus anzuraten.
Zusammengefasst: In Umfang, Qualität, technischer Ausstattung und unter Berücksichtigung des sehr fairen Preises ist The Soprano derzeit konkurrenzlos unter den gesampelten Sopran-Solostimmen. Konsequenterweise verleihen wir unsere beiden Awards.

releasetime.de - best value award

releasetime.de - top product award

Please notice: This library can not be used with the free Kontakt Player! To use this "Open Kontakt" format, you need a full version of Kontakt, which is included in products such as Komplete or Komplete Ultimate.
The minimum required Kontakt version number for this product is stated in the product description or can be found on the developer's website.
System Requirements:
Mac:
macOS 10.14 or higher
64 bit
Intel Core i5 or Apple M1 (native)
RAM: 4GB (6GB recommended)
Windows:
Windows 10 or higher
64 bit
Intel Core i5 or similar CPU
RAM: 4GB (6GB recommended)
Supported Interfaces:
Mac (64-bit only): Stand-alone, VST, VST3, AU, AAX
Windows (64-bit): Stand-alone, VST, VST3, AAX
Legacy Versions:
If you require legacy installers of Kontakt Player please refer to this Knowledge Base Article.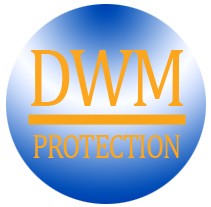 For your own protection this library is provided as individual personalized files including a
Digital Water Mark - DWM!