Must-have collection to add vocal magic to your project
EastWest is proudly presents Voices of Opera, a instrument featuring the sensational vocals of soprano Larisa Martinez (Andrea Bocelli) and tenor Carlton Moe (Phantom of the Opera). Voices of Opera is perfect for any composer looking to add a pristine operatic sound, and fits in perfectly with EastWest's recent slate of award-winning vocal products Hollywood Choirs, Voices Of The Empire, and Voices of Soul.
World-Renowned Singers
Larisa Martinez has established a strong and unique presence in the classical performance world. She's currently performing with opera titan Andrea Bocelli as his principal soprano on his world tour. She is a winner of the Metropolitan Opera National Council Audition PR district 2016, where she also received the Angel Ramos Foundation Award and Audience Prize. She earned raved reviews as Musetta in Loft Opera's critically acclaimed production of La Bohéme and for her other leading roles in Verdi's Rigoletto, Gounod's Roméo et Juliette, Rossini's Adina, Floyd's Susannah, and Donizetti's Don Pasquale and Lucia di Lammermoor.
Heralded by the New York Times as an "ardent tenor," Carlton Moe is currently performing as Ubaldo Piangi in Andrew Lloyd Webber's Phantom of the Opera, the longest running show on Broadway. His opera credits include Lakmé (Gerald), I Capuletti e I Montecchi (Tebaldo), The Mother of Us All (John Adams), Ernest Bloch's Macbeth (Malcolm), and Roméo et Juliette (Tybalt). He has also performed as a soloist in major works such as Verdi's Requiem, Beethoven's 9th Symphony, Mozart's Requiem, and Handel's Messiah.
"I have always loved opera", said co-producer Doug Rogers "at it's best, it can send shivers down your spine. And that's what happened when I saw Andrea Bocelli and Larisa Martinez performing together at the Hollywood Bowl. Larisa agreed to work with us on Voices of Opera. The recording sessions were sensational. She has the voice of an angel, her pitch is perfect, her range and vocal power unsurpassed. Then the opportunity arose to add tenor Carlton Moe (Phantom of the Opera) to the project. He just has this incredibly rich tone. It was truly a labor of love."
Pristine Recording Techniques
The same pristine recording techniques that make all of the EW products sound so rich and detailed went into the recording of Voices of Opera. Choose between multiple mic positions including Close, Rear, and Room. The close mic is a Telefunken 251 that gives you intense attention to detail. For the duet phrases, an additional Neuman U67 was used to fully capture the sound of both singers. The Rear includes a pair of vintage Coles 4038s that give off more warmth and space of the room. The Room mix includes a Decca tree made up of M50s and outriggers with a pair of AKG C12s, replicating the mic set-up of a classical stage.
These are all vintage tube microphones that you cannot get your hands on anymore. All recordings were made at EastWest Studios, our world famous recording studios known for producing more Grammy nominations than any other studio in the world.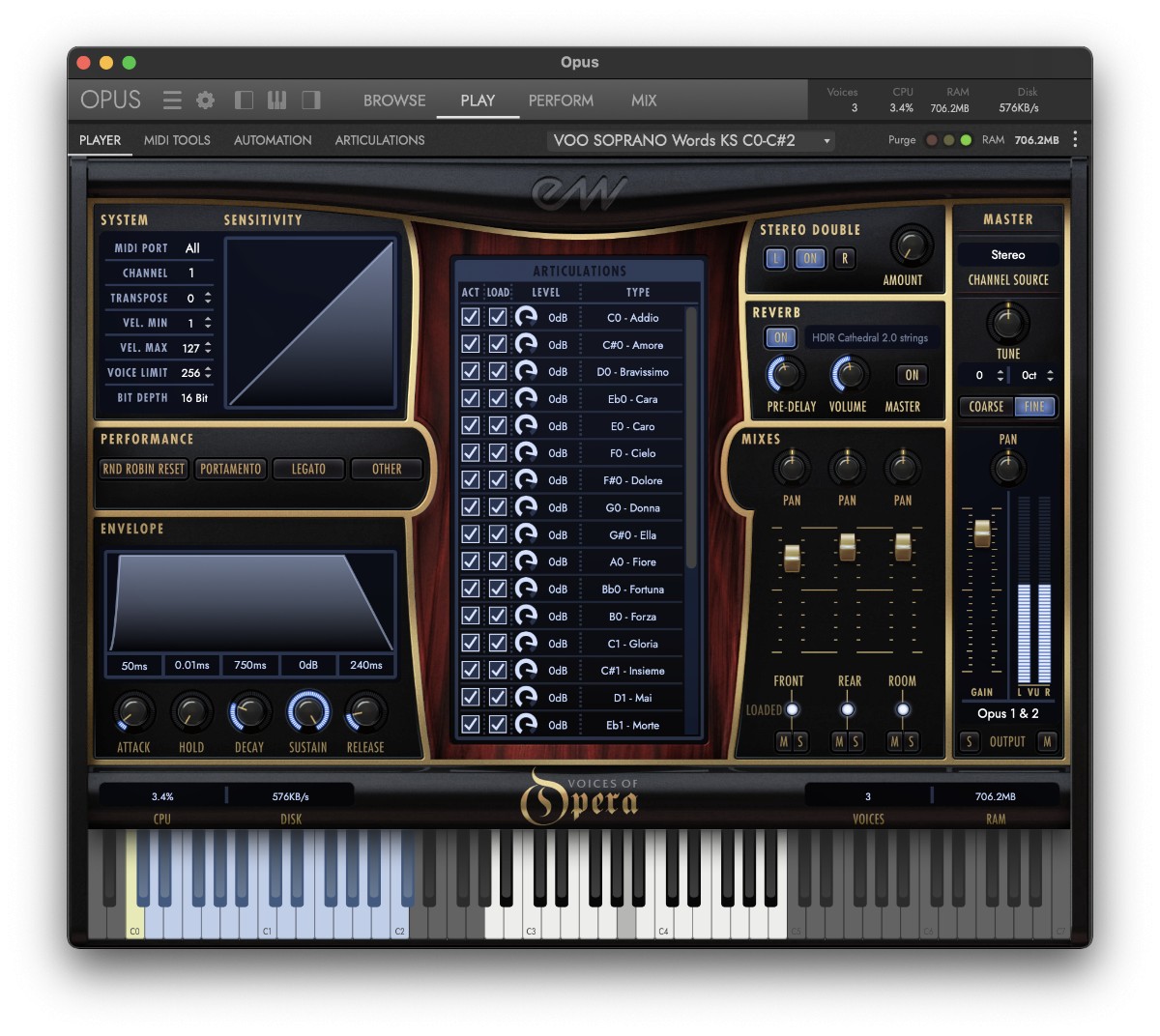 Features Overview
Voices of Opera is a 40 GB collection of 229 multi-sampled vocal instruments across various categories, including:
Sustain: 10 vocal instruments for both Soprano and Tenor consisting of single syllable vowels - Ah, Ee, Eh, Oh, Oo

Staccato: 32 vocal instruments with a variety of short, single syllables. For Soprano: Bra, Cher, Ci, Don, Fa, Goh, Joh, Ki, Kom, Lu, Na, Oo, Prey, Ra, Te, Toh, Voh. For Tenor: Bra, Cher, Ci, Don, Fa, Goh, Joh, Ki, Kon, Lu, Na, Oo, Prey, Te, Toh, Voh.

Legato: 4 vocal instruments that playback true legato intervals up to an octave in either direction when playing in a legato fashion (connected notes) and a sustain sample layer when playing in a non-legato fashion (separation between notes). For both Soprano and Tenor, there is Ah Legato and Oh Legato.

Combo: 8 vocal instruments that combine multiple articulations into a single instrument and use either the Mod Wheel or Round Robin programming techniques to determine how each play back. These include Sustain MOD, Legato MOD, and Staccato Combo RR.

Words: 42 vocal instruments with performances of specific Italian words mapped chromatically across the keyboard. For both Soprano and Tenor, these include: Addio, Amore, Bravissimo, Cara, Caro, Cielo, Dolore, Donna, Ella, Fiore, Fortuna, Forza, Gloria, Insieme, Mai, Morte, Nobilta, Potere, Sacro, Signore, Vincero.

Phrases: 36 full phrases and 84 sub-phrases from popular opera arias from the works of Verdi, Puccini, Mozart, Rossini, Bizet and more. There are 43 phrases and sub-phrases for Soprano, 40 phrases and sub-phrases for Tenor, and 37 Duet phrases and sub-phrases. Phrases were recorded in a few different transpositions, with each mapped to their respective root not positions that enable their use in a variety of key signatures. Sub-phrases, which are separate parts that make up a full phrase, can be switched using the Mod Wheel and are also mapped to their respective root note positions.

Keyswitch: 9 instruments that combine multiple articulations into a single instrument and uses keyswitches to activate the desired articulation.
Voices of Opera is a must-have collection to add some vocal magic to your next project.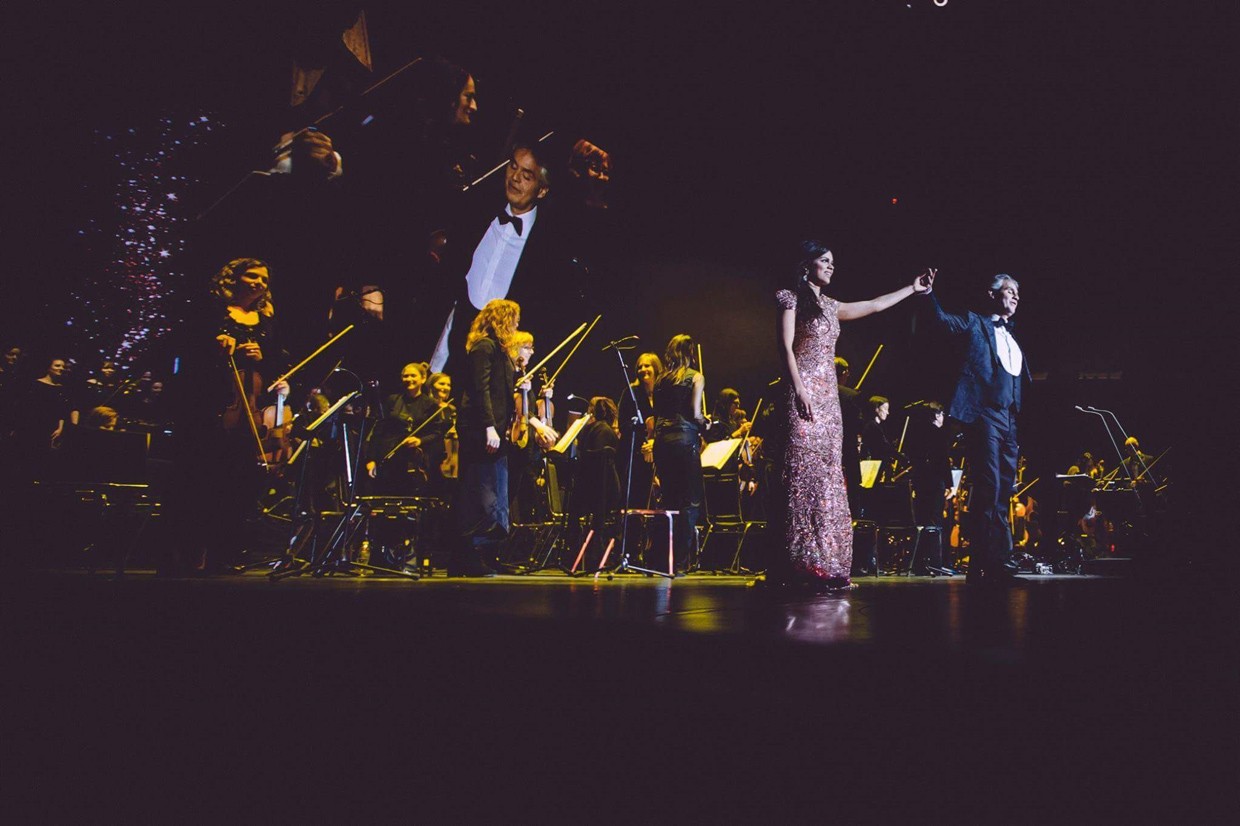 This library includes "Opus" as a Sample-Player.
Mac:
macOS 10.13 or higher
64 bit
Quad-Core CPU (Octa-Core recommended)
2,7 GHz or higher
RAM: 16GB (32GB or more recommended)
SSD hard drive (SATA or PCIe)
Windows:
Windows 10 or higher
64 bit
ASIO sound driver
Quad-Core CPU (Octa-Core recommended)
2,7 GHz or higher
RAM: 16GB (32GB or more recommended)
SSD hard drive (SATA or PCIe)



This product requires an activation!
You can either "soft" activate on your computer without addditional hardware or transfer the license to an iLok USB dongle which has to be purchased separately. The iLok dongle can be used to run the protected software on different computers. Your licenses can be easily manged using the iLok Licence Manager. To protect your investment against theft or loss we recommend the iLok Zero Downtime protection with TLC.
An internet connection on any computer and a free user-accout at www.ilok.com is required to authorize the product.
Please check with the software manufacturer which iLok version is required at least if you want to use a hardware iLok!