A Diverse Clarinet Ensemble in One Bundle
This versatile bundle encompasses a rich ensemble of meticulously sampled and modeled clarinets. The innovative Airflow Control lets you shape your performance with natural articulations, while our exclusive H.A.T. Technology ensures impeccable sound quality.
Tailor the instruments to your liking with a wide array of customization options. Whether you prefer a keyboard, breath controller, wind controller, or MPE, VWinds Clarinets provide comprehensive support for your preferred playing style. Creating beautiful ensemble arrangements is a breeze with VWinds Clarinets. The intelligent features keep your notes in harmony, allowing you to effortlessly compose a diverse and cohesive musical landscape.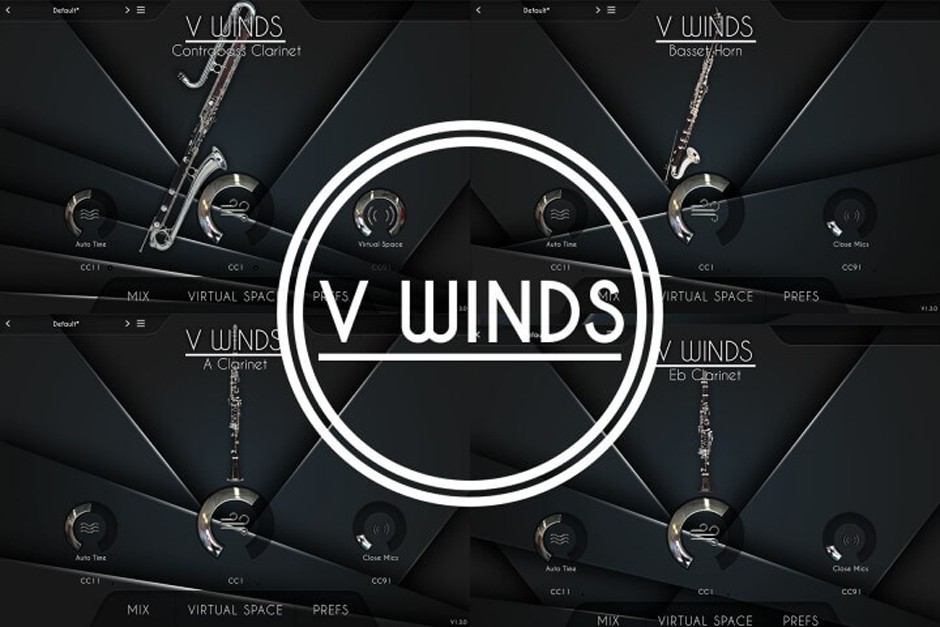 Overview
8 Instruments in One Bundle: B-flat, Bass, E-flat, A, Basset Horn, Contrabass Clarinets.
Impeccable Sound: Blend of recorded samples and modeling techniques for realism.
H.A.T. Technology: Hyper-accurate timbre reproduction and expressive performance.
Airflow Control: No key switches, just play with airflow for natural articulations.
Authentic Vibrato: Customizable vibrato control for a lifelike performance.
Seamless Legato Transitions: Variable legato transitions for a human touch.
Multi-Microphone Recording: 3 mic positions for sound versatility.
Virtual Space: Place instruments on a virtual stage for a realistic ensemble feel.
Advanced Editing: Customize settings for personalized results.
Formant Control, Microtuning, Volume Adjustment: Tailor the instrument to your needs.
Various Controller Support: Keyboard, breath controller, wind controller, and MPE.
Ensemble Features: Smart features for multiple instrument performance.
VWinds Clarinets offer a versatile selection of clarinets, including 2 B-flat clarinets, 2 Bass clarinets, 1 E-flat clarinet, 1 A clarinet, 1 Basset horn, and 1 Contrabass clarinet. Acoustic Samples meticulously sampled and modeled each instrument, ensuring the highest level of authenticity in sound. Whether you need the rich tones of a Bass clarinet or the bright notes of an E-flat clarinet, this bundle has you covered.

The latest version of UVI Workstation 3 is included in this virtual instrument!
More information about UVI Workstation and the latest version (free download) is available HERE
ULTIMATE COMPATIBILITY
Stand Alone application for Mac and PC
VST for Mac and PC (Cubase and other VST compatible sequencers)
AAX native (Pro Tools) on Mac and PC
Audio Units (Logic Pro and other AU compatible sequencers)
"Falcon" compatible
UVI Workstation 3 system requirements:
Mac:
macOS 10.8-10.15
64 bit
hard drive: 7200 RPM (SSD hard drive recommended)
RAM: 4GB (8GB or higher highly recommended)
Windows:
Windows 8 or higher
64 bit
hard drive: 7200 RPM (SSD hard drive recommended)
RAM: 4GB (8GB or higher highly recommended)
57.8 MB of disk space (Mac Installer: 233 MB ; Windows64 Installer: 266 MB)
Required Registration:
Acousticsamples products require you to register with the manufacturer at www.acousticsamples.net to activate your license. To use UVI Libraries you also need to register with www.uvi.net.
This product requires an activation!
You can either "soft" activate on your computer without addditional hardware or transfer the license to an iLok USB dongle which has to be purchased separately. The iLok dongle can be used to run the protected software on different computers. Your licenses can be easily manged using the iLok Licence Manager. To protect your investment against theft or loss we recommend the iLok Zero Downtime protection with TLC.
An internet connection on any computer and a free user-accout at www.ilok.com is required to authorize the product.
Please check with the software manufacturer which iLok version is required at least if you want to use a hardware iLok!