Weaponiser Basic - create extremely realistic gun sounds
Weaponiser is an all-in-one solution for weapon sound design; providing a powerful and efficient workflow, a comprehensive library of professionally recorded weapons, carefully designed presets with high-end, real-time synthesis and unparalleled sound quality - making it the ultimate 'go to' tool-kit for creating dynamic assets.
Weaponiser Basic includes:
124 Presets
1327 Weapon Samples
31 Whooshes Samples
33 Trailers Samples
85 Magic Samples
68 User Interface Samples
106 Footsteps Samples
Features Overview
Comprehensive library of professionally recorded real-world Shotguns, Rifles, Machine Guns, Assault rifles, Pistols and weapon Foley.

Huge range of designed presets for all weapons types, sci-Fi, bullet effects, drums and UI.

Design constituent elements and layers of shots with ease - Onset, Body, Thump and Tail.

Synthesize and process with FM or AM synthesis, choose from a selection of Carriers and Modulators, Pitch, Duration, Gain and edit Amplitude and Amount Envelopes.

Use MIDI to trigger your engines and velocity sensitivity to program or perform precise variations.

Built-in timeline, allowing for more precise micro-timings between engines.

Hit the Fire button to audition, activate Burst mode to create automatic weapons from single shot assets, adjust the Fire Rate for creating different loop speeds or press the Drunk button to randomize your timeline sequences, making each shot sound subtly different.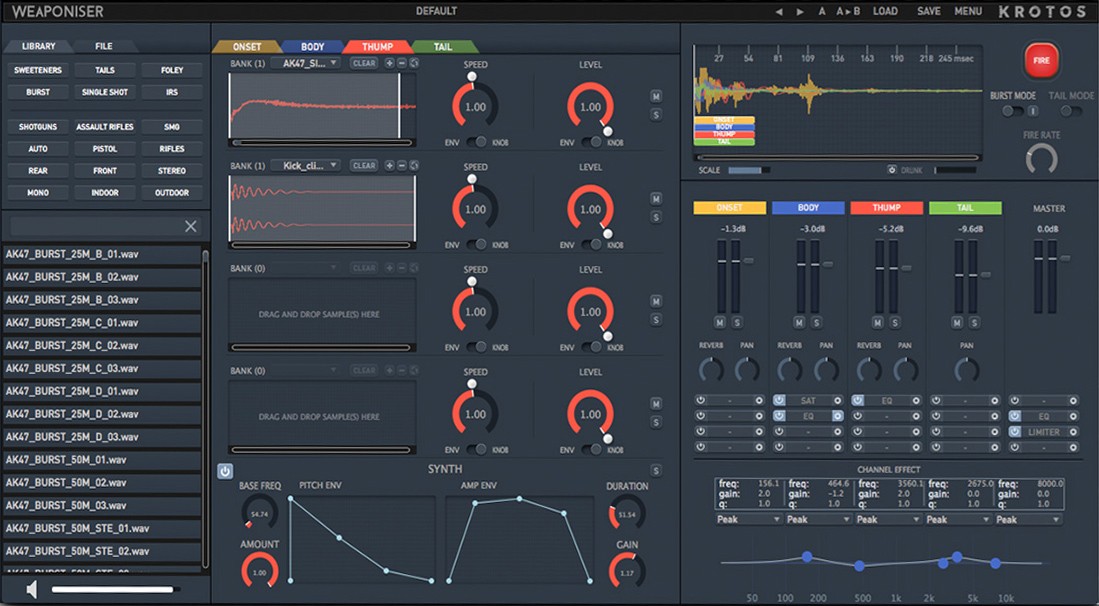 Mac:
macOS 10.13 or higher
64 bit
Intel dual-core processor
2.4 GHz
RAM: 4GB
Windows:
Windows 10 or higher
64 bit
intel dual-Core processor
2.4 GHz
RAM: 4GB
Required Registration:
Krotos products require you to register with the manufacturer at www.krotosaudio.com to activate your license.
This product requires an activation!
This Instrument requires an iLok Key! This USB protection device is not included in the box of this collection, it is a separate item you have to buy additionally. So you'll have to order at least one iLok Key with your first purchase. If you already own another iLok protection device you can use it for this instrument, too. Each iLok dongle can store up to 100 product licenses, the new iLok2 even up to 500 licenses. Licenses can be manged easily using the iLok Licence Manager and for protection against theft or loss we recommend you the Zero Downtime Protection with TLC.
Additionally an internet connection on any computer and a free user-account at www.ilok.com is required to authorize the product.