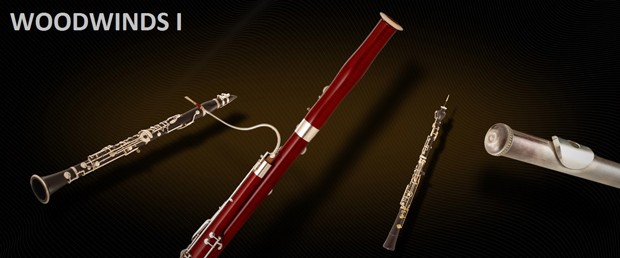 The Definitive Woodwinds Collection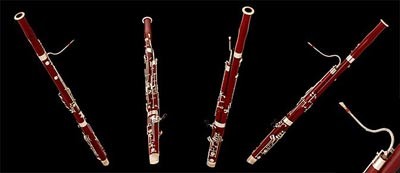 The Woodwinds I Collection contains the four main wind instruments, flute, oboe, clarinet, and bassoon – each recorded as a solo instrument and in three-player ensembles. First-rate musicians of leading European orchestras provide the sound and character as soloists and ensemble leaders. Gisela Mashayekhi-Beer was the solo flutist of the Zurich Opera orchestra and taught at the Bruckner University Linz and at the Vienna Music University. Markus Deuter was (and is) first oboist of numerous German orchestras; he came to Vienna especially for the recordings of the French oboe. The clarinetist Daniel Hörth can look back at an international concert career with the Vienna Philharmonic, the Vienna Symphonic Orchestra, and more. Finally, Martin Machovits, among other assignments, is solo bassoon player at the Vienna Radio Symphony Orchestra.
The solo instruments as well as the ensembles offer fast and slow Interval Performances in legato and marcato styles as well as Performance Trills. Utmost attention was given especially to the sensitive slow legato repetitions of the solo flute and the lyrical and expressive vibrato of the French oboe, most effectively used in the Legato Performances. The flute and clarinet arpeggios (major, minor, and diminished broken chords in legato and staccato styles) are an outstanding specialty, as are the solo flute's mordents and the French oboe's flutter tonguing.
Woodwinds I - Instruments: Flute 1, French oboe, Clarinet, Bassoon, Flute ensemble (3 players), Oboe ensemble (3 players), Clarinet ensemble (3 Players) & Bassoon ensemble (3 players)
ARTICULATIONS
Performances:
Interval Performances: legato, marcato; fast & slow
Repetition Performances: legato, portato, staccato; crescendo & diminuendo
Flute 1, clarinet – Performance Repetition upbeats
Performance Trills
Solo instruments – Grace Note Performances: major 2nd to octave, up & down
Solo instruments – runs: major, minor, chromatic, whole tone; up & down
Flute 1, clarinet – arpeggios: major, minor, diminshed triads; legato & staccato; medium & fast
Flute 1 – mordents: legato & staccato, 12 variations
Clarinet – glissandos
Single notes:
Short notes: staccato, short portato, long portato
Long notes: sustains with various attacks and vibratos
Dynamics: crescendo & diminuendo in various note lengths; fp, sfz, sffz, pfp
Trills: half tone, whole tone; crescendo & diminuendo
Solo instruments – flutter tonguing
Ensembles – sustained three-note clusters
Library Content
Standard Library: Samples 26.624 | Download Files Size 22,2 GB | Installed File Size | 41,6 GB

Full Library: Samples 101.964 | Download Files Size 22,2 GB | Installed File Size | 41,6 GB


SOS, 5 Stars


Alexandre Desplat
Harry Potter and the Deathly Hallows Part I & II, The Curious Case of Benjamin Button, Coco avant Chanel, The Queen, The King's Speech, Carnage, Renoir
"Since I'm working in Hollywood it requires a vast library and that's why VSL is really useful."


David Foster
16-time Grammy Award winner, composer and producer of Chicago, Earth, Wind & Fire, Al Jarreau, Chaka Khan, Michael Jackson, Barbra Streisand, Natalie Cole, Whitney Houston, Céline Dion, Seal, Michael Bolton, Peter Cetera
"To have the magic of a full orchestra in breathtaking 3D sound at your fingertips is the best luxury someone like myself could hope for. Thank you VSL for an amazing product."


Danny Elfman
Men in Black, Good Will Hunting, Planet of the Apes, Spiderman, Batman Returns, Corpse Bride, Alice in Wonderland, Mars Attacks!,The Simpsons, Desparate Housewives, Oingo Boingo)
"Vienna Symphonic Library has been the center of my orchestral sample library for several years now. I go to their library first every time I create an orchestral template when I´m beginning each film I score. And my demos sound great. I recommend this library to anybody getting into film scoring."


Jochem van der Saag
Michael Bublé, Andrea Bocelli, Jackie Evancho, Josh Groban, Seal
"Vienna Symphonic Library is way ahead of the curve in terms of their sounds and their software; the combination of both musical expression and technical excellence is truly superb and unrivaled"
*Upgrades and User Discounts: You already own VSL Products?
After the login you can check in the shopping cart if you are entitled for a VSL User-Discount and apply it. This works for Upgrades, Crossgrades, EDU products and also when you complete Bundles. Simply add the desired products to your shopping cart and then check for the VSL User-Discount.
Please note that all discounted user-specific orders must be processed manually by our sales team and therefore may take up to one business day to be completed.
Your purchase of any VSL library entitles you to download the free Vienna Instruments Pro player software that includes the Vienna Ensemble mixing host.
Mac:
macOS 10.13 or higher
64 bit
Intel Core i5 (Intel Core i7/i9/Xeon/M1/M2 recommended)
RAM: min. 8 GB (16GB recommended)
Windows:
Windows 10/11 or higher
64 bit
Intel Core i5 / AMD Athlon Pro (Intel Core i7/i9/Xeon recommended)
RAM: min. 8 GB (16GB recommended)
Free hard drive space according to the library size.
Required Registration:
Vienna Symphonic Library products require you to register with the manufacturer at www.vsl.co.at and with www.ilok.com to activate your license.
This product requires an activation!

You can either "soft" activate the software on your computer without addditional hardware or transfer the license to an iLok USB dongle which has to be purchased separately. The iLok dongle can be used to run the protected software on different computers. Your licenses can be easily manged using the iLok Licence Manager. To protect your investment against theft or loss we recommend the iLok Zero Downtime protection with TLC.
An internet connection on any computer and a free user-accout at www.ilok.com is required to authorize the product. In order to download and install your software products and sample libraries authorized via iLok, please use the Vienna Assistant.
Please check with the software manufacturer which iLok version is required at least if you want to use a hardware iLok!