Deep and expressive Male Choir Library
Inspired by the famous Lord of the Rings Moria men choir sound - Wotan is the evolution of Strezov Sampling's famous choir sampling philosophy, which combines never before sampled vocal timbres (basso profundos) with next-gen scripting.
After spending three years exploring various methods to sample choirs Strezov Sampling finally brings to you the next generation of virtual choirs. Focusing on one of the most iconic choir timbres of the last decades in the history of film soundtracks - The Khazad-dûm male choir - Wotan is the ultimate box of tools to evoke the sound of a long forgotten kingdom.
Comprised of ten tenors and ten basses (including basso profundos), all part of many choir recording sessions for artists like Two Steps from Hell, and recorded in the Sofia Session Studio Wotan is the perfect addition to the critically acclaimed StormChoir range adding a whole new layer of dimension and detail.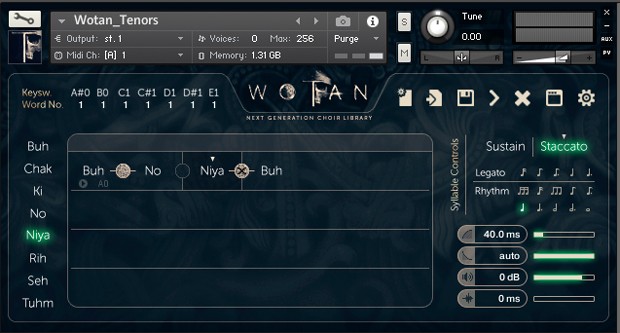 Syllabuilder Engine 3.5
When it comes to virtual choirs there are basically two approaches: Phrasebulding (StormChoir series) and Wordbuilding (Rhodope series). Wotan combines the simplicity and sample recording of phrasebuilding with the advanced editing functions of wordbuilding. This allows you to have amazing sounding results within seconds, but also to build and create new sample content with only few mouse-clicks. Create complete choral patterns inside the GUI or connect different syllables and morph them to add motion to your choir arrangements. Save and Load complete lyric presets to quickly get yourself into the actual composition or enhance your setup with predefined quick words.
All samples have their natural attacks included. However if you want to tighten them up the Syllabuilder Engine allows you to set custom attack, release, volume and offset values for each field independently. Something completely new and greatly missed in all phrasebuilding choir libraries.
Revolutionary Agile Legato
Although there are many reasons WOTAN justifies to be called a next-gen library the biggest of them all is the brandnew Agile Legato. Uncountable hours of work went into creating this brandnew technique of combining true legato sampling with our Syllabuilding approach. Agile Legato not only allows the user to play legato with every syllable availabe in the library, but also features intelligent voice leading enabling polyphonic writing within just one patch. In other words: Hold down a chord in the left, play a melody with your right hand and have it all connected with legato transitions. This powerful feature is controllable by the most common of all midi cc controllers, the sustain pedal.
In addition to the Agile Legato WOTAN also features polyphonic true legato patches (Ah, Mm and Oh) for both tenors and basses, which gives you tons of flexibility when it comes to writing legato lines.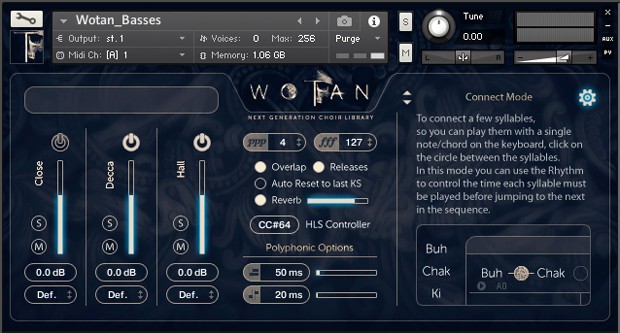 The Library features:
10 GB compressed and optimized sample content
Instant Lord of the Rings sound!
Separate recordings of ten tenors and ten basses
The lowest basses ever sampled (Kontra G)
8 Polyphonic True Legato Patches (Ah, Oh, Mhm and MhmOhAh) for Tenors and Basses
8 powerful syllables recorded within 3 dynamic layers
Sustain (1xRR) and Staccato (2xRR) samples
3 mic positions - Close, Decca, Hall + custom convolution reverb
Whispers and Shouts with multiple RRs recorded for all syllables
Bonus sample content - 3 types of clusters recorded for tenors and basses within 3 dynamic layers!
The powerful Syllabuilder engine with CONNECT and MORPH modes that allow you to create your own sample content within Kontakt
Ability to Load and Save your lyrics, built-in preset manager
Integrated Help
Combined and premixed men patch
Lite patches for composers who don't need all features of the library
Powerful performance patch based on the engine of the one in Storm Choir Ultimate
Advanced options for legato patches (niente, sustain pedal notes, remapping of controls)
Full NKS and Kontakt Player Support
Samples Spotlight 01/2016

"Strezov Sampling's newest library, Wotan, is truly a next generation choir library. It features a new approach to building syllables that not only works for a good choral sound, but also gives you complete control over the individual samples. Wotan's 20 piece Male choir sounds massive and powerful on the loud end and delicate and strong on the softer side. Wotan offers a new sound that isn't available on the market and will be one tool I know I can get consistent results with." Chris Harris The Samples Spotlight
Designingmusicnow.com 04/2016

"Once again, Strezov Sampling has exceeded expectations with this impressive new library! Wotan is fantastic; working both by itself and in conjunction with other choir libraries. The sound quality, realism, controls, and ease-of-use have made it a permanent addition to my template. From epic to evil to haunting to solemn, it is sure to find a spot in your tracks as well." - Lawson Madlener from designingmusicnow.com
Recording.de, 02/2016

Fazit
Während es viele Orchester-Libraries gibt, sieht es bei Chören schon etwas schmaler aus. Allerdings bietet keine Library diesen Funktions-Umfang. Es ist wirklich erstaunlich, wie viel man mit den acht Silben erreichen kann. Dazu kommt noch ein Klang, der mich Out-of-the-box einfach umhaut und komplett überzeugt. Strezov Sampling arbeitet schon fleißig an der Frauen-Version von Wotan.
Film and Game Composer, 01/2016

Film & Game Composer


RedaktionsTipp, recording.de

---

Jesper Kyd
Assasins Creed Series, Hitman Series, Borderlands 2
" I love Wotan Male Choir! It's an aggressive instrument that really captures the sound of an epic male choir. Wotan also comes with a useful phrase builder and I'm especially impressed with the choir shouts and whispering recordings, which can also be controlled by the phrase builder! Amazing Stuff!"

Tom Salta
Halo: Spartan Strike, Tom Clancy's Ghost Recon Future Soldier, Lineage 2
"A fantastic and convincing sounding choir library with a sleek and accessible interface. I love the new phrase builder. It's unbelievably powerful, yet incredibly easy to work with, allowing me to quickly create simple or complex phrases, edit them and save/recall them for later use."

This product requires the free Native Instruments Kontakt Player, the latest version can be downloaded through Native Access, Native Instrument's download manager!
The minimum required Kontakt version for this product is stated in the product description or can be found on the manufacturers website.
System Requirements:
Mac:
macOS 10.14 or higher
64 bit
Intel Core i5 or Apple M1 (native)
RAM: 4GB (6GB recommended)
Windows:
Windows 10 or higher
64 bit
Intel Core i5 or similar CPU
RAM: 4GB (6GB recommended)
Supported Interfaces:
Mac (64-bit only): Stand-alone, VST, VST3, AU, AAX
Windows (64-bit): Stand-alone, VST, VST3, AAX
Legacy Versions:
If you require legacy installers of Kontakt Player please refer to this Knowledge Base Article.

Required Registration:
Strezov Sampling products require you to register with the manufacturer at www.strezov-sampling.com to activate your license. To use Kontakt Player Libraries you also need to register with www.native-instruments.com.
This product requires an activation!
This product requires Native Access for installation, registration and activation. Start the Native Access-Software and log in using your Native Instruments credetials to start the setup.
To sucesfully activate your product Native Access requires a working internet connection.
An Offline Activation on a different computer is Not Available with this product.