Multitimbral All-in-one Workstation
Air Music Technology originally created Xpand! as part of the Creative Collection of instrument plugins included as part of Avid™ Pro Tools™. With the release of Pro Tools 8, this widely popular workstation was given new controls, improved features, an additional Gigabyte of sounds, and a new name: Xpand!2. As the popularity of Pro Tools grew, more and more musicians and producers came to rely on the incredible sonic firepower of this amazing workstation. Xpand!2 continued to evolve, and demand grew. Finally, Xpand!2 is now available on its own, available to anyone who hungers for the finest sounds - instantly.
Xpand!2 is a multitimbral workstation offering four active sound slots, or parts, per patch. Each part is provided with its own MIDI channel, Note Range (Zone), Mix, Arpeggiation, Modulation, and Effects settings - an excellent method for creating individual parts. Harnessing the four parts together to build one amazing Patch is where Xpand!2 reveals its true power. The Voice Mode for each part can be set to polyphonic or monophonic. Polyphonic parts can have up to 64 voices; monophonic parts offer First, Last, Highest, or Lowest priority making it easy to designate a bass, lead, or solo instrument.
Using everything from wavetables and FM synthesis to sample playback, the expert sound design team at Air Music Tech has carefully created thousands of ready-to-play Xpand!2 patches. Creating your own is easy, too. Parts can be quickly browsed and are conveniently sorted into 29 categories, offering a simple path to find just what you're looking for.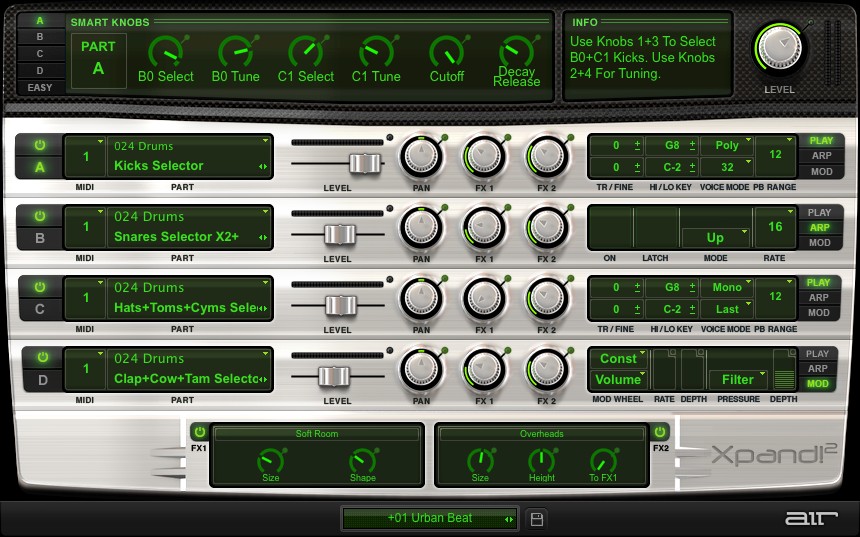 Product Features
Four-channel multitimbral operation

Up to four stereo instrument parts per patch

Up to 64 voices per part; Mono or Poly voice modes

Smart Knobs provide intuitive sound editing

Easy Edit Knobs control the entire patch at once

Two digital effects processors; 50 editable effect types

Individual arpeggiation control for each part

Multiple sound generation engines: Subtractive Synthesis, FM Synthesis, Tonewheels, Sample Playback

2500+ total presets and parts in the following categories: Soft Pads, Bright Pads, Huge Pads, Action Pads, Ambience and FX, Polysynths, Synth Brass, Percussive, Simple Arpeggios, Multitrack Arpeggios, Soft Leads, Hard Leads, Acoustic Piano, E-Pianos and Clavinet, Organs, Strings, Vocals, Brass and Woodwinds, Mallets, Bells, Guitars, Ethnic, Hits, Synth Basses, Basses, Drums, Percussion, Loops, Multitimbral
Mac:
macOS 10.8.5 or higher
64 bit
Core duo processor (i7 recommended)
RAM: 1GB (2GB recommended)
Windows:
Windows 7 or higher
64 bit
Dual core processor (i7 recommended)
2GHz
RAM: 1GB (2GB recommended)
Required Registration:
AIR Music Technology products require you to register with the manufacturer at www.airmusictech.com and with my.plugivery.com/redeem to activate your license.
This product requires an activation!
You can either "soft" activate on your computer without addditional hardware or transfer the license to an iLok USB dongle which has to be purchased separately. The iLok dongle can be used to run the protected software on different computers. Your licenses can be easily manged using the iLok Licence Manager. To protect your investment against theft or loss we recommend the iLok Zero Downtime protection with TLC.
An internet connection on any computer and a free user-accout at www.ilok.com is required to authorize the product.
Please check with the software manufacturer which iLok version is required at least if you want to use a hardware iLok!