ERA-D: The new ERA in sound processing
ERA-D is the first restoration plug-in that simultaneously removes noise and reverberation by design and therefore provides unimaginable performance improvement over existing tools. Despite the complexity of the processing engine, ERA-D comes with an intuitive user interface to manage noise and reverb problems faster and more effectively than any currently available workflow.
ERA-D automatically estimates reverb and noise and provides the means to reduce them with just two knobs, achieving high quality enhancement in less than a minute. And for those times where exhaustive focus on the details is needed, ERA-D offers a panel of advanced settings as well as the ability to surgically process across user-defined spectral bands.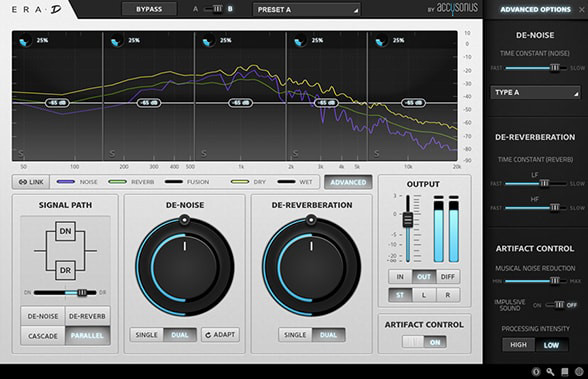 Features Overview
Patented processing engine - Reduce both noise and reverb simultaneously, taking also into account their natural interaction

Dual mode - Use the sound from your secondary microphones to improve the enhancement quality in your primary microphone

Automatic de-noise and de-reverb - Obtain the estimation of noise and/or reverb adaptively, without the need to provide noise or reverb profiles

Multiple signal path options - Take advantage of an unprecedented flexibility of internal signal routing.

Fast and easy workflow - Reduce unwanted noise and reverb quickly and efficiently, using the two main knobs

Simple or advanced mode - Achieve quick professional results or focus on exhaustive details
MAC OSX
Versions 10.10 or later (64-bit)
AudioUnit (64 bit) and VST (64-bit)
RAM: 4GB or more
WINDOWS
Versions 7 SP1 or later
VST2 (64-bit) and VST3 (64-bit)
RAM: 4GB or more
Product activation:
An internet connection is required to authorize / activate the product.