Natural reverb with tempo-syncable multi-effects
NIMBUS elevates the signature Exponential Audio reverb engine with surgical controls and timbral effects. Authentic, classic tone meets advanced filter mechanics, compression, overdrive, tempo-syncing, and warp effects, so you're sure to have the perfect reverb for your music.
NIMBUS gives you comprehensive control over the tone of your reverb while maintaining the authentic reflection clarity pioneered by PhoenixVerb. By introducing filter slope and frequency controls for the reverb signal's attack, early reflections and tail components, as well as overdrive and compression modules for the global reverb signal, NIMBUS lets you color the tone of your reflections with outstanding accuracy and precision.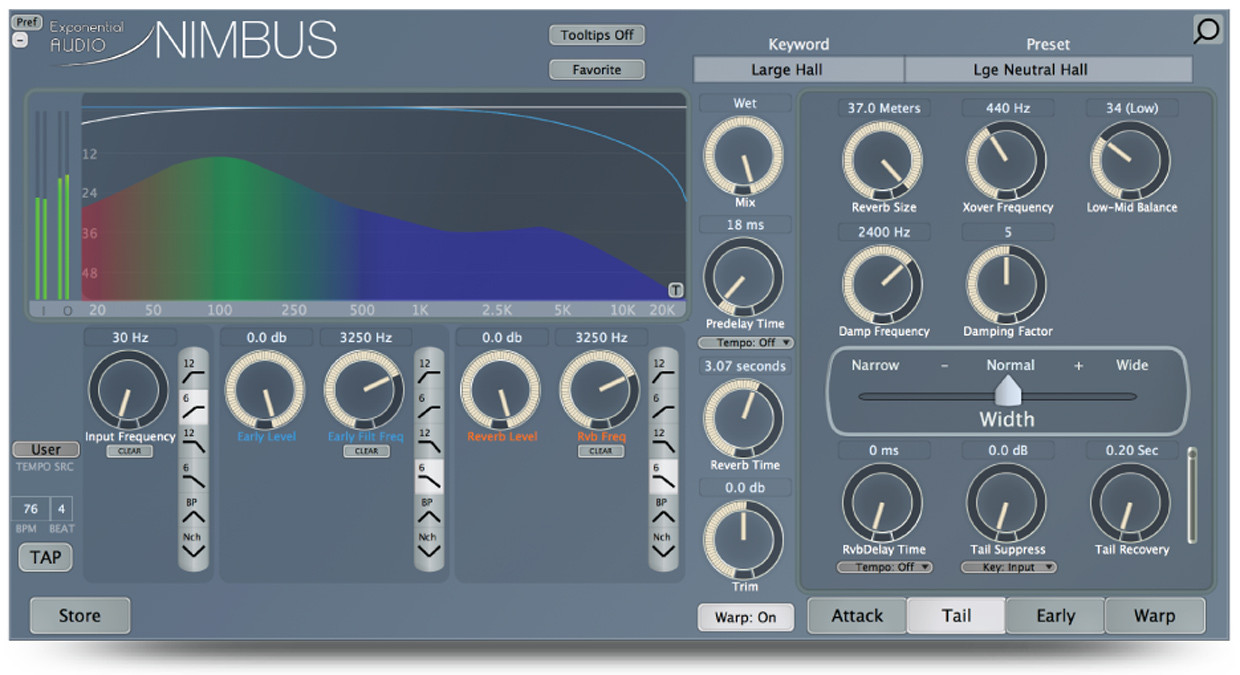 Powerful, expressive reverb control
Crisp reverb tone with your own unique signature - Exercise complete control over your reverb timbre with six filter types for your early reflections and reverb tail. NIMBUS offers an Attack module with four reverb types, Tail control with independent delay, suppression, and recovery parameters, and Early control over the reverb algorithm pattern.

Tempo-sync your pre-delay and reverb delay - NIMBUS just got a lot more musical with tempo syncing! Select the rhythmic note value you want, then either tap in the beat or have it follow the tempo set in your DAW to quickly lock in your reverb timing.

Warp: color gently or mangle dramatically - NIMBUS's Warp effects provide exciting creative tools to add character and sophistication to your reflections. Use the Overdrive module to introduce expressive harmonics or edgy, aggressive resonances, or use the built-in Compression module to shape a more consistent and powerful reverb tone.
Key Features
Natural stereo reverb algorithm

Warp controls with compression and overdrive

Pre-delay and reverb delay adjustable by tempo

5 additional early reflection patterns and additional plate reverb algorithm

Dynamic tail suppression to lower reverb in louder parts of a mix

Over 1,200 presets (rooms, plates, halls, chambers, and more)

EuControl support
Operating system
Mac: OS X 10.8 Mountain Lion - macOS 10.15 Catalina

PC: Win 7 - Win 10
Hardware requirements
CPU: Multicore processor, 2 GHz or greater

RAM: 2 GB or greater

Display: 1024 x 768 or greater
Plug-in Formats
AAX, AU, VST, VST3 (all formats 64-bit only)



This product requires an activation!
You can either "soft" activate on your computer without addditional hardware or transfer the license to an iLok USB dongle which has to be purchased separately. The iLok dongle can be used to run the protected software on different computers. Your licenses can be easily manged using the iLok Licence Manager. To protect your investment against theft or loss we recommend the iLok Zero Downtime protection with TLC.
An internet connection on any computer and a free user-accout at www.ilok.com is required to authorize the product.
Please check with the software manufacturer which iLok version is required at least if you want to use a hardware iLok!