Lush stereo reverbs with powerful control
R4 delivers the historic warmth of time-tested reverb hardware units with expanded creative control. Add personality and depth to your music with reverb designed to color your mixes without compromising clarity. For less traditional projects, use creative effects like Warp and Freeze to mangle your reflections beyond recognition and create twisted time effects to take your audience by surprise.
For decades, audio engineers have sworn by the warmth and color of reverb hardware units to bring life and fullness to their mixes. R4 delivers the classic reflections of vintage hardware with the control and versatility of present-day DSP technology. With a comprehensive parameter toolset and modern creative effects, R4 is a refreshing take on tried-and-true reverb tone.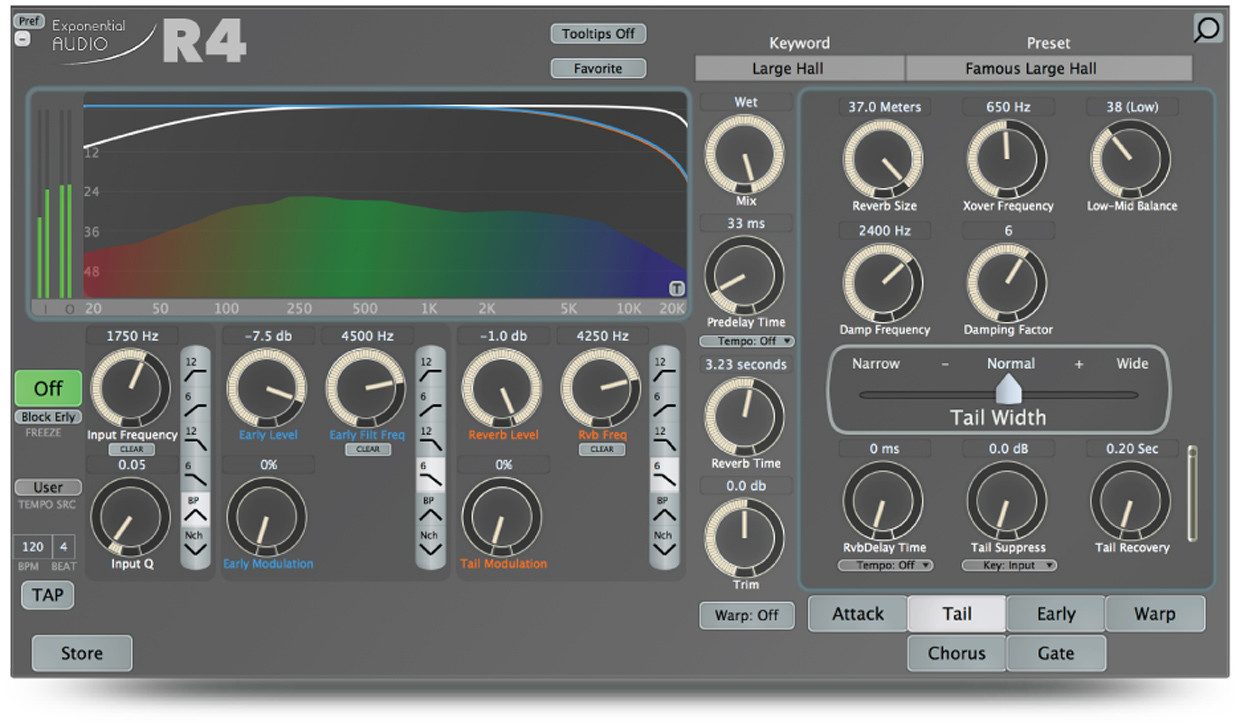 Cutting-edge control
Classic reverb meets modern technology - R4 uses an updated R2 algorithm to bring the sought-after character of vintage reverb hardware to your DAW, delivering retro tone coupled with modern filtering and gain controls for an update on the vintage reverb experience.

Stop time and space with Freeze - Freeze gives you the ability to easily stretch an instant of reflected sound into infinity, and can also be combined with the Warp module's overdrive and compression to craft a dramatic sustained reverb drone or striking cinematic ramp effects.

Make your reverb a little more musical - With the ability to sync to the tempo of your session, R4's global pre-delay, reverb delay, and dynamic tail suppression integrate seamlessly with your music to place the reverb into the groove for a balanced mix in any musical context.
Key Features
Lush stereo reverb algorithm

Warp controls with compression and overdrive

Create ambient drones and texture with Freeze

Pre-delay and reverb delay adjustable by tempo

Chorus and Gate modules for musical effects

5 additional early reflection patterns and an additional hall algorithm

Dynamic tail suppression to lower reverb in louder parts of a mix

Over 1,200 presets (rooms, plates, halls, chambers, and more)

EuControl support
Operating system
Mac: OS X 10.8 Mountain Lion - macOS 10.14 Mojave

PC: Win 7 - Win 10
Hardware requirements
CPU: Multicore processor, 2 GHz or greater

RAM: 2 GB or greater

Display: 1024 x 768 or greater
Plug-in Formats
AAX, AU, VST, VST3 (all formats 64-bit only)



This product requires an activation!
You can either "soft" activate on your computer without addditional hardware or transfer the license to an iLok USB dongle which has to be purchased separately. The iLok dongle can be used to run the protected software on different computers. Your licenses can be easily manged using the iLok Licence Manager. To protect your investment against theft or loss we recommend the iLok Zero Downtime protection with TLC.
An internet connection on any computer and a free user-accout at www.ilok.com is required to authorize the product.
Please check with the software manufacturer which iLok version is required at least if you want to use a hardware iLok!