EZkeys MIDI Ballads Vol. 2 - Expansion Pack for EZkeys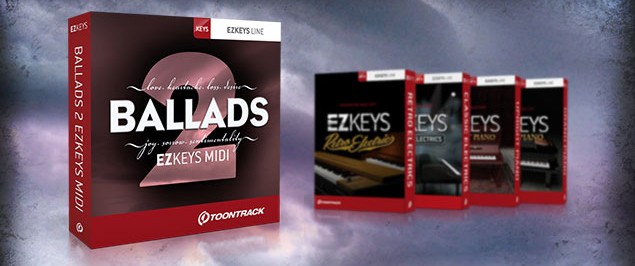 This collection picks up where Ballads EZkeys MIDI left off and continues to read between the lines of piano inspired ballad music of the past few decades. From intimate singer/songwriter material to big power ballads of the 80s, epic arena pop and modern-day soul. Ballads 2 EZkeys MIDI simply offers more of the timeless playing styles and chord progressions you can use as your foundation for a near infinite number of songs.

The deep layers of musical influences coupled with EZkeys´ powerful songwriting features will be the stepping stone for many a song you have yet to write. Here is the paint and the canvas – the rest is up to you. Start creating, it´s EZ!
An extensive collection of chord progressions and playing styles for ballad music
Performed by a professional piano player
Covering straight and/or swing in 4/4 & 6/8
To use this product, an installed and activated Version of EZkeys Piano is required.
Product activation:
An internet connection is required to authorize / activate the product.