And it doesn't stop there…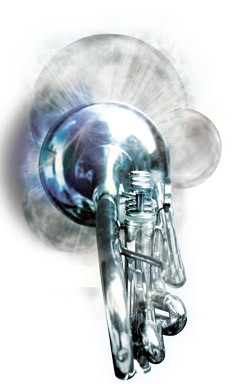 Sample Logic and System Blue are proud to announce Fanfare, a groundbreaking Kontakt Player virtual instrument pairing the DCI World-Champion Blue Devils marching brass with the award-winning sound design of Sample Logic. From traditional marching brass to full-blown cinematic soundscapes, Fanfare delivers the definitive marching brass library for educators and arrangers, and an extraordinarily versatile and inspiring construction toolkit for film, TV, game composers, producers, and electronic musicians.
Fanfare features a broad array of samples recorded by Leslie Ann Jones on The Scoring Stage at Skywalker Sound (Lucasfilm Ltd Company) and on the field at Ralph Wilson Stadium (home of the Buffalo Bills) by Grammy® Award winner Frank Dorritie. The indoor recordings were done at close, mid, and far microphone placements, while the outdoor recordings were captured with state of the art stadium surround sound recording techniques. The resulting sonic textures range from full stadium ambience to an "in-your-face" 85-piece brass ensemble, with all of the recordings capturing The Blue Devils' signature sound of amazingly inventive chords, avant-garde clusters, swells, and organic brass effects.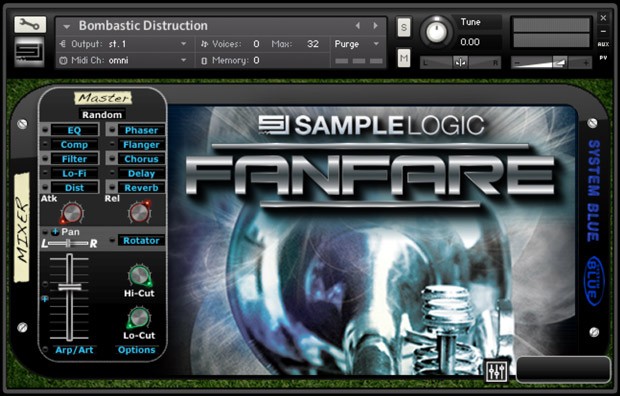 And it doesn´t stop there…Fanfare not only boasts the finest traditional marching brass samples available, but extends the library's sonic reach via Sample Logic's signature "blurring the line between music and sound design" programming techniques. Starting with the traditional brass recordings, an entire library of morphed "cinematic" multi-sampled instruments was created, putting not only world-class marching brass at your fingertips, but also an inspiring array of melodics, pads, leads, stingers, impacts, transitions, atmospheres, and articulated rhythms–all organized into easily accessible, production-ready presets.
The INSTRUMENTS & MULTIS
A complete collection of traditional marching brass instruments (trumpets, mellophones, euphoniums, tubas, and trombones) recorded with multiple round robins, multiple dynamics, and up to five microphone placements
Scoring Stage: Individual instruments and sectionals
Stadium: Large sections and full ensemble
A complete collection of evocative morphed cinematic instruments and rhythms
Atmospheric/ambient soundscapes and stinger construction kits
Arpeggiator/Arpeggigater rhythmic instruments
Swipes, scrapes, impacts, and reverse transitional effects
Performance-ready multis (playable interactive preset templates made from multiple instruments)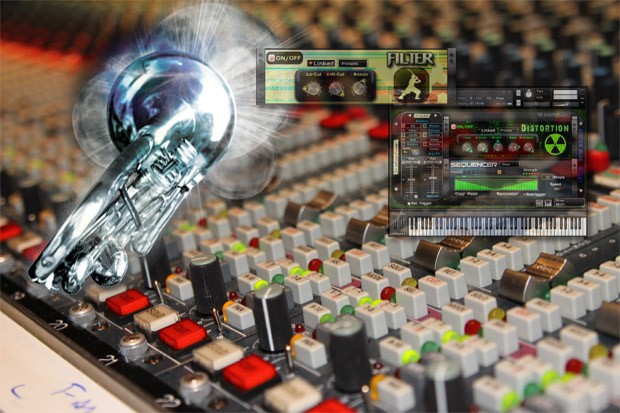 Teaming up with Avid
Sample Logic and AVID have teamed up to integrate Fanfare for seamlessly into Sibelius 7. Fanfare also fully integreates with Finale 2011.
Sample the future: The Arpeggigater
We are proud to introduce a powerful addition to Fanfare… The Arpeggigater
The Arpeggigater allows users to design custom gate sequencer patterns with effects simultaneously. This extremely powerful addition allows for infinite sound-sculpting results
Swirling the space: The Spinner
All of Fanfare's multi-mic instruments include a sound-swirling spinner effect. This effect allows users to not only change the listeners perspective around the concert hall (Left to Right and Close to Far), but also allows you to automate the listening position swirling the sound with your own custom patterns.

Amazona.de 04-2012

Fazit
Fanfare schafft die goldene Mitte aus musikalischem Werkzeug und moderner Sounddesign-Waffe. Die Multis finde ich sensationell, auch die Bläser selbst überzeugen und helfen schnell und unkompliziert, um an brauchbare Ergebnisse zu kommen. Lediglich die vielen Morphing-Ordner nerven. Klingt vielleicht undankbar bei soviel Sorgfalt. Das Preis-Leistungs-Verhältnis ist aber phänomenal! Ich bin zwar ein Fan von großen Librarys wie Hollywood Brass, aber ich kombiniere auch sehr gerne. Und bin auch dankbar um jeden Sound, den ich schnell laden und einbauen kann. All das ist mit Fanfare möglich. Anhören und testen. Der Preis ist dafür mehr als nur fair!
Recording.de 15.3.2012

Auszug: Fazit

Die beiden Libraries von Sample Logic bieten sehr gutes, inspirierendes Soundmaterial, sind aber keine Universallösungen. Sie sind ja bereits durch die Fokussierung auf Bläser (Fanfare) bzw. eine "Marschkappelle" (Rumble) spezialisiert, doch erfüllen sie sicher auch nicht alle Wünsche, die solche Libraries erfüllen könnten, sondern tragen eher eine typische "Sample Logic" Handschrift, wodurch sie sich auch als Ergänzung und "speziell" klingende Alternative zu vergleichbaren Libraries empfehlen. Der Sound an sich gefällt mir persönlich gut, die Aufnahmen klingen für meinen Geschmack natürlich. - es ist aber schwer, über solche Nuancen zu reden, hier sollten Sie sich in den Beispielen von Sample Logic oder meinem Screencast einen eigenen Eindruck verschaffen. Das Spektrum reicht von den "puren" Einzelklängen bis hin zu gekonnt verfremdeten, "cineastischen" Sounds, "dazwischen" gibt es aber durchaus auch Lücken. So ist beispielsweise die Auswahl der aufgenommenen Akkorde des Blasorchesters limitiert (Fanfare) und viele der interessanten Drumloops (Rumble) liegen als "verfremdbarer" Loop, nicht aber als Midi-Multiinstrument mit einzelnen Midispuren vor. Dafür gibt es andererseits viele vorkonfigurierte Instrumente, Multis und User-Tools/Skripte in den Instrumenten, mit denen sehr schnell und effektiv Filmmusik komponiert werden kann, die eine bestimmte Ästhetik erfüllt. Man kommt mit diesen Librarys eben im Gegenzug auch manchmal fixer ans Ziel als mit manchen Libraries, in denen man mehr Details justieren kann, aber tendenziell auch alles von Grund auf selbst aufbauen soll. Auch für Freunde von Filmmusik moderner Thriller oder allgemein dem "grosses Kino" ist in diesen Libraries etwas dabei.

---

Rod Abernethy
World renowned musician and award winning film Award-winning game composerGo etc…
"FANFARE is an incredible sounding collection of unique and traditional brass samples and patches…extremely useful in everything I do for games, films and TV. And the added FX are brilliant, very musical and easy to use. There's nothing else like this library available."

Bill Brown
(sole composer of CSI: New York, movies include Ali, Finding Forrester, and Any Given Sunday)
"Along with it's classic array of marching band instruments, Fanfare's brass-based "Morphed" instruments and sound design effects are very reminiscent of sounds from films like TRON."

John M. Meehan
(Composer for Media, Concert and Marching Band Brass Caption Head, The Blue Devils Drum & Bugle Corps)
"Sample Logic's state of the art sound libraries have been an invaluable part of my musical projects for many years. With the brass inspired FANFARE, an entirely new palette of instruments is now available! Holding true to their motto "blurring the line between music and sound design", this library expertly stretches from solo vibrato Trumpet to breathtaking pads and everything in-between."
---

John Debney
Iron Man 2, New Year's Eve, No Strings Attached, Predators, The Passion of The Christ
"The synergy between traditional instruments and sound design continues in Fanfare. The Sample Logic team has put together a wonderful palette of sounds to work with. Leaving you free to experiment and create to your own sonic delight."
---

Teddy Riley
(The acknowledged "King of New Jack Swing" Credits include:Johnny Kemp, Blackstreet, Keith Sweat, Michael Jackson, Mary J. Blige, Hi-Five, Boyz II Men, Bobby Brown, and Al B.)
"FANFARE is one of my FAVORITE sound libraries… It is well rounded with sounds that are innovative, massive, & big with substance. Like a breath of fresh air. I can't wait to use it with my future projects. FANFARE ROCKS!!!!!"

This product works with the free Native Instruments Kontakt Player, the latest version can be downloaded through Native Access, Native Instrument's download manager!
The minimum required Kontakt version for this product is stated in the product description or can be found on the manufacturers wesite.
System Requirements:
Mac:
macOS 10.13-11 (newest update)
64 bit
Intel Core i5
RAM: 4GB (6GB recommended)
Windows:
Windows 7-10
64 bit
Intel Core i5 or similar CPU
RAM: 4GB (6GB recommended)
Supported Interfaces:
Mac (64-bit only): Stand-alone, VST, AU, AAX
Windows (32/64-bit): Stand-alone, VST, AAX
Legacy Versions:
If you require legacy installers of Kontakt Player please refer to this Knowledge Base Article.
Product activation:
An internet connection is required to authorize / activate the product.