FL Studio 20 - Signature Bundle for Mac & PC!
FL Studio is a complete software music production environment or Digital Audio Workstation (DAW). Representing more than 20 years of innovative development it has everything you need in one package to compose, arrange, record, edit, mix and master professional quality music.
What You Can Expect
Advanced Audio - Multi-track audio recording Time-stretching and pitch shifting pristine audio editing.

Sequencing - Industry leading Piano roll editor MIDI recording and control Pattern or Linear workflow.

Mixing & Effects - Multi-track mixer Automation control VST plugin support.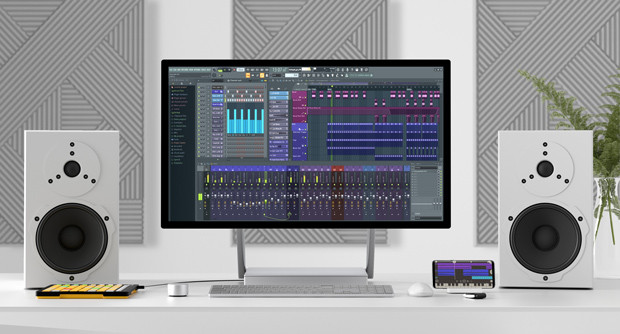 FL Studio 20 Signature Bundle is a full-featured music production environment that's loaded with instruments and studio tools as well as & extra plugins. You get 14 virtual synthesizers, giving you great-sounding acoustic/synth bass, electric guitar and plucked strings, sampler tools including a piano, beat-slicing, and tons more.
Signature Bundle Overview
Huge Collection of instruments & effects, Multi-track audio recording, Audio Clips, Mixer (100+ tracks)

External MIDI control, Unlimited instrument Channels, Step Sequencer, FL Direct Wave (player)

Supports VST/2/3 & DX, Supports WAV, MP3, OGG, MIDI import/export

Playlist arranging, Piano typing keyboard, Automation Clips & Editing, Pattern Clips, Piano roll with chords & slides, Automation record & edit

ASIO support (for low latency), Internal controllers, Use as a VSTi instrument, Maximus multiband maximizer, Harmless synth

Newtone pitch/time editor, Gross Beat effect, Pitcher effect, DirectWave full sampler, Hardcore guitar effects suite

FL Video player, FL Edison editor & recorder, FL Slicex loop slicer/arranger, FL Vocodex vocoder, FL SynthMaker

Lifetime FREE updates, NOT all plugins
FL STUDIO is designed to run on any computer system operating:
WINDOWS: 7, 8, 10 or later
macOS: 10.11 or later
4GB free disk space
4GB of RAM or higher recommended
The more powerful your CPU, the more instruments and FX you can run.
Product activation:
An internet connection is required to authorize / activate the product.