Custom-built Soundiron Instrument
This library is a unique tuned percussion and string instrument in it's own right, but also makes excellent effect and sound design material for stingers, trailers, reveals, slates, post production and any number of other specialized production uses.
Made of knotty pine, rusted steel bailing wire, eye bolts, hooks, deck screws, hurricane brackets and an old 24" bass drum, this 5-stringed son of a bitch was 8 feet long and 3 feet wide. The body had a 2"6 spine and two separate body segments to allow torquing and bending while the instrument was played. It was strung with black iron bailing wire, wound over galvanized steel angle brackets and plates and through heavy gauge eye bolts that we used as tuners, by way of a pipe wrench.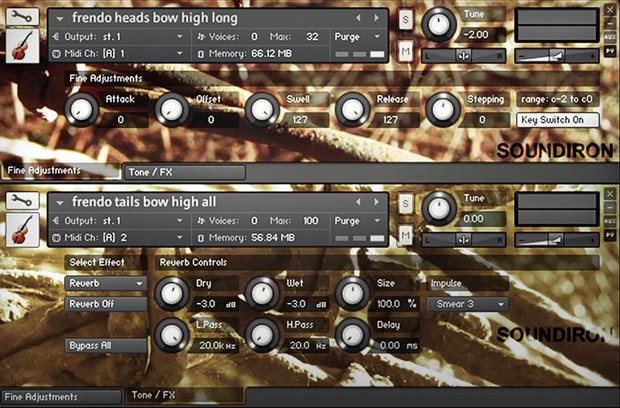 The Frendo was played with a violin bow, screwdrivers, rubber and wooden mallets, picks, hands and fingers and have provided an array of custom controls, presets, effects and tools to allow total sonic freedom and control over the sound.
This library was originally released in 2008 by Tonehammer. For the version 2.0 update, Soundiron improved key-mapping and overall playability, added a full set of brand new automatable performance, DSP FX, convolution reverb and advanced arpeggiator controls and refined the overall playing experience. The new Convolution Reverb effect features 73 select custom impulse responses, featuring some of our favorite recording halls and some rather unusual custom FX impulses.
CONTENT:
Two stereo microphone positions (heads – internal mics), (tail – external big hall mics)
Wooden mallets: "tuned", 3-4 velocity layers, 10x round-robin
Rubber mallets: "tuned", 5 velocity layers, 10x round-robin
Finger plucks: "tuned", 1-3 velocity layers, 6x round-robin
Bowed FX: bow scrapes, staccato notes, 1-3 velocity layers, 6x – 9x round-robin
Bowed high notes: stabs and sustains, 1-3 velocity layers, 4x round-robin
Bowed low notes: stabs and sustains, tuned and un-tuned, 6x round-robin and looping "legato" patches
Bowed tremolo: effects and sustains, with fast, medium and slow variations
Screwdriver slides: long and short
3 large sound Effects patches, including creaks, cracks, groans, tuning twangs and sproings.
All recorded with natural acoustics in our tile, glass and stone hall or from inside the Frendo resonance chamber itself.
This library is designed for the full retail version of Native Instruments Kontakt 3.5 or later.
Using this library requires a full version of Native Instruments' "Kontakt"!
Please notice: This library can not be played with the free "Kontakt Player"! To use this "Open Kontakt" format, you need a full version of "Kontakt", which is included in products such as Komplete or Komplete Ultimate.
Please check the product description for the required Kontakt version.
The following list shows, whether the respective Kontakt version is compatible with your operating system:
Mac
Kontakt 4:
OS X 10.6 & 10.7 = until 4.2.4
OS X 10.8 and higher = no longer supported
Kontakt 5:
OS X 10.6 = until 5.0.3
OS X 10.7 = until 5.3.1
OS X 10.8 = 5.0.3 - 5.5.1
OS X 10.9 = 5.3.0 - 5.6.6
OS X 10.10 = 5.3.0 - 5.7.3
OS X 10.11 = 5.5.1 - latest
Mac OS 10.12 = 5.6.1 - latest
Mac OS 10.13 = latest
Mac OS 10.14 = latest
Mac OS 10.15 = latest
Kontakt 6:
Mac OS 10.12 - 10.15 (latest update)
Windows
Kontakt 4:
XP = until 4.2.4
Vista = until 4.2.4
Windows 7 = until 4.2.4
Windows 8 & 10 = no longer supported
Kontakt 5:
XP = until 5.2.0
Vista = until 5.2.0
Windows 7 = latest
Windows 8 & 10 = latest
Kontakt 6:
Windows 7, Windows 8, or Windows 10 (latest Service Pack)
FOR ALL SYSTEMS:
1GB free disk space

Additional hard drive space according to the library's size
SUPPORTED INTERFACES
Stand-Alone | VST | Audio Units | ASIO | CoreAudio | WASAPI | AAX Native (Pro Tools 10 or higher)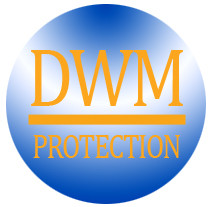 For your own protection this library is provided as individual personalized files including a
Digital Water Mark - DWM!