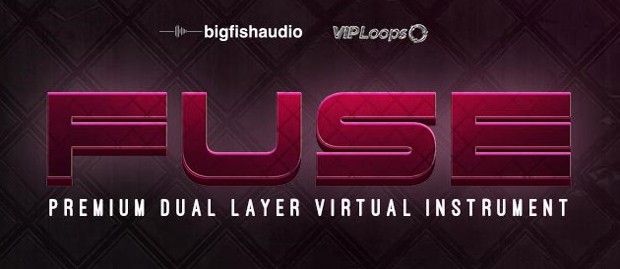 Blend modern Sounds with this unique dual layer Virtual Instrument
FUSE is a never-before-seen synth workstation that combines the power of incredible multi-sampled instruments, a dual engine interface, and limitless sound design capabilities. FUSE has two separate synth engines and gives you the ability to access all of the instrument's sound instantly from two front panel drop-downs, one on each engine. Choose a single or dual-layer sound, and FUSE the two together with the large fusion knob to create something that sounds spectacular! FUSE is the optimal instrument for music production of all genres, performance, and sound design
WHAT'S IN IT?
A brand new world-class arsenal of sounds developed by the team at VIP Loops responsible for millions of records sold worldwide. FUSE contains 256 patches which are instantly doubled to 512 in Reverse Mode. Reverse Mode is not simply a reverse of the patch's samples, it's a completely new sound with the parameters and attack points adjusted to give you something new and fresh. FUSE's dual-layer engine and reverse feature allows you to instantly achieve eight different variations of a dual-layer patch even before you start tweaking and tone blending.
FUSE contains a full range of instruments including meticulously sampled acoustic sounds, cutting-edge leads and synths, innovative heart-pounding basses, and creative FX sounds. FUSE contains an entire rack of FX that are dedicated to each engine so that you can do vastly different things to each of the sound engines. It also has an incredible set of five different LFOs. You can have it sync with your tempo, and it also had a mute on each side to save polyphony if needed!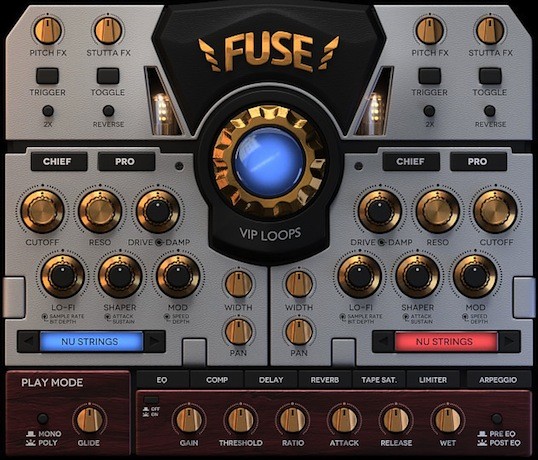 QUICK STRIKE OR TWEAK?
VIP Loops' instrument design philosophy is simple: the sounds should be incredible, the instrument should be easy to use, an it should be efficient, saving you valuable time in the production or mixing/mastering process.
FUSE has an incredible palette of effects including EQ, compression, delay, reverb, tape saturation, limiter, ADSR, Lo-Fi, drive/damp, transient sound shaper, modulation FX, LFO, and six different types of filters! We give you two different ways to use these powerful FX:
Quick Strike FX - Introduced by VIP Loops in the critically acclaimed SWAGG virtual instrument, FUSE's Quick Strike FX allows you to push a button or turn a knob, and instantly engage a ridiculously good sounding effect preset designed to accurately represent the spirit of the effect you choose to use.
Tweak Heads - Would you like to dig deeper, sculpt, and develop your own sound in FUSE? No problem! On the front of FUSE's interface you can click the Pro tab that allows you to adjust the envelope ADSR, which includes selections for amp, pitch and filter, and amount. Also, FUSE's LFO section offers you a powerful LFO with five different options. The LFO includes selections for pan, filter, pitch, sync, rate, fade, and amount! Next you have a tune and pan knob, and a dropdown for six different filter types! You can also develop incredible risers, drops, and unique stuttas with these features. FUSE also includes an incredible sounding glide, with mono and poly selections and a powerful arpeggiator that include six different arp modes which will allow you to create some truly unique arp patterns.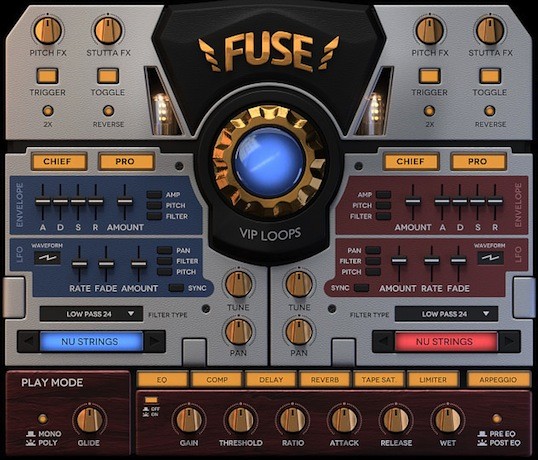 THE GOAL CHAIN OF FX:
At the bottom of the FUSE interface you will find our golden effects chain setup specifically to give you a powerful sound:
EQ - an SSL style EQ for it's sonic character.
Compressor - a smooth, yet punchy compressor to allow you to either smooth out the rough edges, or to make a sound thump!
Delay - a beautiful analog-style delay that will sync up perfectly to your tempo.
Reverb - a lush reverb that allows you to create a drastic difference in the sound, or to simply add a touch of wetness for character.
Tape Saturation - a tape saturation which adds a very warm analog sound to the patches in FUSE. Tube indicators light up on either side of FUSE to show how much saturation is going to the sound.
Limiter - a limiter that allows you to brick wall the sound, control it slightly, or let it peak a bit.
All of the FX in FUSE have individual parameters that allow you to tweak them to get it just right! You also have a bypass button to quickly turn the FX on and off, as well as a pre-EQ and post-EQ option.
SUM IT UP:
FUSE is an incredible tool that you must have in your arsenal no matter what genre you are creating for. Whether you are a producer, engineer, live musician, or sound designer, FUSE is a invaluable product that will make your job a lot easier at a price that won't break the bank. It's powerful, fast, easy, efficient, and most importantly, it sounds fantastic!

This product works with the free Native Instruments Kontakt Player, the latest version can be downloaded through Native Access, Native Instrument's download manager!
The minimum required Kontakt version for this product is stated in the product description or can be found on the manufacturers wesite.
System Requirements:
Mac:
macOS 10.13-11 (newest update)
64 bit
Intel Core i5
RAM: 4GB (6GB recommended)
Windows:
Windows 7-10
64 bit
Intel Core i5 or similar CPU
RAM: 4GB (6GB recommended)
Supported Interfaces:
Mac (64-bit only): Stand-alone, VST, AU, AAX
Windows (32/64-bit): Stand-alone, VST, AAX
Legacy Versions:
If you require legacy installers of Kontakt Player please refer to this Knowledge Base Article.
Product activation:
An internet connection is required to authorize / activate the product.