Go-to Synth with unique Features and Sound
The current Rob Papen collection holds synthesizers which contain many features and types of synthesis which sometimes can be daunting to the average user. But there is always something tempting and fun in something that is so simple! Look at the 1980's, in which we had top synthesizers like the Roland Jupiter-8, but also at the other end of the spectrum the simpler but fantastic synths like the SH-101. And yes, both became classic synthesizers.
Compare it also whilst making music, very often less is more and this is also can be applied whilst using synthesizers. Sure, with a heavily featured synthesizer, you can also be less complex in a patch. But this often still takes more time to achieve.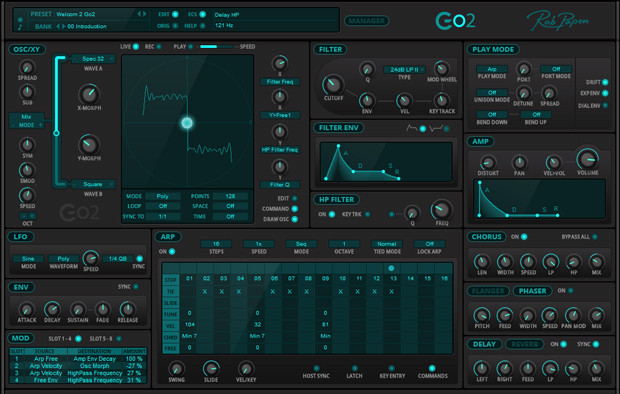 And yes, Go2 has all of the controls visual at the same time but still has some unique features and sound for sure, which makes sure that it will boldly go to where no other synth in this category went before.
Highlights of Go2 include:
Oscillator Section – The heart of Go2 is the morph oscillator, this oscillator allows you to morph (using Go2's various morph modes) between two different waveforms.

XY Pad - A combination of a live, interactive control and also an automated programmable modulation source.

Play Mode - Arranges how Go2 plays its synth engine plus additional features and settings

Arpeggiator section - Classic style Arpeggiator with some unique features, like sequencer mode and unison/chord control per step.

Free LFO Section - Generates modulation signals to be used as sources in a modulation path.

Modulation Matrix Section – The 8-way modulation matrix allows you to dynamically alter Go2's parameters using both internal modules such as envelopes and LFOs, and external MIDI Controllers such as Pitch Bend, Aftertouch and other control messages defined in the MIDI-standard.

And in true Rob Papen style, Go2 includes hundreds of presets!
PC
32 & 64 bits VST and 64 bits AAX for Windows 7/ Windows 8/ Windows 10
(Note: PC AAX for PT 12 or higher)
Mac
64 bits AU, VST and AAX, for OS-X 10.9 - 10.15
Product activation:
An internet connection is required to authorize / activate the product.