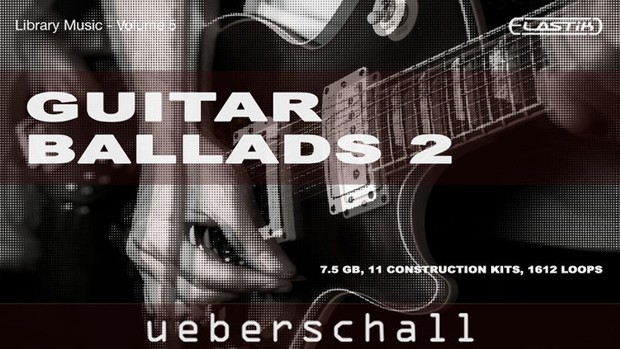 Every pop and rock album needs a ballad and Guitar Ballads 2 is packed with guitar-based inspiration upon which you can build your next chart-friendly mid- to slow-tempo ballad track. With a strong emphasis on acoustic and both clean and overdriven electric guitar parts, the library also contains all the necessary drum and bass elements, along with the occasional keyboard or string parts, required to build a complete musical arrangement in double-quick time.
Classic Rock and Pop Ballads with a Modern Touch
Guitar Ballads 2 features 11 huge construction kits. With 7.5 GB of samples spread across over 1600 loops, each construction kit features multiple song sections including intros, outros, verse, chorus and 'alternative' sections that can form a bridge, pre-chorus or middle 8 within your arrangement. In turn, each song-section features multiple guitar parts and both pre-mixed and individual drum loops so you can add variations within your song-section and fully customize your drum mix.

For all song parts, individual instrument tracks are available allowing the song to be mixed to your personal vision and ideal integration of your own additional tracks. The drums offer separate tracks for bass drum in/out, snare top/bottom, hi-hat, cymbals, overheads, room, tom, shaker and tambourine as well as a professionally completed mix for fast use.

Besides the central acoustic and electric guitars being used, Guitar Ballads 2 also contains recordings of electric bass guitars, organs, strings as well as electric and acoustic pianos. All sounds have been carefully optimized sonically using high quality studio tools and supplemented by effects to create a matching atmosphere.
Smooth and Emotional
With original tempos spanning 70 to 120bpm (and easily adjusted via Elastik's high-quality time-stretching algorithms), the musical moods span the emotional to anthemic; if you are looking for big, bold, pop and rock ballads, Guitar Ballads 2 will get you there in an instant. Build your own arrangement and simply add the required vocal talent for a radio-ready mix.
Elastik-Features
Due to its straight-forward structure, Ueberschall's Elastik player is the ideal tool for fast, modern music production. All loop names include notes about the base key and tempo, making fast searches and immediate song-integration possible. "élastique pro", the corresponding algorithm by zplane, allows time stretching and changes in pitch with ease and at highest quality. The construction kits of all libraries are organized in a way, the individual elements can be changed quickly any time.
All instrument loops of a Guitar Ballads 2 kit can be transposed effortlessly to be used in other song kits. Also, all drums of this library can be changed and combined across the whole library.

The attribute based browser enables fast and selected search across all installed Elastik libraries for loops and elements to be instantly integrated into the current song. By using intuitively accessible functions such as formant, resample, reverse and a multimode filter, Elastik player offers lots of potential for creative use of any loop.
Free ELASTIK 3.5 Loop-Player is included in this product.
With its intuitive Loopeye editing environment, the high-quality pitch, key, scale and tempo manipulation algorithms and the huge collection of Elastik-ready sample libraries spanning almost every conceivable musical genre, Elastik is a powerful workstation for loop-based music creation. It can be used either as a stand-alone application or as plugin within almost any DAW on both Windows and macOS platforms.
Interfaces:
macOS: 64 bit, VST 2/3, Audio Units, AAX, Stand-Alone
Win: 32/64 bit, VST 2/3, AAX, Stand-Alone
System requirements (minimum):
macOS 10.12 (Sierra) or higher
Windows 8 or higher
All information is subject to change. The system requirements can change at any time due to the fact that software products are continuously evolving. If in doubt please consult the software manufacturers website for details or write an email to support@bestservice.de before purchasing.
Product activation:
An internet connection is required to authorize / activate the product.