Innovative software drum synth with a unique sound character, eight drums sound channels, mostly based on modeled analog synthesis, mixer for each channel, four channel Auto Layer Machine, chaos slider bringing randomness to the machine, effect section features adapted versions of TSAR-1R Reverb and Valley People Dyna-mite an Filter Echo and output saturation.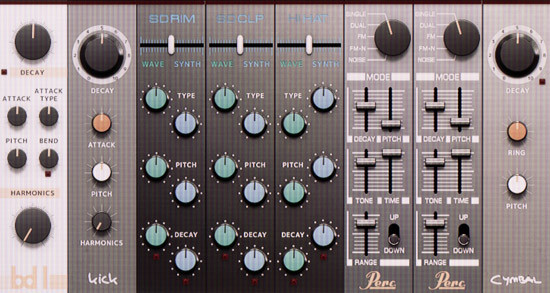 Eight drum sound channels
Mostly based on modeled analog synthesis
Mixer for each channel (volume, panning, EQ, effect sends)
Four channel Auto Layer Machine (for layering sounds or triggering drum patterns)
Chaos slider for Auto Layer Machine (add randomness)
TSAR-1Reverb (adapted version)
Valley People Dyna-mite (adapted version)
Filter Echo
Output Saturation
Heartbeat is likely to cause severe palpitations. It is the drum synth of your dreams, combining modeled analog synthesis of yesteryear with forward-thinking features and flexibility. The modeled analog sound engine, the Auto Layer Machine and the included top-of-the-line effects turns Heartbeat into a killer package for your beats.
The synthesis engine
While Heartbeat draws inspiration from the best analog drum synths from the 1980s, it does not emulate any existing drum machine. The sound mostly originates from Softube's own modeled analog synthesis, which has been augmented with carefully selected waveforms.
The core of Heartbeat consists of the eight instrument channels. You will find two different bass drum channels, which can be as punchy and deep as you want them, but are also perfectly capable of producing snappy and hard hitting woody textures. The two dedicated snare drum channels have six parameters each which allows you to achieve anything from edgy rimshots, soft and whispery snare rolls to machine-like claps.
The percussion channels are identical and can be used to model anything from 80s style synthetic toms to cowbells and noise drops. And just like the other channels, the hihat and cymbal channels offer flexible synthesis engines—tweak to your heart's desire!
The effects
In order to make Heartbeat your one stop shop for beat programming, we added a fully featured effects section. It includes slightly adapted versions of our beloved model of Valley People Dyna-mite and one of our top sellers of all time, the TSAR-1 Reverb. The Dyna-mite is a dynamic shaping Swiss army knife with a serious attitude. Limiting, compression, gating, sidechained ducking—Dyna-mite handles it all. And TSAR-1 is simply the most gorgeous plug-in reverb ever created.
The all new Filter Echo is a filtered delay effect with adjustable Cut Off and Resonance parameters. And finally, the output saturation can go from juicy to gritty and is not taken from any existing Softube product.
Each of the eight channels has a dedicated mixer channel with controls for volume, pan, ping-pong (auto panning), EQ (adapted specifically for each instrument) and send levels to the reverb and delay effects.
A mind of its own
Heartbeat is not only about sound, it's also about inspiration and interaction. This is where the innovative Auto Layer Machine comes in. The Auto Layer Machine has four channels that can each be used to layer sounds or trigger a chain of events. This can be used to create new sound textures or create automatic fill patterns in up to four steps.
If things still get too predictable, move the Chaos sliders to the right—these add an element of randomness, ranging from subtle variations to massive trigger-riot mayhem!
Flexible global velocity parameter knobs for volume, pitch, attack and decay can make Heartbeat responsive to velocity changes. Time Gate shortens the overall decay to create a stuttery and stiff machine sound.
Tweak using Native Instruments hardware

Heartbeat supports Native Instrument's Native Kontrol Standard. This means you can use it with Komplete Kontrol keyboards and Maschine units and get the same intuitive hands-on control of Heartbeat's functions as with any of Native Instruments' own products—all automatically laid out on the hardware's knobs, buttons and keys, and with no additional setting up needed.
Professional Audio, 07/2015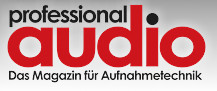 Fazit
Heartbeat greift den Klang der berühmten 80er-Jahre Drum-Machines auf, reproduziert ihn tadellos und kann sogar noch einige neue Facetten hinzufügen. Heartbeat eignet sich besonders gut für Techno, House, Electro, Hip Hop und R&B. Doch auch Styles wie Dubstep, Trap, aber auch Industrial bedient Heartbeat optimal, nicht zuletzt aufgrund der flexiblen Klangformungsmöglichkeiten. Das Plug-in besitzt, im positiven Sinne gemeint, einen eher dreckigen Klang-Charakter. Bei Bedarf kann der schwedische Klopfgeist aber auch sehr punchig und brummig klingen. Der geforderte Preis von rund 220 Dollar scheint zwar zunächst recht hoch. Bedenkt man aber, dass zwei der integrierten Effekte als Einzelprodukt schon das Doppelte kosten, ist Heartbeat, nicht zuletzt aufgrund seines Sounds, das Geld in jedem Falle wert. Zwar ist kein Step-Sequenzer mit an Bord, dafür punktet Hearbeat aber mit seiner markanten Auto Layer Machine, die dem Ganzen das Sahnehäubchen aufsetzt.


Den kompletten Test inklusive aller Bilder, Info-Kästen und Tabellen lesen Sie in der Ausgabe von Professional audio 08/2015.
All native versions
Mac OS X 10.12 or newer
Windows 64-bit, versions 7, 8 or 10
Please Note: Softube plug-ins support 64-bit hosts only, and a 64-bit OS is required.
Intel Core 2 Duo, AMD Athlon 64 X2 or newer
Screen resolution larger than 1280x800
8 GB RAM or more is recommended
Softube account
iLok account
Internet access for downloading the plug-in (s) and managing the license(s)
iLok generation 2 and up, if you intend to use an iLok dongle for authorizing your plug-ins
Supported sample rates: 44.1, 48, 88.2, 96, 176.4 and 192 kHz, in both mono and stereo.
*Please Note: Pro Tools 10 is not officially qualified by Avid higher than OS X 10.8
AAX DSP version
For AAX DSP you need to meet the above requirements for the Native versions. You also need to have an Avid HDX processing card. For plug-ins available for AAX DSP, see Which Softube plug-ins support AAX DSP?



This product requires an activation!
You can either "soft" activate on your computer without addditional hardware or transfer the license to an iLok USB dongle which has to be purchased separately. The iLok dongle can be used to run the protected software on different computers. Your licenses can be easily manged using the iLok Licence Manager. To protect your investment against theft or loss we recommend the iLok Zero Downtime protection with TLC.
An internet connection on any computer and a free user-accout at www.ilok.com is required to authorize the product.
Please check with the software manufacturer which iLok version is required at least if you want to use a hardware iLok!