HOLLYWOOD ORCHESTRAL PERCUSSION is the most detailed and comprehensive orchestral percussion collection available.
HOLLYWOOD ORCHESTRAL PERCUSSION GOLD is a collection of 16-bit orchestral percussion instruments, offers unprecedented control over each instrument, and is a must have compositional tool for serious composers. Recording for HOLLYWOOD ORCHESTRAL PERCUSSION took place at the famous EASTWEST STUDIO 1, the same studio where many Hollywood soundtracks and television themes were recorded with a live orchestra.
The Gold Edition is mostly a subset of the Diamond Edition. It is intended for those with smaller or less capable computer systems, and for those looking for most of the features and power of the Diamond Edition but at a smaller price. Here are the differences:
Bit Depth: the samples in the Diamond Edition are 24-bit; those in the Gold Edition are 16-bit.
Mic Positions: The Diamond Edition includes samples from 5 independent microphone positions that can be mixed together to achieve control over both acoustic vantage and spaciousness of the sound; the Gold Edition provides a single mic position.
The list of instruments and articulations for the two libraries are the same.

HOLLYWOOD ORCHESTRAL PERCUSSION includes PLAY 4 32-bit/64-bit software, powerful scripting for ease of use, and more user control than any other collection.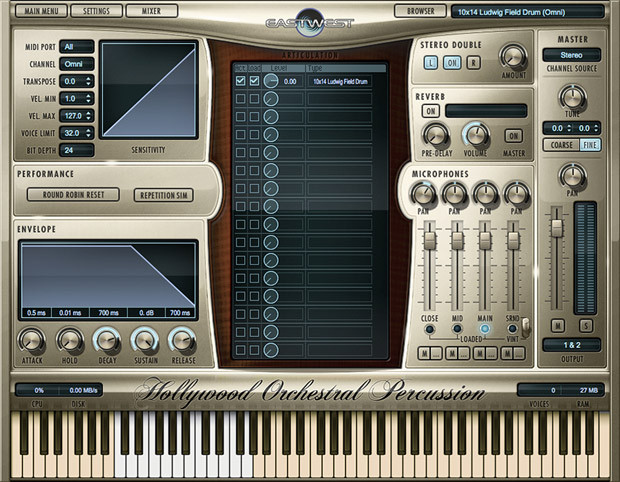 HOLLYWOOD ORCHESTRAL PERCUSSION is an utterly unique orchestral percussion library that completes the Hollywood series, featuring one of America's very best orchestral percussionists and his inspiring arsenal of instruments. Orchestral percussion staples like timpani, snare drums, cymbals, bass drums, and metals are sampled with such astounding detail and variety that you will find exactly the right sound for EVERY piece of music.
HOLLYWOOD ORCHESTRAL PERCUSSION perfects techniques pioneered in Stormdrum 3, using unique repetition sampling techniques and 8 way round robin, that deliver a virtual live performance.
HOLLYWOOD ORCHESTRAL PERCUSSION also focuses on the speed of a performance and has specific samples to handle extreme tempos. Timpani and cymbals truly come to life when sampled as part of a musical performance, and HOLLYWOOD ORCHESTRAL PERCUSSION has the most extensive and fluid timpani ever sampled. For the first time, an extensive array of epic anvils has been sampled. Truly the holy grail. Orchestral chimes were sampled in a way that mimics the sound of real church bells, as the instrument was originally intended.
HOLLYWOOD ORCHESTRAL PERCUSSION has an inspiring array of vintage field drums. Epic Bass Drum Ensemble and Mahler Hammer give this collection some serious punch. For the first time, the celeste has been captured in a multi mic position environment with extremely low noise. In fact, the entire collection uses zero noise reduction resulting in a spectacular sound that will jump out of your speakers.
HOLLYWOOD ORCHESTRAL PERCUSSION has five user-controllable mic positions, including main pickup (Decca tree), mid pickup, close pickup, surround pickup, and an alternate vintage circa 1945 RCA ribbon room pickup.
From ACADEMY AWARD, C.A.S. (Cinema Audio Society), BAFTA, and EMMY award-winning sound engineer SHAWN MURPHY, who has recorded and mixed the scores for more than 300 feature films including Indiana Jones and the Kingdom of the Crystal Skull, Star Wars: Episode II - Attack of the Clones, Star Wars: Episode III - Revenge of the Sith, Star Wars: A Musical Journey, Jurassic Park, Jurassic Park The Lost World, Harry Potter and the Prisoner of Azkaban, Titanic, etc.; and multiple award-winning EASTWEST/QUANTUM LEAP virtual (software) instrument producers DOUG ROGERS and NICK PHOENIX; and composer and orchestrator THOMAS BERGERSEN
MusicTech Choice Award 8/10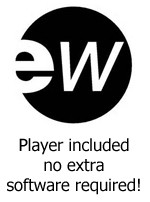 This library includes the latest "PLAY" Sample Player!
Minimum requirements Mac
* Intel Core 2 Duo Processor 2.1GHz or higher
* 4GB RAM
* Mac OS X 10.7
* 7200 RPM or faster (non energy saving) hard drive for sample streaming
Recommended system Mac
* Mac Pro Quad-Core Intel Xeon 2.66GHz or higher
* 8GB RAM or more
* SSD (Solid State Drive) for sample streaming

Minimum requirements PC
* Intel Core 2 Duo or AMD Dual Core 2.1GHz or higher
* 4GB RAM
* mindestens Windows 7
* Sound card with ASIO drivers
* 7200 RPM or faster (non energy saving) hard drive for sample streaming
Recommended system PC
* Intel Core 2 Quad or AMD Quad-Core 2.66GHz or higher
* 8GB RAM or more
* 64-bit Windows/Host Sequencer
* Sound card with ASIO drivers
* SSD (Solid State Drive) for sample streaming
All systems
* iLok required (not included), internet connection required for one-time product activation (a free soundsonline.com account is required for retrieving and managing iLok licenses)
* Hard disk space for libray content
* DVD Drive
IMPORTANT: Some of the largest patches (in the "Powerful System" folders) can take up to 1GB of RAM to load per mic position, and are intended for systems that meet the recommended specs. "Light" versions of these patches are included for slower systems.



This product requires an activation!
You can either "soft" activate on your computer without addditional hardware or transfer the license to an iLok USB dongle which has to be purchased separately. The iLok dongle can be used to run the protected software on different computers. Your licenses can be easily manged using the iLok Licence Manager. To protect your investment against theft or loss we recommend the iLok Zero Downtime protection with TLC.
An internet connection on any computer and a free user-accout at www.ilok.com is required to authorize the product.
Please check with the software manufacturer which iLok version is required at least if you want to use a hardware iLok!