Breaking New Ground!
Sample Logic breaks new ground with IMPAKT — A suite of over 850 breathtaking morphed concert percussion instruments and multis that will blow you away. This diverse collection of instruments ranges from dramatically twisted marimbas and xylophones, blissful chimes and bells to massively transfigured timpani, gongs, bass drums, cymbals, and a variety of world percussion instruments.
IMPAKT also includes a complimentary set of traditional concert percussion instruments.
All sounds were recorded on the Scoring Stage at Skywalker Sound (a Lucasfilm Ltd. Company) under the direction of renowned percussionist Jim Wunderlich and System Blue, the result of which is a comprehensive library that contains both traditional instruments and an evocative collection of morphed cinematic instruments, transitions, atmospheres, leads, impacts, and tempo-synced rhythms.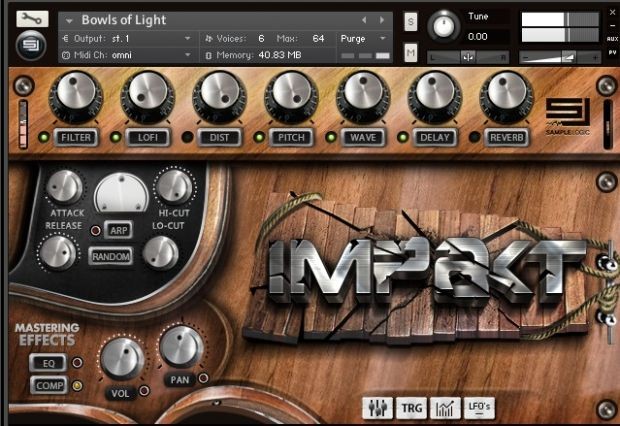 CREATE, INNOVATE, PERFORM
IMPAKT captures instruments and performances that goes far beyond standard performance techniques and practices. From the massive collection of material sampled, Sample Logic has crafted an insane suite of innovative dynamic and original cinematic instruments, bringing forward a new genre of sound where music and sound design collide.
What's included
Morphed - Atmospheric/Ambient Soundscapes, Melodic Leads and Pads, Percussive tempo-synced rhythmic Loops, Melodic & Percussive Arpeggiated Instruments, Percussive Impacts, Big Hit Ensembles & Kits, Swipes, Scrapes, & Reverse Transitional Effects

Traditional - Marimba, Vibraphone, Xylophone, Glock & Crotales, Bass Drum, Timpani, Gong, Tubular Bells, Suspended Cymbals, World Percussion – Bongos, Cajon, Wood Block, Conguitas, Cow Bell, Water Triangle, Wind Chimes, Hands, Guiro, Tambourine, etc.

Multis - Over 80 custom crafted multi-instruments that include Construction Beds, Instrument Stacks & One Note Glory Multis, Performance-ready with up to 6 customizable Multi Script Macros
STUNNING USER INTERFACE
IMPAKT's spectacular user interface was designed with the composer and sound designer in mind, providing effortless control for complete customization. IMPAKT is all about user experience with the freedom to infinitely transform samples into awesome evolving instruments with endless possibilities.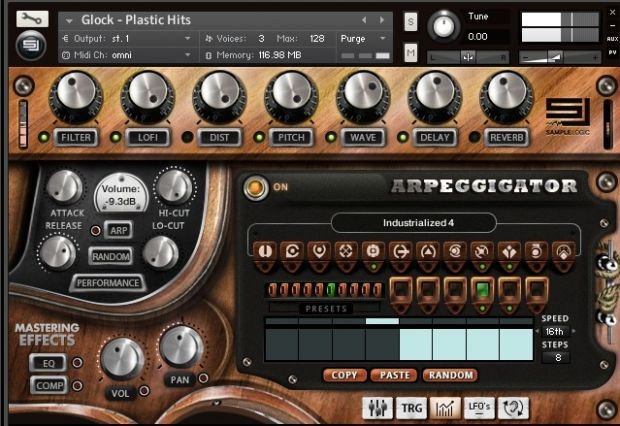 The interface includes:
"Multi-core Effect Sequencers" for real-time effect automation
"Triggers" – 48 unique effect chains
"Arpeggigater" – sequencer based gate effect
"LFO" section to make things wobble
"Wave" – additive/subtractive synthesis engine
"Pitch" sequencer for quick and easy real-time pattern based transpositions
"Space" – a 3D sound mixer for traditional instruments that can dramatically change the listening perspective in realtime.
"Loop" – audio sliced based effect engine that can bypass and turn effects and parameters on in realtime that is included on all tempo-synced loop instruments.
"Multi Script Macros" for real-time sequencing of instrument parameter controls
RE-ENGINEER THE SOUND
All of the traditional instruments in IMPAKT were recorded and programmed so the end user has total control of the multiple microphone mix (Close, Mid, Far, Rear, Sub, Wavetables), using a newly designed mixer section. Additionally, the entire listening perspective of any traditional instrument can be manipulated, using a new 3D-sound engine called "Space". Space includes a visual mixing console for easily changing the listening perspective to any location in a theater. From standing behind the stage to sitting all the way in the back row of the theater, each instrument can be moved around for the perfect mix when combining instruments together.
Sounds and Gear 08/2013

Bottom line
I give Impakt 5 out of 5 subs, the interface is very easy to use, the sound quality is amazing, and the variety of textures provides the user with a very complete feeling sound design library.


Clinton Shorter
(District 9, 2 Guns, Saving Silverman, Contraband)
"IMPAKT is fantastic, fresh, and full of surprises. I can't believe the size and quality of sounds they've jammed into one library. With inspiration around every corner I'm thrilled to be able to add such an outstanding product to my sound palette."

John Debney
(Iron Man 2, Alex Cross, The Emperor's New Groove, The Passion of The Christ, Sin City, Bruce Almighty, End Of Days, Star Trek: The Next Generation)
"Sample Logic never fails to deliver. With IMPAKT you have the best of both worlds. Tons of "traditional" percussion coupled with an entire world of incredible landscapes and elements to build and get creative with. Not to mention how good this stuff sounds. The mixes sound fantastic."


Trevor Morris
(Olympus Has Fallen, Immortals, The Tudors, Alphas, Bad Boys II, The Hills Have Eyes II, 666 Park Avenue, The Borgias)
"The Sample Logic team has continued their evolution with IMPAKT. The modern attitude of the library and sheer size of sound to the Multi's is instant satisfaction, and inspiration"



Klaypex
(Electronic Music Duo)
"IMPAKT is an awesome product! It has the usual Sample Logic interface that keeps things easy to understand but allows for a plethora of in depth customization, truly best-of-class. The library itself is massive, and very unique! It sounds like nothing else out there that we've heard, which makes it an incredible asset to have."



Sean Callery
(Homeland, 24, Bones, Medium, Elementary)
"I've been a long time fan of Sample Logic's products over the years, and Impakt is probably their best product yet. It's a great percussion library with unique and interesting sounds, and it's easy to use. There are organic and non-organic instruments, interesting sound designed percussion, and super intuitive access to manipulation tools that are natural to the touch, leaving one simply to focus on the music. Bravo to these guys for another great addition to their product line."



Bill Brown
(CSI: New York, movies include Duke, Ali, Finding Forrester, and Any Given Sunday)
"Impakt has a lot of fun, modern, tweakable sounds.. great interface. very useful for film scoring."



Tom Salta
(Halo: Spartan Assault, Ghost Recon: Advance Warfighter and Future Soldier, Tom Clancy HAWX, Prince Of Persia, Red Steel, Need for Speed: Underground 2)
"Sample Logic's Impakt gives my percussive toolbox a fresh new set of uniquely morphed and traditional percussive sounds. I'm looking forward to using it on my next projects."



Jesper Kyd
(Assassin's Creed franchise, Unreal Tournament III, Splinter Cell: Chaos Theory, Hitman)
"IMPAKT has a huge variety of great sounds – from beautiful subtle instruments to epic percussive sounds. The toolset available for each instrument is some of the most impressive I have come across. With a mastering section and effect section for each instrument, there are a lot of choices available to tweak your sounds to make it perfectly fit in your mix.I was especially pleased with all the great sounding filter effects."

This product works with the free Native Instruments Kontakt Player, the latest version can be downloaded through Native Access, Native Instrument's download manager!
The minimum required Kontakt version for this product is stated in the product description or can be found on the manufacturers wesite.
System Requirements:
Mac:
macOS 10.14 or higher
64 bit
Intel Core i5 or Apple M1 (native)
RAM: 4GB (6GB recommended)
Windows:
Windows 10 or higher
64 bit
Intel Core i5 or similar CPU
RAM: 4GB (6GB recommended)
Supported Interfaces:
Mac (64-bit only): Stand-alone, VST, VST3, AU, AAX
Windows (64-bit): Stand-alone, VST, VST3, AAX
Legacy Versions:
If you require legacy installers of Kontakt Player please refer to this Knowledge Base Article.
Product activation:
An internet connection is required to authorize / activate the product.