JST Bus Glue Drums - fat drums in no time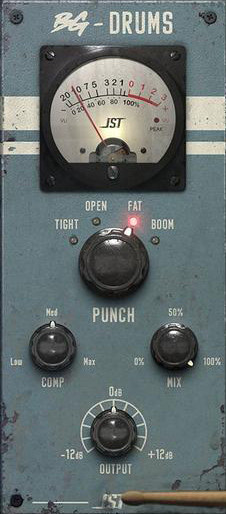 Bus Glue is a series of Bus Compressors designed to excel at controlling the dynamics of specified mix bus groups using a variety of compression and saturation types.
The foundation of any song is usually the beat and the drum sound that plays that beat. With BG-Drums, not only will you have full control over the dynamic gel that drives the punch in your drum bus, but you'll also discover new and interesting sounds that bring a whole new life to your mixes.
The goal of the BG series was to come up with a set of compressors that could do something other compressors weren't made to do. Most compressor designs are too broad in application and that is why you typically need to stack compressors or insert other processors in your bus chain to achieve desired results.
However, Bus Glue compressors are about as specific as you can get by design, but that's what makes them so useful. By using Bus Glue as your dynamic control across your various mix busses, you'll expand your dynamic palette while crafting a whole new sound that is unrivaled by other compression processors.
Windows (32 & 64 bit): VST2, VST3, AAX, RTAS

Mac OSX (32 & 64 bit): VST2, VST3, AU, AAX, RTAS

Note: The RTAS specification does not provide 64 bit support
Product activation:
An internet connection is required to authorize / activate the product.