2800 Hi-Quality CLUB Loops and Sounds
K-Size Audio and Best Service present K-SIZE Edition. A series of high quality loops and sounds for the electronic music scene. We kick off the series with the "K-SIZE "Minimal" Editon".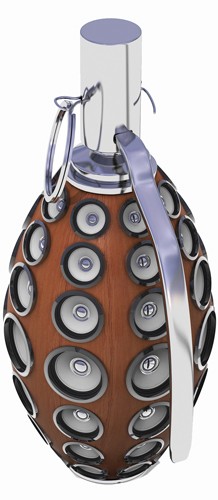 Featuring more than 2800 unique loops and sounds ready to use with your own club smasher: Kicks, Basses, Claps, Cymbals, Fx, Snare, Percussion, Synths, Vocals and Addon-, Full-, HiHat-, Percussion- & Synth Loops.
All loops are available in the formats Wav/Acid, REX2, APPLE LOOPS. The producers set a new benchmark and added the real STYLUS/SAGE-Format. In addition, all One-Shot samples are ready to use in your favorite samplers like KONTAKT3, BATTERY2, EXS24, HALION and REASON.

It has never been so easy to create your own authentic minimal club tunes. Djs, Producers and Live Acts find thousands of loops to enhance their creativity and musical output. In order to reach the highest level of quality all samples were created and processed on state-of-the-art equipment.

If you need an overdose of loops and samples - go for the full load - use Kingsize!
2800+ Loops and Sounds
Formats: Wav, Acid, Rex2 & Apple Loops
Patches: Live, Halion, Battery, Kontakt, EXS24, Reason & Stylus RMX/SAGE
16 Bit, 44,1 KHz Samples
5,4 GB DVD-Content
1,2 GB original Wav Content
1297 Acidized Wav Files
1297 Apple Loops
1297 Rex2 Samples
Sound & Recording Ausgabe 01-2010
Elektronische Tanzmusik jeder Couleur soll in diesem Monat Thema sein, und so sehen das wohl auch K Size Beat und Best Service, die mit der K-Size-Serie eine neue Reihe von Loop-DVDs aus der Taufe gehoben haben. In schlichtem Weiß gehalten und mit martialischem Konglomerat aus Kriegsgerät und Lautsprechern weisen schon die Hüllen den Weg: Hier wird's laut! Nur Hochwertiges soll geboten sein, noch dazu in allen relevanten Loop-Formaten und 16 Bit/44, 1 kHz. Neben den üblichen Acid-WAVs, Apple Loops und REX2 sind das auch vorgefertigte Pakete für Stylus RMX. Hinzu kommen noch Programs für diverse Softwaresampler, auch – besonders selten – Dateien für Ableton Live Simpler und das Drumrack – sehr schön. So hat wirklich jeder was davon, ob am Rechner oder an der Groovebox. Für den Anfang schauen wir uns die Techhouse und die Minimal Edition an.
Minimal Edition
Die DVD ist höchst übersichtlich organisiert. Zunächst wird nach Loop-Formaten und Sampler-Programs unterteilt. Innerhalb der Loop-Ordner wird dann weiter sortiert nach Full-, Add-on-, Hi-Hat-, Percussion- und Synth-Loops, während die Program-Ordner nach Instrumenten eingeteilt sind, z. B. Bass, Synth, Vocal Cuts und einzelne Drum-Instrumente. Auch haben die Produzenten die Samples nicht einfach durchnummeriert, sondern echte Namen gegeben. So kann man sich Lieblingssamples auch mal nach Namen merken.
Bei den Loops handelt es sich größtenteils um Zweitakter, was ich immer als ein wenig kurz empfinde. Es mag "minimal" sein, was hier geboten wird, trotzdem kann man etwas mehr Sample-interne Variationen gebrauchen. Bei nur zwei Takten Länge muß man intensiv slicen und mit entsprechenden Tools oder direkt im Arrangierfenster der DAW eigene Varianten erzeugen. Das ist zwar der Kreativität förderlich, kann aber auch hemmen.
Dem gegenüber steht dann aber das Konzept, für Add-ons, Hi-Hat- und Percussion-Loops die gleichen Namen wie für die "Full Loops" zu verwenden – es handelt sich also um deren Einzelspuren. Daraus bastelt man viel interessantere Grooves als es mit den Full Loops allein möglich wäre. Bleibt die Frage, ob man die Loops nicht lieber gleich in Construction Kits organisiert hätte, denn darum handelt es sich hier im Endeffekt. Andererseits kombiniert man ohne dieses Korsett auch mal Loops, die nicht offiziell füreinander vorgesehen sind – ein Quell steter Variation. Das Ganze ist auch ausschließlich rhythmisch orientiert und lässt Platz für zusätzliche Elemente.
Klanglich wird hier natürlich höchst elektronisches Material geboten, wobei ich den Effekteinsatz eher als dezent bezeichnen möchte. Schlecht ist das aber nicht, denn so kleistern Hall, Delay und Distortion nicht alles zu, sondern man kann seine eigenen Spuren bequem hinzufügen. Von knochigen Drummachine-Sounds bis hin zu heftig geschnittenen Cuts und Clicks ist alles dabei und klappert groovig vor sich hin. Die Sounds klingen eher kurz und feinsinnig. Auch auf den Swing-Faktor wurde nicht verzichtet, so dass wirklich schön verspielte Tracks möglich werden. Diesem Konzept spielen auch die Sampler-Programs in die Hände: Hier werden passende Drumsounds geliefert (leider nur wenige Kits, größtenteils "Menü-Programs" zum Aussuchen) sowie spielbare Programs für Bass und Synths. So soll es sein.
Techhouse Edition
Die zweite DVD der Serie ist genauso übersichtlich organisiert, klanglich aber natürlich ganz anders gelagert: Für Techhouse braucht es fettere, voluminösere Sounds und vollere Grooves sowie etwas mehr Aggression. Das wird hier durchaus geboten, wobei naturgemäß weniger Luft für Ergänzungen bleibt. Stilistisch animiert das wohl eher zum Abtanzen, auch wenn nicht durchgehend auf sperrige Rhythmen verzichtet wurde. Blutarm und steril ist es jedenfall nicht, sondern inspiriert direkt von der DVD weg zu eigenen Tracks.
Fazit: Durch die konsequent plattformübergreifende und sehr übersichtliche Struktur unterstützt die K-Size-Serie den Workflow und liefert zudem authentische und höchst groovige Samples. Wer dann noch irgendeinen Softwaresampler sein Eigen nennt, kann sofort noch Drums nachliefern, ergänzen und durch die Mangel drehen. Ein klares Konzept, professionell umgesetzt.

Review Computer Music 10/2009
The debut release in the K Size series delivers 2817 loops and single hits, aimed mainly at minimal house producers. It's one of the best house sample offerings we've tasted. There has obviously been some premium kit used in the production, as everything sounds phat, with plenty to spark your creativity. All o f the essential categories are in there, with plenty of focus on bass and percussive sounds. Most of the samples are ready to go, with little or no processing necessary.

Rating: 10/10
This Multi Format Library (included formats listed in product description) does not include any playback software. A suitable software is required to load and play the sounds included with this product.