Genuine Electro-mechanical Piano
Keyboard In Blue is a genuine electro-mechanical piano built from scratch. Its construction improves on the much loved vintage instruments with better sustain and tone from of the high register, and a stronger, fuller tone in the bass.
The Recording Process
Cinesamples intention was to present an electro-mechanical keyboard in a very organic and acoustic way. So instead of recording the direct output, a very popular method, they sent the direct out into a vintage tube guitar amp-cabinet. The room at Hollywood Scoring Studios provided a well-balanced room in which to capture this very lively, acoustic tone. Keyboard In Blue offers 5 separate mixes: 2 close mics on the amp - ribbon and FET, a mid-room perspective, and a full room perspective. Lastly there is a FULL mix that combines the best ratio of the above.
Functions
Character - Keyboard In Blue definitely has character! The first knob you see is the CHARACTER knob. This controls the bias between softer and louder samples whilst maintaining the same apparent loudness. So ultimately it's a timbre control.
Dynamic Range
Adjust this for your keyboard response and/or playing style - essentially a MIDI dynamic compressor.
Mixes - To the right of the CHARACTER knob are 5 mixes: FULL Mix, Ribbon (mono close mic on the amp), FET (mono close mic on the amp), MID (stereo room mics near the amp), and ROOM (stereo room mics far from the amp). Each mix has a level control and an OFF/ON switch (OFF purges the samples from RAM). You can also select a different output path for each mix.

Pedal and Release Volumes - To the left of the CHARACTER knob are volume levels for note releases, the physical pedal noise, and the physical key release noise. A sample start adjustment is available to either tighten the response or to include more pre-note noise.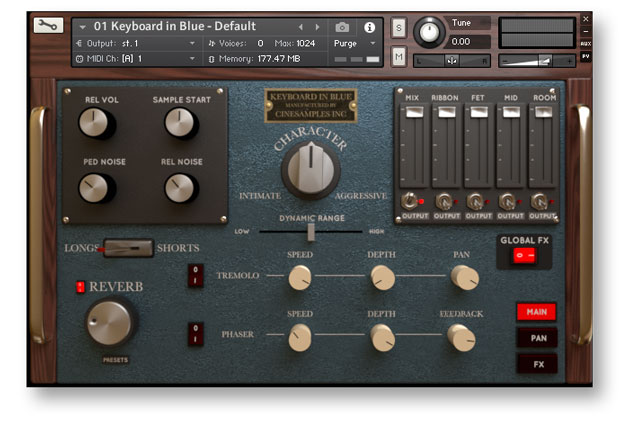 Longs / Shorts
This echoes the latching keyswitches on G-1 and G#-1 that select normal playing mode and staccato (short) mode, respectively.
Reverb
Cinesamples provided a wide variety of reverbs that pair nicely with KIB. Small Hall is the default reverb.
The TREMOLO and PHASER offer additional character. The GLOBAL FX switch turns on the Tremolo, Phaser, and all effects on the FX page.
Key Panning
The PAN page allows you to bias the lower notes toward the left channel and the higher notes toward the right. The WIDTH control adjusts the extremity of panning and the DIVERGENCE control adjusts how quickly the panning takes place from the center point.
FX Page
The EQ is a simple 4-band EQ with gain compensation. The LOW and HIGH bands are shelves. Adjust the ATTACK TIME for an interesting soft attack effect. The CRUNCH knob adds tape saturation. Remember - a little goes a long way!
Requires the FULL version of Kontakt 5.6.8 and above!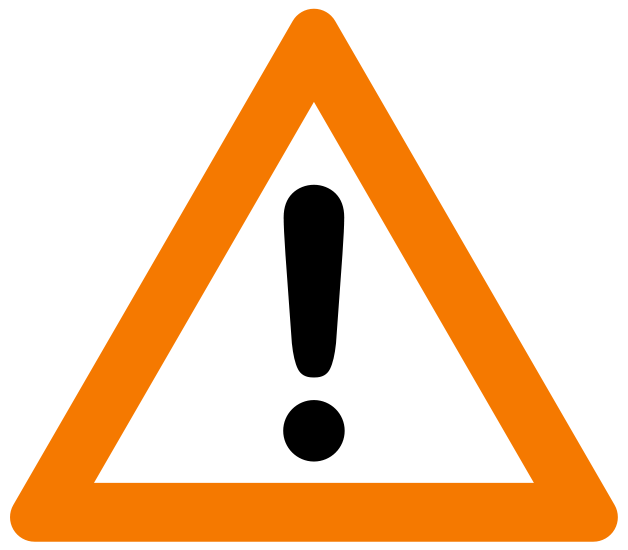 Using this library requires a full version of Native Instruments' "Kontakt"!
Please notice: This library can not be played with the free "Kontakt Player"! To use this "Open Kontakt" format, you need a full version of "Kontakt", which is included in products such as Komplete or Komplete Ultimate.
Please check the product description for the required Kontakt version.
The following list shows, whether the respective Kontakt version is compatible with your operating system:
Mac
Kontakt 4:
OS X 10.6 & 10.7 = until 4.2.4
OS X 10.8 and higher = no longer supported
Kontakt 5:
OS X 10.6 = until 5.0.3
OS X 10.7 = until 5.3.1
OS X 10.8 = 5.0.3 - 5.5.1
OS X 10.9 = 5.3.0 - 5.6.6
OS X 10.10 = 5.3.0 - 5.7.3
OS X 10.11 = 5.5.1 - latest
Mac OS 10.12 = 5.6.1 - latest
Mac OS 10.13 = latest
Mac OS 10.14 = latest
Mac OS 10.15 = latest
Kontakt 6:
Mac OS 10.12 - 10.15 (latest update)
Windows
Kontakt 4:
XP = until 4.2.4
Vista = until 4.2.4
Windows 7 = until 4.2.4
Windows 8 & 10 = no longer supported
Kontakt 5:
XP = until 5.2.0
Vista = until 5.2.0
Windows 7 = latest
Windows 8 & 10 = latest
Kontakt 6:
Windows 7, Windows 8, or Windows 10 (latest Service Pack)
FOR ALL SYSTEMS:
1GB free disk space

Additional hard drive space according to the library's size
SUPPORTED INTERFACES
Stand-Alone | VST | Audio Units | ASIO | CoreAudio | WASAPI | AAX Native (Pro Tools 10 or higher)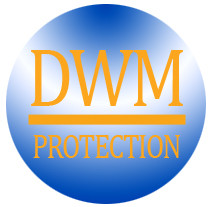 For your own protection this library is provided as individual personalized files including a
Digital Water Mark - DWM!