Awe your audience with risers, build-ups, drops and more
Risers, build-ups, drops, breaks, downlifters, swells, sweeps, falls – it has never been so easy to hype your audience. Forget samples, just turn the knob or let liftFX even do that for you, automatically, in beat sync at the length you need it to be.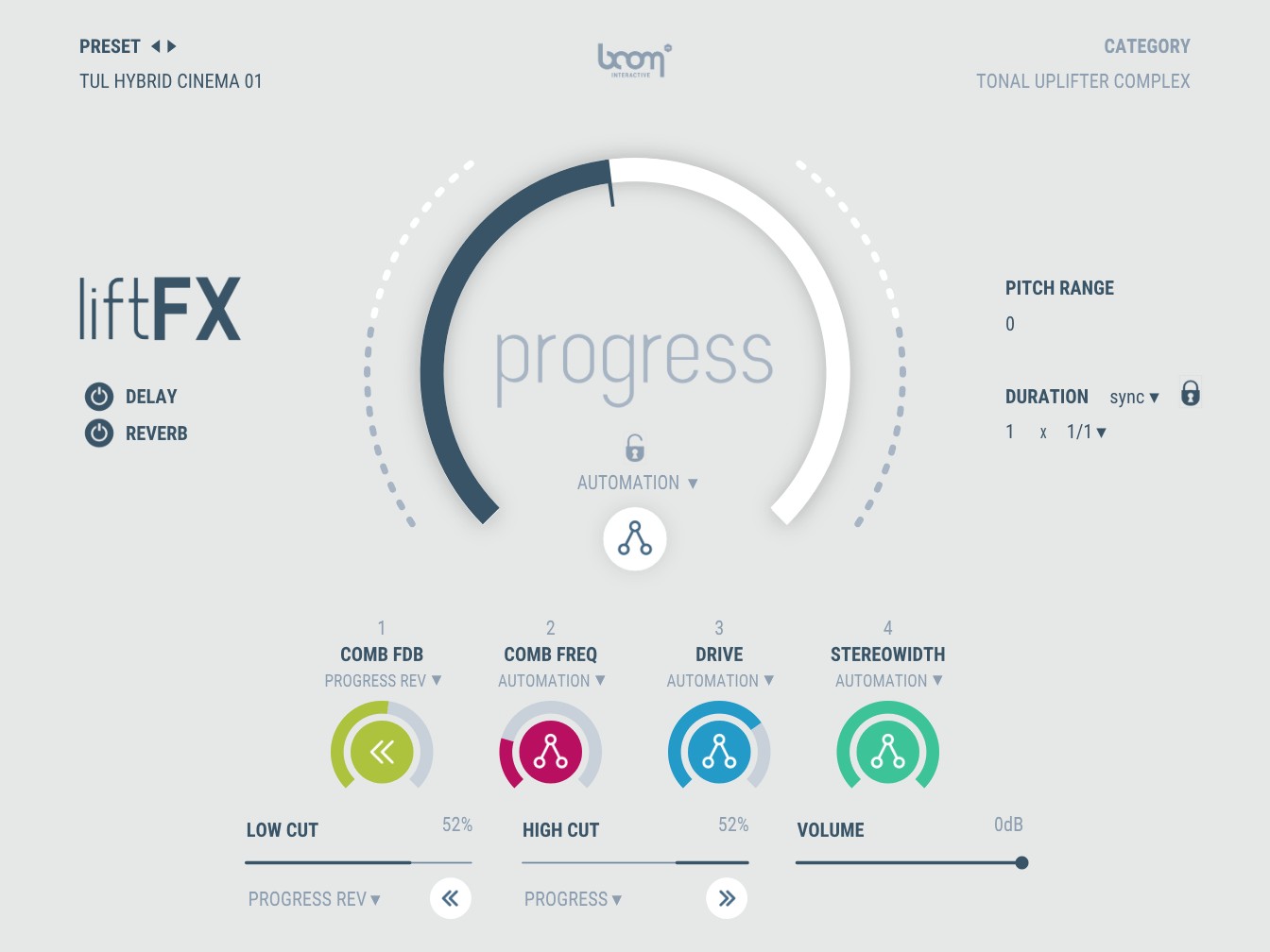 Rise to the Emotional Center of Music and Sound
Build-Ups and risers are core parts of modern music and trailer productions. They're essential as it is them who catch you and generate an unstoppable tension over time, crawling upwards from the stomach to the chest, culminating in an irrepressible peak that can move a whole stadium of people. LiftFX will help you achieve just that.
Turbine Technology
LiftFX is built on the synthesis engine of our award winning TURBINE plug-in.
While Turbine emulates turbojet sounds with unparalleled precision and authenticity, LiftFX takes the original concept further and pours all the experience and synthesis technology gathered since then into musical FX.
Like TURBINE, LiftFX doesn't like to be limited to just one category. Take it for an experimental spin, abuse it and see what pops up. As we keep re-discovering our own plug-ins months down the line, we're excited to see what you can come up with.
Instant Satisfaction, In-Depth Control
LiftFX is a completely new way to create stunning transitions and effects in the simplest and most convenient way.
Playable in Real-Time
LiftFX works as a generator plug-in or virtual instrument.
Hit a any key and let the effect develop automatically or use your modwheel to control it live.
Stacked with unique Presets
LiftFX comes with a 275-strong package of inspired presets
Risers, downlifters – both tonal and noise-based and everything in between.
Bass drops.
Rhythmic and percussive builds.
Basic and more complex designs.
Bonus FX.
Instant Visual Feedback
The intuitive interface gives you an instant idea of what's happening.
Don't be fooled by its one-trick-pony appearance!
Each of the four macros is automatable independently and lets you steer the complex processes happening under the hood.
Any Time, Tempo and Tonal Range
Quickly adapt your sound to any track or sequence you so desire.
While LiftFX starts out in perfect sync to your DAW, really any pitch, duration or tempo is possible.
Using timelock to the right, you can try out different presets while keeping the same length.
Key Features
Playable in real-time with instant auditive and visual feedback
Any length, tempo, pitch range and root note possible
Tempo sync or time (s) duration
Control key parameters independently or automatically (+ reversed)
Automation and modwheel (cc1) support for each parameter
275 nifty presets included
Optional time lock and control lock to try different presets with current setting
High cut and low cut filters, reverb and delay
Lightweight plug-in, as it relies on synthesis
Use Cases
Build captivating uplifters, downlifters, drops, rhythmic, percussive builds and more effects out of the box
Any electronic genre such as EDM, Trap, Dubstep, Pop, Hip Hop, Drum'n'Bass, House, Techno, and more
Cinematic and experimental sound design
Beef up your synthesizers with tonal layers or harmonic overtones to achieve a fat, rich sound
Baby Brown | Artist • Producer
"I've been a big fan of Enforcer since the first time I've had the chance to play around with it. Not only is it easy to use, it's even easier to get instant results. People who watch our trailers know how much we love great sounding hits and impacts, Enforcer does a great job of sweetening those up even further." -
David Philipp | Sound Designer – Noiseworks (Total War: Warhammer, Injustice 2)
Please note: Enforcer requires an audio host software. It does not work as a standalone application.
Mac:
macOS 10.9 or higher
Intel Core i5
RAM: 4GB (8GB recommended)
Windows:
Windows 7 or higher
Intel Core i5
RAM: 4GB (8GB recommended)



This product requires an activation!
You can either "soft" activate on your computer without addditional hardware or transfer the license to an iLok USB dongle which has to be purchased separately. The iLok dongle can be used to run the protected software on different computers. Your licenses can be easily manged using the iLok Licence Manager. To protect your investment against theft or loss we recommend the iLok Zero Downtime protection with TLC.
An internet connection on any computer and a free user-accout at www.ilok.com is required to authorize the product.
Please check with the software manufacturer which iLok version is required at least if you want to use a hardware iLok!