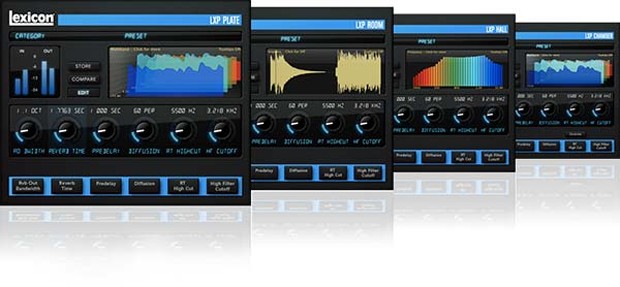 You've just wrapped up tracking with artists that are on the brink of breaking into the game. You start mixing when you realize you are craving more, the ability to envelope your mix with that "magical space" that delivers the clarity, depth and fullness that can only be created when recording in a major studio. So you turn to the most trusted name in reverb to achieve the ultimate sound. Lexicon's LXP Native Reverb Bundle provides your music with an engaging aura that brings it to life by placing it in the perfect resonant space.
Lexicon processors have become staples in the recording studio, on stage productions, as well as in every top post-production facility. Now Lexicon has complemented the finest hardware processors with the best software plug-ins available. The LXP Native Reverb Bundle offers four algorithm based plug-ins along with over 220 of the most versatile and finely-crafted studio presets that are sure to change the way you color your mix, forever.
iLok2 Authorization Required
A Brief History of Reverb:
Reverb is the reflection of a sound. The tone, density, length and many other factors that account for the quality of a reverb are influenced by everything from the size of the space to the materials that create the reflective surfaces. From amphitheatres to halls, from echo chambers to springs, we have been manipulating form to harness reverb for thousands of years.
Lexicon and Reverb:
From the 1970's to today, when audio professionals say the word 'reverb', it is usually preceded by 'Lexicon'. No other company has had such a major impact on reverb over the last four decades, and the LXP Native plug-in is a great addition to any DAW set up.
LXP User Interface
Each algorithm can be run in mono, stereo or mono in/stereo out and the Input and Output Meters allow you to verify signal levels at a glance. The most noticeable feature, however, is center screen in a multi-dimensional realtime display. With three animated screens to choose from, all showing different frequency stages of the algorithm to help you shape your sound.
With a wide array of adjustable parameters, you have the option to take the preset as it's carefully been crafted, or make further adjustments and save it off once you've compared it with the original. You even have the ability to load that preset into a different DAW.
The LXP Native Reverb Bundle is a fully functional cross-platform plug-in solution. It has been designed with flexibility to fit into the hardware/software platform of your choice.
Features
4 classic Lexicon reverb plug-ins
Over 220 finely-crafted studio presets
Intuitive user-interface provides easy access to key parameters
Graphical real-time display illustrating the frequency stages of each algorithm
Formats that work seamlessly in any AAX, VST®, Audio Unit™ or RTAS® compatible DAW
Full parameter control and automation
Graphical real-time display illustrates the reverb tail, frequency content and impulse response
Presets can be stored in a DAW-independent format that can easily be transferred to a different DAW
Input and output meters for quick assessment of audio levels
iLok authorized (iLok2 required)
Windows® XP, Vista, 7, and 10*
Mac® OS 10.4-10.14*
*On Windows® XP, Vista and 7 and Mac® OS 10.4-10.9 the Lexicon installers have been signed by Microsoft and Apple. Internal testing has shown that the plug-ins run on more recent operating systems, however you will receive a compatibility message during installation. If you see this message simply click through to continue with the installation to install the plug-ins.
Currently not compatible with Mac OS Mojave or Catalina.

Product activation
This instrument requires an iLok 2 Key for activation - iLok 1 not supported!
This USB protection device is not included in the box of this collection, it is a separate item you have to buy additionally. So you'll have to order at least one iLok Key with your first purchase. If you already own another iLok 2 protection device you can use it for this instrument, too. Each iLok 2 dongle can store up to 500 product licenses. Licenses can be manged easily using the iLok Licence Manager and for protection against theft or loss we recommend you the Zero Downtime Protection with TLC

Additionally an internet connection on any computer and a free user-accout at www.ilok.com is required to authorize the product.