Instruments programmed for the Fishman TriplePlay Wireless Guitar Controller
The East West MIDI Guitar Instruments, from producers Doug Rogers and Nick Phoenix, differ from the current EastWest virtual instruments, which are optimized for keyboards. They have been selected and designed to take advantage of the complex and unique waveforms produced by a guitar's vibrating strings.
MGS Vol 3: Soundscapes is comprised of 72 instruments. In total, this volume contains over 11 GB of 16 bit / 44.1 kHz samples. Spanning multiple award winning virtual instrument collections including Ghostwriter, Goliath, The Dark Side, these instruments have been redesigned specifically for MIDI guitar controllers.
---
Instruments included:
Andreus Kugelschreiber, Astral Pad, Backwards Distorted Guitar (2), Backwardspeil, Bird of Peace, Cambot, Chi and Chang, Colossus Pad, Crystal Tower, CS80 Orchestra, Deep Breathing, Dhali Pad, Distorted Cello Ethereal (2), Ebow Guitar (3), Electric Medieval, Ethereal, Ethnic Dulcimer, Fallen, Freak Shimmer (3), Furry Ethnic Orchestra, FX (Atmosphere), FX (Brightness), FX (Crystal), FX (Soundtrack), Gamelan Box (2), Heartstone, Les Dulcimer (3), Les Sitar Spacey (2), Leslie Choir Wide, Mandamadness, Men From Manilla Pad, Neptune Strings, Old Bombay, Pad 1 (New Age), Perc Sci-Fi, Proc Bells Spacey, Progsichord (2), Rivensong, Sigur Guitar (5), Snake Charmer, Spiritual Warrior, Stone Therapy, Sultan, Sundial, Synth Strings, Time Guitar (4), Traveller, UFO Choir, Weeping Dragon, Weird Celesta (3), X-mas Pad, Zitherland.
---
Current Fishman TriplePlay users will notice the EastWest instruments do not have to be loaded for each string. EastWest included a system that loads the instruments on all strings at the same time, greatly reducing the computer resources required, and especially if the instrument uses SSL EQ/Compression, Ohmicide multi-band distortion, EastWest Convolution reverb, or EastWest Amp Simulator, included in the EastWest PLAY software for each collection.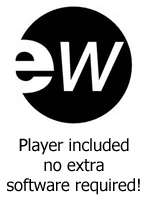 This library includes "PLAY" as a Sample-Player
Mac:
macOS 10.7 or higher
Intel Dual-Core i5
2.7 GHz or higher
RAM: 8GB (16GB recommended)
Harddisk 7200 RPM or faster (SSD recommended)
Windows:
Windows 7-10
Intel Dual-Core i5 (Intel Core 2 Quad or AMD Quad Core recommended)
2.7 GHz or higher
RAM: 8GB (16GB recommended)
Harddisk 7200 RPM or faster (SSD recommended)
All Systems
Free iLok account required at www.ilok.com, internet connection required for product activation (a free soundsonline.com account is required for retrieving and managing iLok licenses)
Hard disk space for libray content
DVD Drive
Please check the latest recommendations on the manufacturer´s site for details

INCLUDED FOR BOTH PC & MAC:

- 32-bit standalone and plug-in versions included (up to PLAY 4 only!).
- 64-bit PC VST (host must support 64-bit VST plugins) and standalone versions included.
- Check the following compatibility chart for availability of other 64-bit versions and updates.






SUPPORTED INTERFACES

- WIN: VST™, ASIO™, DirectSound™,RTAS, AAX
- MAC: VST™, Audio Units™, Core Audio™,RTAS, AAX



All included instruments, information and specifications are subject to change without notice.
Product activation:
An internet connection is required to authorize / activate the product.