Nectar 3 - Vocals, in the mix
Get your vocals to sit in the mix with the most sophisticated set of tools designed for vocal production. From corrective to creative vocal production all the way to the final polish, Nectar 3 brings out your intended performance in isolation and in the context of the mix. Put your vocals in their place with everything you need for a clear, professional sound.
Key Features Nectar 3
Vocal Assistant: One-click custom preset creation created with machine learning technology to help your vocal fit in the mix in seconds.

Unmask puts your vocal at the forefront of your mix by carving away other competing mix elements directly from Vocal Assistant's menu screen.

Dynamic EQ with new Follow EQ Mode to track down pesky resonances and remove them in real time, saving valuable time and energy.

Auto Level Mode adjusts the level of your vocal before it even starts processing, eliminating the need for corrective dynamics or riding the fader.

Inter-plugin Communication: Nectar 3 can communicate with other instances of iZotope plug-ins in your session to address mix issues, tonal balance, masking and more.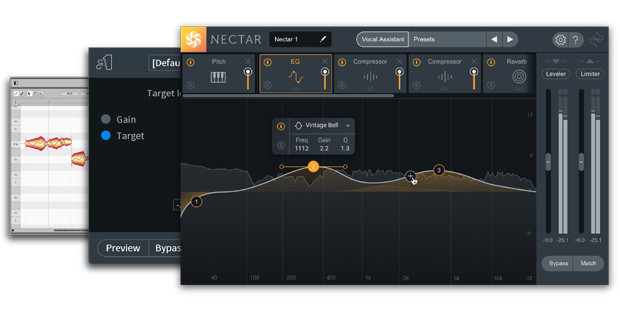 Extras
Component RX 7 Breath Control plug-in for reducing unwanted breaths without sacrificing audio quality with the power of iZotope RX 7.

Melodyne 4 essential for GRAMMY-award winning time and pitch correction.

iZotope Relay: your hub for intelligently connecting your entire mix to your iZotope plug-in collection.

Hundreds of professionally-designed presets for music and dialogue applications.
Nectar 3, Relay and RX7 Breath Control:
Windows: XP, 7, 8, 10 // Mac: OS X 10.8.5. - 10.15
Plug-in formats:
VST2, VST3
AudioUnit (Mac Only)
AAX (Real-time & AudioSuite; 64-bit only)
RTAS (Real-time & AudioSuite (DPM); 32-bit only)
Melodyne 4 essential
Mac OS:
Intel Dual Core processor (Quad Core or better recommended), 4 GB RAM (8 GB or more recommended), macOS 10.6.8 and 10.11.x to 10.13

Windows OS:
Intel or AMD Dual Core processor (Quad Core or better recommended), 4 GB RAM (8 GB or more recommended), Windows 7, 8.1 or 10 (64-bit recommended), ASIO-compatible audio hardware
Activation:
Computer-based or iLok USB dongle (2nd or 3rd generation), Melodyne 4 essential only computer-based. Internet access is required for activation
Product activation:
An internet connection is required to authorize / activate the product.