Olympus Elements is a powerful choral instrument that puts the core functionality and raw sonic power of our full 63-voice Olympus Symphonic Choir into a compact and easy-to-use package, with rich features designed for pros at a price designed for everyone. This Powered-By-Kontakt library is designed for everyone, whether you´re just beginning your musical career or are a seasoned pro. If you want a glorious sounding, efficient and user-friendly virtual choir without sophisticated lyrical phrasing or solo content, then this is the one you´ve been waiting for.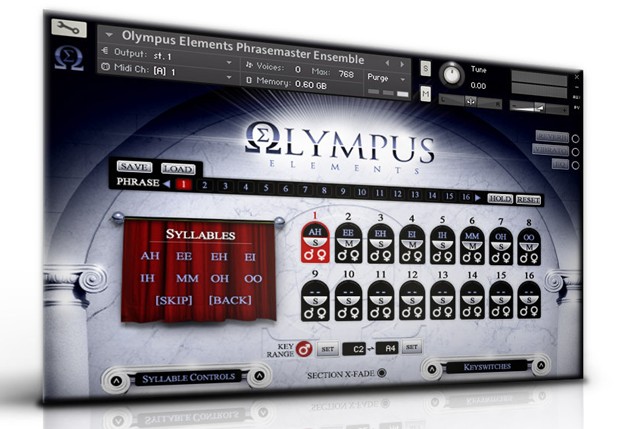 Olympus Elements contains just the wide close stage blend microphone position for all 8 core vowel articulations: Ah, Ee, Eh, Ei, Ih, Mm, Oh and Oo. The choir is completely configurable, with independent control over male and female divisi sections. You´ll find sustains, staccatos and marcatos, with pp-ff dynamic layering and intelligent round robin. This choir packs a massive forte punch and velvety smooth piano dynamics, giving you complete expressive control and creative freedom. We also bring you our newly upgraded true ah & oo legato sustains, with up to 6-part polyphonic harmony and fluid interval shaping. The library also features a wide variety of classic choral effects, swells, sweeps, shouts, whispers and more. Each preset comes with an array of fine performance controls, EQ, 50 custom convolution environmental and fx reverbs to choose from. And of course, we´ve included our signature hand-crafted choral atmospheres, pads and evolving soundscapes to open up more creative possibilities.
Olympus Elements features a fully automatable custom user interface that allows for full control over sound shaping and performance. You´ll have full control over Swell, Attack, Release Time, Release Volume, Sample Start Offset and Panning for each choral section. Section note ranges are fully configurable, and keyswitches are available to quickly select between all the available articulations for each layer.
Every preset has access to over 50 integrated convolution reverb impulses and full 3-band Equalizer. Many presets also have an optional vibrato feature to simulate molto forte. We also offer our exclusive flexible legato system for up to 6-part polyphonic harmony (3 per section), with full interval range, speed and intensity control. Our Vowelmaster preset is the all-in-one solution, providing live sustain and staccato switching for any vowel for each section, with layer blending and stacking, dynamic shaping and total performance control. Elements also includes the latest version of our Phrasemaster, which gives you the power to sequence up to 16 different complex 16-step sustain/staccato phrases, using your choice of GUI, CC automation and keyswitch control. You can even assign each step to just the men, women or the full choir. The Phrasemaster is key-switch configurable and you can save and load your own custom phrases.
Purchasers of Olympus Elements can also get $50 off the upgrade to our complete Olympus Symphonic Choral Collection! And even if you already own the full version of our Olympus Collection, Elements can be a potent weapon when you just need a lightweight, flexible choir that gets the job done even on the tightest scoring deadline. Current owners of Olympus Symphonic Choral Collection, Mars Men´s Choir and/or Venus Women´s Choir are eligible for a significant discount on Olympus Elements. Just email us for more information.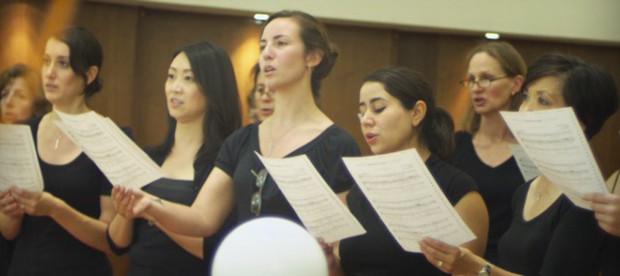 Content
Full Men´s and Women´s divisi sections, with freely adjustable note ranges
All 8 major vowel sustains w/releases -- Ah, Ee, Eh, Ei, Ih, Mm, Oh and Oo -- available in both soft pp and forceful ff dynamics.
All 8 major vowel staccatos and marcatos: Ah, Ee, Eh, Ei, Ih, Mm, Oh and Oo with shaping and time-stretching options.
Advanced, configurable simulated legato for all vowel sustains.
True Divisi Legato for core Ah and Oo vowels, with fluid real-time pp-ff dynamic and vowel morphing.
All legato features adjustable interval speed, range, polyphony and intensity.
Large selection of vowel-based Choral FX from whispers to drones and clusters, with tuning, shaping and time-stretching options.
Vowelmaster preset gives quick access to both sustaining and staccato articulations for all vowels.
Phrasemaster preset allows up to 16 user-sequenced patterns with 16 steps each -- supports live sustain/staccato and men/women/ensemble switching for each step!
Offset, Attack & Release controls let you shape your own syllables, sustains and phrases
Swell and Blend controls allow real-time dynamic performance shaping and morphing.
Release time and volume controls, to shape release accents and natural room decay.
Independent Pan controls for each divisi section.
Bonus Special FX presets for creating atmospheric pads and soundscapes.
Over 50 custom reverb impulses, including Halls, Cathedrals, Churches, Studios, Bunkers, Garages, Special FX and more.
Ensemble and Divisi Preset types with independent controls for each section, with dual layer blending, crossfading and vowel morphing.
12 Bonus Atmospheric and Custom FX instrument presets.
This Powered-By-Kontakt Player library can be used with the free Kontakt Player or the full version of Kontakt and can be added to the "Libraries" rack.
Product Specs
3,061 Samples
2.52 GB installed (4.4 GB Uncompressed)
53 nki Kontakt instrument presets
24 bit / 48kHz lossless NCW format samples
Works with the free Kontakt Player (version 5.1.0 or later)

SoundonSound.com, Redaktionstipp
This product works with the free Native Instruments Kontakt Player, the latest version can be downloaded through Native Access, Native Instrument's download manager!
The minimum required Kontakt version for this product is stated in the product description or can be found on the manufacturers wesite.
System Requirements:
macOS 10.12, 10.13, 10.14 or 10.15 (latest update), i5, 4 GB RAM
Windows 7, Windows 8, or Windows 10 (latest Service Pack), Intel Core i5 or equivalent CPU, 2 GB RAM
4 GB RAM (6 GB recommended for large KONTAKT Instruments)
Supported Interfaces:
Mac OS X (64-bit only): Stand-alone, VST, AU, AAX
Windows (32/64-bit): Stand-alone, VST, AAX
Legacy Versions:
If you require legacy installers of Kontakt Player please refer to this Knowledge Base Article.
Product Activation:
This product requires Native Access for installation, registration and activation. Start the Native Access-Software and log in using your Native Instruments credetials to start the setup.
To sucesfully activate your product Native Access requires a working internet connection.
An Offline Activation on a different computer is Not Available with this product.