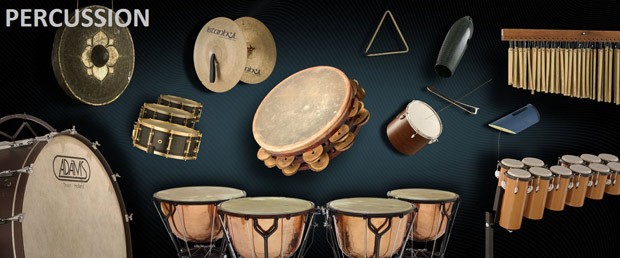 Abundance of Choice
This Vienna Instruments Collection is a truly magnificent profusion of percussion. Apart from all standard percussion instruments and Performances it contains production-ready instruments, processed with sought-after high-end studio equipment and put into the right perspective with multi-sampled convolution reverb from Vienna Symphonic Library's MIR PRO and its RoomPack 1 ("Vienna Konzerthaus"). The basic percussion instruments (timpani, snare and bass drum, tambourine, suspended cymbals, a-due cymbals, glockenspiel, triangle, xylophone, tubular bells, tam-tam and concert toms) thus are not only available as "dry" samples (with minimal reverb of the Silent Stage), but also with the reverb of the world-famous Vienna Konzerthaus in various stage positions.
INSTRUMENTS & ARTICULATIONS:
Timpani 1, Timpani 2, Single hits (normal, secco, coperto), tremolos (normal, crescendo, diminuendo), tremolo glissandos, single hit glissandos, upbeats; Repetition Performances & Various mallets
Drums
Snare drum 1 | Snare drum 2 | Snare drum ensemble | Piccolo drum | Field drum 1 | Field drum 2 | Bass drum 1 | Bass drum 2 | Concert toms | Roto toms | Taiko drums | Tambourine 1 | Tambourine 2
Cymbals & Gongs
Piatti (a-due cymbals) | Chinese cymbals | Crash cymbal | Ride cymbal | Splash cymbal | Suspended cymbals | Finger cymbals | Gongs | China gongs | Peking Opera gongs | Tam-tam 1 | Tam-tam 2
Mallets & Blocks
Celesta | Glockenspiel | Vibraphone | Xylophone | Marimba | Wood blocks | Temple blocks
Percussion
Altar-boy bells | Angklung | Antique cymbals | Anvil surrogate (rails) | Bell tree | Bells | Boobams (boa bams) | Brake disks & springs | Bull roarer | Burmese bells | Car horns | Castagnets | Caxixi | Chimes | Church bellsClaves | Crotales | Cuíca | Finger bells | Flexatone | Guiro | Guns (shots) | Hammer | Japanese singing bowls | Jingle ring | Lion's roar | Lithophone (small) | Log drum | Ocean drum | Plate bells | Rainmaker | Ratchets | Cow bells (cencerros) | Rock bells | Shaker | Ship's bell | Siren | Sleigh bells (jingle bells) | Small bells | Spring drum | Thunder sheet | Triangle 1 | Triangle 2 | Tubular bells | Vibratone | Waldteufel | Waterphone | Whip | Wind machine
Library Content
Standard Library: Samples 16.542 | Download Files Size 17,8 GB | Installed File Size 51,4 GB

Full Library: Samples 32.046 | Download Files Size 17,8 GB | Installed File Size 51,4 GB


SOS, 5 Stars


Alexandre Desplat
Harry Potter and the Deathly Hallows Part I & II, The Curious Case of Benjamin Button, Coco avant Chanel, The Queen, The King's Speech, Carnage, Renoir
"Since I'm working in Hollywood it requires a vast library and that's why VSL is really useful."


David Foster
16-time Grammy Award winner, composer and producer of Chicago, Earth, Wind & Fire, Al Jarreau, Chaka Khan, Michael Jackson, Barbra Streisand, Natalie Cole, Whitney Houston, Céline Dion, Seal, Michael Bolton, Peter Cetera
"To have the magic of a full orchestra in breathtaking 3D sound at your fingertips is the best luxury someone like myself could hope for. Thank you VSL for an amazing product."


Danny Elfman
Men in Black, Good Will Hunting, Planet of the Apes, Spiderman, Batman Returns, Corpse Bride, Alice in Wonderland, Mars Attacks!,The Simpsons, Desparate Housewives, Oingo Boingo)
"Vienna Symphonic Library has been the center of my orchestral sample library for several years now. I go to their library first every time I create an orchestral template when I´m beginning each film I score. And my demos sound great. I recommend this library to anybody getting into film scoring."


Jochem van der Saag
Michael Bublé, Andrea Bocelli, Jackie Evancho, Josh Groban, Seal
"Vienna Symphonic Library is way ahead of the curve in terms of their sounds and their software; the combination of both musical expression and technical excellence is truly superb and unrivaled"
* Upgrade discounts:
You already own Vienna Instruments? You can check in the shopping cart (after login) if you are entitled to a relevant VSL discount and apply it!
You own a Standard Library and want to upgrade to FULL by adding the Extended Library? Again, the Standard Library will be deducted in the shopping cart. Likewise when completing bundles.
Please note that all discounted custom orders have to be processed manually by us and therefore may take up to one business day.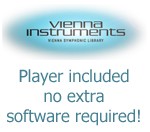 Your purchase of any VSL library entitles you to download the free Vienna Instruments Player software that includes the Vienna Ensemble mixing host.
Mac:
macOS 10.10 or higher
64 bit
Intel Core 2 Duo
RAM: 12GB or more
Windows:
Windows 8-10
32 bit & 64 bit
Intel Core 2 Duo or AMD Athlon 64 X2
RAM: 12GB or more
You also need free hard drive space according to This Library Size Chart.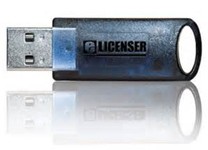 Product activation:
Vienna Instruments require the ViennaKey!
This USB protection device by eLicenser (by Steinberg compatible) is not included in any collection, it is a separate item you have to get additionally. So you'll have to order at least one ViennaKey or Steinberg eLicenser with your first VSL purchase. Each dongle can store up to 100 product licenses.
Additionally an internet connection on any computer is required to authorize a VSL product.