Advanced multi-effects plugin with Transient/Tonal Splitting
Physion Mk II is a powerful, modern approach to multi-effects delivering a new dimension of sounds. It combines Eventide's best-in-class Transient/Tonal separation with world-class Eventide effects, opening the door to practical mixing solutions and creative applications. Featuring the improved Structural Split detection from SplitEQ and a streamlined workflow designed with producers, mixers, and sound designers in mind, Physion Mk II allows you to discover new sonic horizons and smarter solutions in no time.
Physion Mk II's factory library comes loaded with over 500 presets, offering sounds you won't find anywhere else. The preset library is organized into easy-to-navigate categories, so whether you're looking for a little color, a quick fix, some extra spaciousness, or a deep transformation, you'll find great options quickly.
Classic Effects, Remixed
For over 50 years, Eventide has pushed the boundaries of audio effects - from the H910 Harmonizer to the H3000 to SplitEQ. Building on this legacy, we painstakingly hand-tuned each effect for Transient or Tonal material and included new effects like polyphonic pitch shifting and reverse delays with gating, ping-pong, and crystals modes. Plus, you also get our best-in-class splitting technology with thoughtful, easy-to-use controls.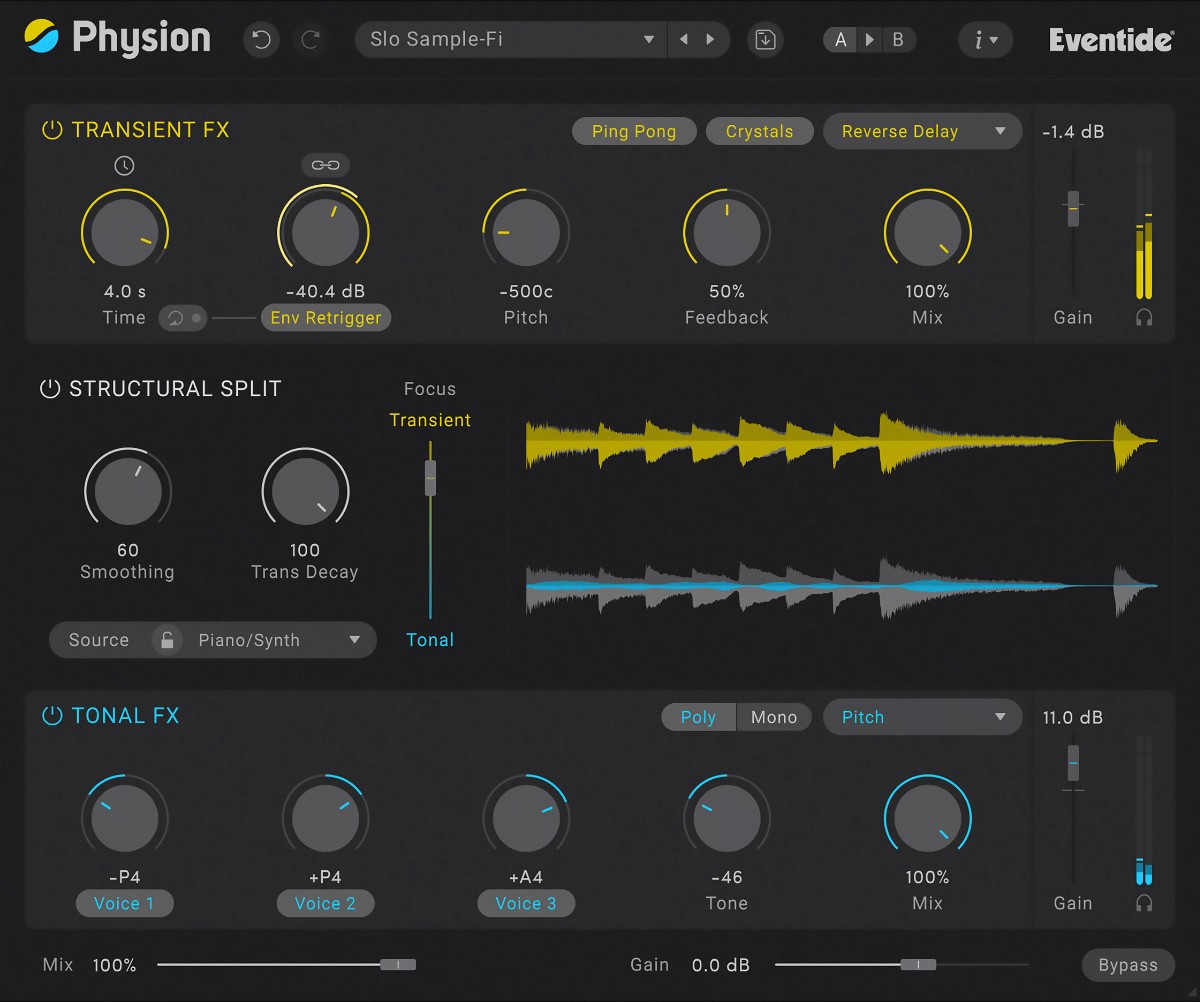 Features
Polyphonic pitch shifting algorithm based on Eventide's new SIFT technology

Reverse Delays with gating, ping-pong, and crystals modes

Side Chain input for dynamics processors

State-of-the-art Filters, taken directly from SplitEQ

Resizable GUI with scrolling waveform display and easy-to-use layout – no menu diving required!

World-class, Hand-tuned Eventide effects for the Transient & Tonal streams

Process Transient and Tonal Effects separately using Eventide's Improved Structural Split technology

Control Transient and Tonal Output levels

Control the Underlying Split for fine-tuning and experimentation

Comprehensive Presets Library includes 500+ presets

A/B Comparison and Undo/Redo make it easy to explore ideas without losing where you started

Three Color Schemes: Normal, Dark, and Colorblind Accessible
Mac:
macOS 10.9 or higher
64 bit
Eventide plug-ins are compatible with macOS Monterey on Intel-based Macs, and M1-based Macs.
Windows:
Windows 8.1 or higher
64 bit



This product requires an activation!
You can either "soft" activate on your computer without addditional hardware or transfer the license to an iLok USB dongle which has to be purchased separately. The iLok dongle can be used to run the protected software on different computers. Your licenses can be easily manged using the iLok Licence Manager. To protect your investment against theft or loss we recommend the iLok Zero Downtime protection with TLC.
An internet connection on any computer and a free user-accout at www.ilok.com is required to authorize the product.
Please check with the software manufacturer which iLok version is required at least if you want to use a hardware iLok!