Pigments 3.5 - Polychrome Software Synthesizer
Pigments gives you the finest elements ever found in a software instrument, letting you create pioneering, exciting, and deeply personal sounds. Laying everything out before you, Pigments lets you fully express your creativity in a way that's never been seen before in a software instrument.
A software synthesizer unlike any other, Pigments gives you all the tools you need to fully realize your creativity. Striking the perfect balance between depth and simplicity, all the power of Pigments can be found within 3.5 easy-to-follow pages. This neat layout keeps your workflow natural and fast, while encouraging your creativity.
Pigments Version 3.5 Overview
Pigments 3.5 goes beyond introducing additional creative features. It's been thoughtfully tweaked and embellished to deliver the best sound design experience yet.
CrossMod
Distortion Module
Expanded Comb Filter
Enhanced Sample Engine Browser
Streamlines UI/UX
Additional wavetables
Over 150 additional factory presets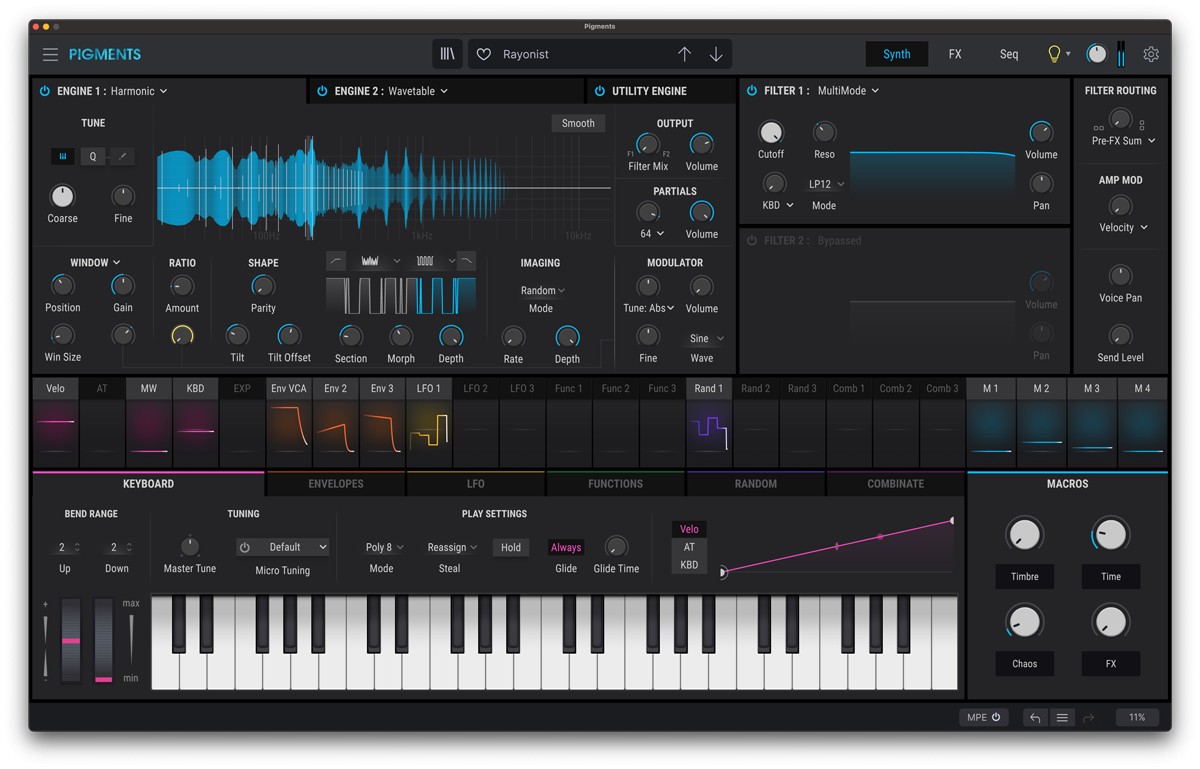 The Interface
The Synth page - The default view of Pigments, the Synth page gives you unfettered access to the main sound-generating elements of the instrument.

The Effects page - When your patch is ready to be shaped, head to the dedicated Effects page and refine it with a whole host of studio-quality effects.

The Sequencer page - To give your sound some life and movement, the Sequencer page lets you setup, play, and customize arpeggios and sequences.

Complex wavetable vs fat virtual analog - Pigments features twin synth engines, letting you use virtual analog or wavetable synthesis in any combination you want.

Virtual Analog triple oscillator engine - The award-winning work in analog emulation lets you choose from the best sounding components from the best synths ever made. Sine, saw, triangle, and square waves each with their own adjustable parameters.

Complex Wavetable engine - Pigments lets you craft your own signature sounds with an advanced wavetable synth engine. Choose from over 100 wavetables, select any waveform snapshot, or morph between them. You can even import your own to unlock limitless possibilities.

Now you've seen what Pigments has to offer, the proverbial paint in your palette, it's time to reveal the true power of the instrument.
Pigments represents a truly modern approach to modulation. It lets you modulate practically any parameter with anything you choose, with no limit on the number of connections. Make changes graphically, with source or destination-based editing. Easily see, learn, and understand how different elements behave and interact with clear visualization.
Keyboard: The Keyboard panel gives you a quick access, on-screen MIDI keyboard to audition your sounds, as well as giving visual feedback on what Pigments is receiving from your controller or DAW
3 Envelopes: A trio of hugely powerful, multi-parameter envelopes can be used statically, or animated with modulations with any source or destination you desire.
3 LFOs: Three is the magic number, and these fully customizable LFOs are ready to sync with and modulate any aspect of your sound you can imagine.
Customizable Functions: Create one-shot sub-sequences or endless looping animations with three editable Functions. Draw your animation, assign it to anything, Pigments makes advanced synthesis easy and fun.
Randomizers: If you want elements of your synth sound to have an exciting random, or controlled random element, Pigments lets gives you tweakable Turing, binary, and sample & hold random options to explore.
Twin Combinators: Choose a source parameter, choose a modulator, choose how you want them to interact, and you've just made a new combinator. An amazing way to create experimental modulations that will keep your imagination running wild.
When you've created a synth sound with ideal parameters, animated just the way you wanted it, it's time to add the finishing touches with some studio-grade effects. Pigments offers twin insert busses and a send bus, each one letting you choose and combine any 3 of the 13 effects to create a truly refined sound. You can even synchronize their parameters to your modulation
Once Pigments has helped you transform your imagination into sound, you can use its enormously powerful sequencer to bring it to life.On the sequencer page, everything is laid out simply in front of you. Watch your sequence as it plays, make adjustments to the notes, octaves, and velocity by simply clicking and dragging on the steps.
Mac:
macOS 10.13 or higher
64 bit
2.5 GHz CPU
Apple M1 compatible
RAM: 4GB
2GB free hard disk space
Windows:
Windows 8.1 or higher
64 bit
2.5 GHz CPU
RAM: 4GB
2GB free hard disk space
Product activation:
An internet connection is required to authorize / activate the product.