GOLIATH includes over 180 INSTRUMENTS and over 600 PATCHES, including drums and percussion, guitars, basses, acoustic and electric pianos, keyboards and mallets, pop brass, orchestral instruments, choirs and vocals, ethnic instruments, new age ensembles, morphing atmospheres, synth basses, synth leads, and synth pads.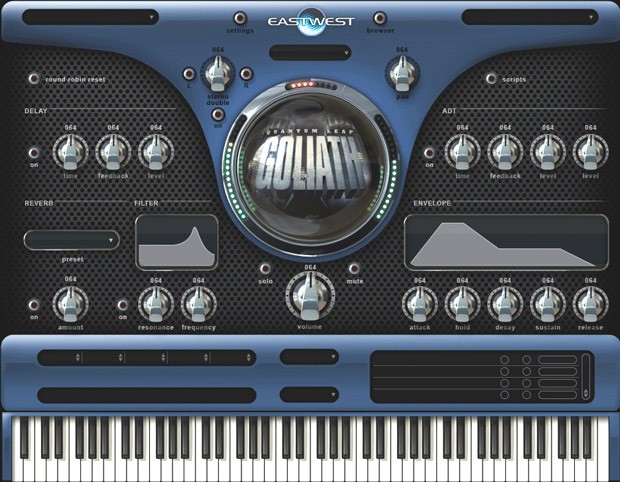 GOLIATH includes the advanced EASTWEST PLAY software, the easiest to use, and most powerful sample playback software available including both 64-bit and 32-bit support so you can load many more instruments than current systems.
GOLIATH is a massive 40 Gigabyte (not Megabyte) Virtual Instrument that covers all of the basic musical genres, the way a keyboard workstation attempts to, except GOLIATH offers much higher quality instruments and dynamics than any keyboard available today.
GOLIATH is an indispensable tool that you will reach for time and time again when nothing else works, it will become your Swiss army knife of composing, plus it's GM compatible! You can expect the usual EASTWEST/QUANTUM LEAP exceptional quality in GOLIATH. Even if you own some of these instruments, you will love this collection. A good example is the Fender Rhodes. Despite the fact the Rhodes has been sampled many times, GOLIATH includes a unique vintage sounding Rhodes you won't find anywhere else. GOLIATH includes 15 Gigs of new sounds, a new award-winning 2 Gig Bosendorfer piano recorded in Europe, and 15 Gigs from the award-winning range of EASTWEST/QUANTUM LEAP titles (EW/QL Symphonic Orchestra, EW Steinway B Piano, QL Stormdrum, QL Guitar and Bass, QL 56 Strat, QL Hardcore Bass, QL RA, QL Brass, QL Voices of the Apocalypse), all newly programmed with superior sound quality.
Programming is kept very simple, and programs that utilize the mod-wheel are labeled appropriately. All programs have CC11 asan additional volume control. Many programs utilize auto sample alternation for added realism.
For touring musicians, this is the ultimate instrument to have on the road or in a club. GOLIATH has incredible instruments of every type (check out the complete list at the bottom of this page), for song-writing, filmscoring, multi-media production, in the studio, or on stage, GOLIATH is an indespensible production tool that has you completely covered.
DRUMS/PERCUSSION
Custom Congas, Distorted Beatbox, EW Studio 2 Ludwig Kit, Radiostatic Anamoly, Rhythmic Synth FX, Tong Zi, Tambourines, Tibetan Bells

GUITARS
Concert Guitar, Fender Telecaster, Fender 5 String Bass, Hard Rock Rhythm Guitar, Les Paul Guitar, Ska Guitar

KEYBOARD/MALLET
Italian Accordion

ORCHESTRA
New Flute, Staccato Flute, 6 French Horns, Legato Violins and Cellos, Marcato Violins and Cellos, Orchestral Percussion Kit, new Trumpet, Staccato Trumpet, new solo Violin

PIANO/ELECTRIC PIANO
PMI Bosendorfer 290 (full version)

CHOIR/VOCAL
New Basses, Tenors, Altos, Sopranos and Boys Choir, Solo Boy, Solo Female Vocals


---

Bryan Tyler
Dragonalball, Eagle Eye, Fast and the Furious
"The entire line of EastWest instruments are an essential part of my composing rig. The sounds are impeccable and naturalistically captured while the ease of use and the power of the PLAY engine makes the instruments top of their field."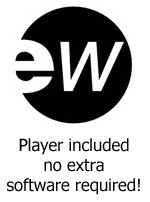 This library includes "PLAY" as a Sample-Player
Mac:
macOS 10.7 or higher
Intel Dual-Core i5
2.7 GHz or higher
RAM: 8GB (16GB recommended)
Harddisk 7200 RPM or faster (SSD recommended)
Windows:
Windows 7-10
Intel Dual-Core i5 (Intel Core 2 Quad or AMD Quad Core recommended)
2.7 GHz or higher
RAM: 8GB (16GB recommended)
Harddisk 7200 RPM or faster (SSD recommended)
All Systems
Free iLok account required at www.ilok.com, internet connection required for product activation (a free soundsonline.com account is required for retrieving and managing iLok licenses)
Hard disk space for libray content
DVD Drive
Please check the latest recommendations on the manufacturer´s site for details

INCLUDED FOR BOTH PC & MAC:

- 32-bit standalone and plug-in versions included (up to PLAY 4 only!).
- 64-bit PC VST (host must support 64-bit VST plugins) and standalone versions included.
- Check the following compatibility chart for availability of other 64-bit versions and updates.






SUPPORTED INTERFACES

- WIN: VST™, ASIO™, DirectSound™,RTAS, AAX
- MAC: VST™, Audio Units™, Core Audio™,RTAS, AAX



All included instruments, information and specifications are subject to change without notice.



This product requires an activation!
You can either "soft" activate on your computer without addditional hardware or transfer the license to an iLok USB dongle which has to be purchased separately. The iLok dongle can be used to run the protected software on different computers. Your licenses can be easily manged using the iLok Licence Manager. To protect your investment against theft or loss we recommend the iLok Zero Downtime protection with TLC.
An internet connection on any computer and a free user-accout at www.ilok.com is required to authorize the product.
Please check with the software manufacturer which iLok version is required at least if you want to use a hardware iLok!