Four of the world´s finest grand pianos, GOLD edition
This GOLD collection includes four of the world´s finest grand pianos: a Bechstein D-280, Steinway D, Bösendorfer 290, and Yamaha C7. Many users asked for a lighter version of our QUANTUM LEAP PIANOS that will allow them to run the most critically acclaimed pianos collection on slower computers. QL Pianos Gold gives you that option, with only the player-perspective mic position included.
Features:
includes all pianos from our QUANTUM LEAP PIANOS Platinum in 16-bit
One mic position (the best player's position)
Upgrade to the full version at anytime
Quantum Leap Pianos Platinum
EastWest and Quantum Leap proudly present the most detailed collection of the world´s finest grand pianos ever recorded in one of the ´temples of sound´, EASTWEST STUDIOS (more RIAA certified platinum and gold records awarded than any other recording studios) with 3 mic positions for each piano.
This virtual instrument includes four of the world´s finest grand pianos: a Bechstein D-280, Steinway D, Bösendorfer 290, and Yamaha C7. The PLAY interface includes impulses from the same hall the producers used to record Symphonic Orchestra and Symphonic Choirs so the pianos can blend with those collections.
EastWest/Quantum Leap Pianos Gold Edition, which provides only the player´s perspective mics and 16-bit samples, is available for users with less powerful systems. A low-cost upgrade path is available for users of the Gold Edition who wish to move up to the Full Edition.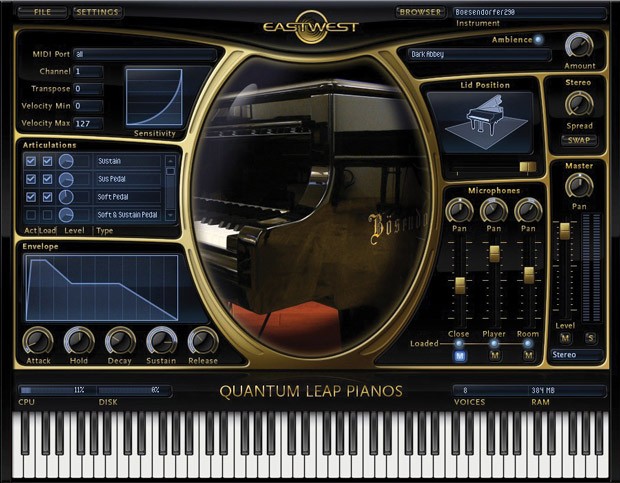 Additional close mics version engineered by KEN SCOTT
(Elton John, Supertramp, David Bowie, Beatles)
Tired of loading DVDs?
Simply order a Best Service MediaPack hard drive additionally and we will copy all installation files onto the drive!
Key Features
The most detailed piano recordings - EVER!
Load any piano or mic position individually (each piano is approx. 60Gbs)
3 positions are included per piano for maximum flexibility
10-18 velocities per note of sustain and sustain with pedal
8-12 velocities per note of repetitions and repetitions with pedal
5-8 velocities of soft pedal and soft pedal with sustain pedal
16 velocity staccato on every piano
Repetition samples taken from 180 BPM performances for a TRUE repetition sound and not simply an alternate take.
Software detects true repetitions
Resonance - pedal resonance recorded for every note at multiple velocities, as well as with the soft pedal down
Proprietary resonance captured on the Bösendorfer
Release samples with software envelope follower
Articulations on each piano include
a. sustain
b. sustain with pedal
c. repetitions
d. repetitions with pedal
e. soft pedal
f. soft pedal with sustain pedal
g. staccato
h. release trails
Recorded in a proper piano environment with vintage Neumann microphones, Meitner AD converters and a vintage 8078 Neve console
Stereo swap possible in software
Mic position mixing in software
Lid position simulation
Articulation matrix for quick and straightforward loading
Most powerful streaming engine available with highest polyphony counts
PLAY interface includes impulses from the same hall the producers used to record Symphonic Orchestra and Symphonic Choirs so the pianos can blend with those collections.
Download Size: 54 GB

Computer Music, 4,5 stars

Recording.de Redaktionstipp
Bonedo,de, Redaktionstipp
---
Teddy Riley
Producer Michael Jackson "Dangerous" and "Invincible"
"This is not just a Virtual Piano collection, it´s a masterpiece ... it´s love at first touch. When I first heard it, I had to play it, and I fell in love - WOW!!"

Herbie Hancock
12 time Grammy Winning Pianist & Composer
"These are real acoustic piano sounds. I´m absolutley amazed. EastWest/Quantum Leap has gone the extra mile to provide stunning quality acoustic pianocharacter - the whole collection is superb!"
---

David Newman
The Spirit, Cat in the Hat, Ice Age
"Pianos is the best software available today. The recording quality and playability are fantastic. These are the only digital piano sounds that faithfully reproduce the resonances of a well tuned piano."
---

Steve Jablonsky

Quantum Leap Pianos is the most detailed and best sounding collection of virtual pianos I have ever used. The PLAY interface gives me a ton of control and flexibility, but it´s also really easy to use which allows me to experiment and get the sound I want quickly."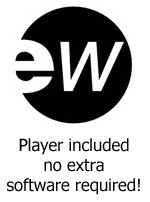 This library includes "PLAY" as a Sample-Player
Minimum Requirements for Mac
OSX 10.7
Intel Core 2 Duo Processor 2.1GHz or newer
2GB Ram
Harddisk 7200 RPM or faster
Recommended Mac System
Latest OSX
Mac Pro Quad Core Intel Xeon 2.66GHz or newer
8GB Ram
Harddisk 7200 RPM or faster
Minimum Requirements for PC
minimum Windows 7
Sound Card with ASIO Driver
Intel Core 2 Duo, or AMD Dual Core 2.1GHz or newer
4GB RAM
Harddisk 7200 RPM or faster
Recommended PC System
64-bit Windows/Host Sequencer
Intel Core 2 Quad, or AMD Quad-Core 2.66GHz or newer
8GB RAM
Harddisk 7200 RPM or faster
All Systems
Free iLok account required at www.ilok.com, internet connection required for product activation (a free soundsonline.com account is required for retrieving and managing iLok licenses)
Hard disk space for libray content
DVD Drive
Please check the latest recommendations on the manufacturer´s site for details

INCLUDED FOR BOTH PC & MAC:

- 32-bit standalone and plug-in versions included (up to PLAY 4 only!).
- 64-bit PC VST (host must support 64-bit VST plugins) and standalone versions included.
- Check the following compatibility chart for availability of other 64-bit versions and updates.






SUPPORTED INTERFACES

- WIN: VST™, ASIO™, DirectSound™,RTAS, AAX
- MAC: VST™, Audio Units™, Core Audio™,RTAS, AAX



All included instruments, information and specifications are subject to change without notice.



This product requires an activation!
You can either "soft" activate on your computer without addditional hardware or transfer the license to an iLok USB dongle which has to be purchased separately. The iLok dongle can be used to run the protected software on different computers. Your licenses can be easily manged using the iLok Licence Manager. To protect your investment against theft or loss we recommend the iLok Zero Downtime protection with TLC.
An internet connection on any computer and a free user-accout at www.ilok.com is required to authorize the product.
Please check with the software manufacturer which iLok version is required at least if you want to use a hardware iLok!