Questionably Barbershop is a simple 4-piece male vocal ensemble, crafted in the style of an old timey Barbershop Quartet. Featuring the humble vocal talents of our own Mike Peaslee, Gregg Stephens and Spencer Nunamaker, this library offers basic chromatic sustains and staccato articulations, improvised scat and bebop phrases and even a classic Americana folk song construction kit that is broken down line-by-line with each vocal part directly accessible in several different root keys. From a deep booming bass to a soaring high tenor falsetto, Questionably Barbershop gives you easy 4-part harmony in a box.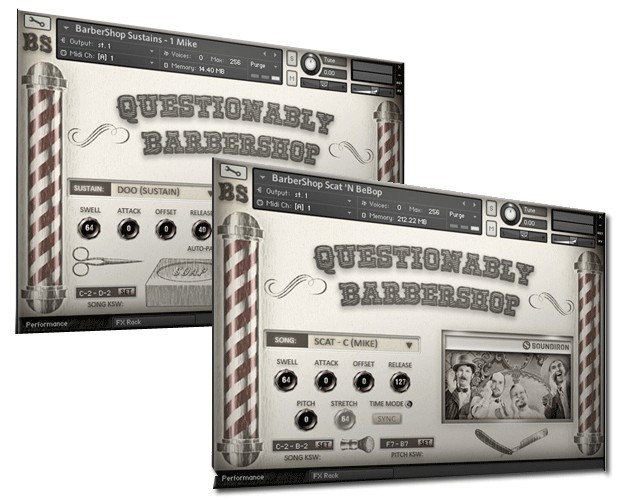 Each one of our singers (Mike: Tenor Lead, Gregg: Baritone, Spencer: Bass and 'Mikey': Tenor Falsetto) performed 3 types of sustains and staccatos: Doo, Lah and Woh. Using our custom GUI controls, these 3 different sounds can also act as pure Oo, Ah and Oh vowel sounds, with adjustable durations and attack shaping. Our advanced scripting gives you automatic 4-part harmony voicing in the Ensemble Sustains and Staccatos presets, ensuring that you always hear the Lead first, the Bass in his appropriate range and the Tenor for those piercing high notes! And for a big male chorus sound, you can select the "Unison" mode for all four voices over the whole key range. We even give you Auto-pan feature to intelligently spread the singers over the stereo field for a nice wide sound.
The Scat 'N Bebop phrase section includes 356 improvised phrases, with real-time tempo-synching and time-stretching. Phrases are included in the root keys of C, E, and G# with easy transposition to other keys.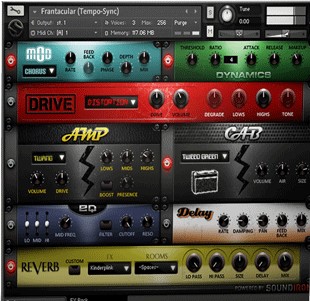 You'll also find our DSP Rack panel, with multi-effects, compression, EQ, amp/speaker simulation and convolution reverb, with dozens of our favorite rooms, halls, chambers, cathedrals and FX impulses.
Contents:
4 Separate Male Voices: Lead, Bass, Baritone and Tenor (Falsetto)
1 Classic American Folk Songs in 4-Part Harmony
3 Staccato types with 8RR for each Voice
3 Sustain types for each Voice
356 Improvised Scat 'N Bebop Phrases for each Voice in multiple Keys
Full Multi-FX rack panel with Chorus, Compression, Distortion, Amp and Cab simulation, EQ, Delay and Reverb
Our Reverb rack unit includes 25 unique creative FX convolutions and 45 excellent live rooms, studios, chambers, cathedrals, halls and other real-world environments, with flexible tone, size and mix controls.
Fully automatable, with customizable key switch and GUI controls.
Convenient real-time visual wave-form displays.
Kontakt Format
This library is designed for the full retail version of Native Instruments Kontakt 5.5.2 or later. Kontakt is an industry-standard advanced virtual instrument / software sampler platform.
Check out screenshots of our custom graphical user interface for Kontakt in the image gallery above. They provide a wide range of sound shaping parameter controls, each one totally automation-ready in your host environment or Kontakt's stand-alone mode.
This is a standard Kontakt open-format library, so the free Kontakt Player doesn't support this open-format Kontakt library. However, the sample directories are fully accessible to allow user customization, import and mapping into other wav-compatible software, sampler and synth formats.
The special Libraries tab doesn't support this open-format Kontakt library, but you can use the standard File browser tab, or import this library into the Kontakt database and Quickload tools for easy navigation, loading and organization.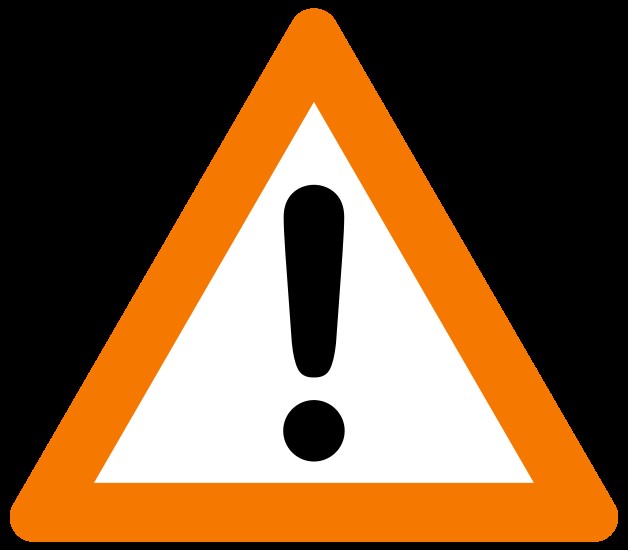 Using this library requires a full version of Native Instruments' "Kontakt"!
Please notice: This library can not be played with the free "Kontakt Player"! To use this "Open Kontakt" format, you need a full version of "Kontakt", which is included in products such as Komplete or Komplete Ultimate.
Please check the product description for the required Kontakt version.
The following list shows, whether the respective Kontakt version is compatible with your operating system:
Mac
Kontakt 4:
OS X 10.6 & 10.7 = until 4.2.4
OS X 10.8 and higher = no longer supported
Kontakt 5:
OS X 10.6 = until 5.0.3
OS X 10.7 = until 5.3.1
OS X 10.8 = 5.0.3 - 5.5.1
OS X 10.9 = 5.3.0 - 5.6.6
OS X 10.10 = 5.3.0 - 5.7.3
OS X 10.11 = 5.5.1 - latest
Mac OS 10.12 = 5.6.1 - latest
Mac OS 10.13 = latest
Mac OS 10.14 = latest
Mac OS 10.15 = latest
Kontakt 6:
Mac OS 10.12 - 10.15 (latest update)
Windows
Kontakt 4:
XP = until 4.2.4
Vista = until 4.2.4
Windows 7 = until 4.2.4
Windows 8 & 10 = no longer supported
Kontakt 5:
XP = until 5.2.0
Vista = until 5.2.0
Windows 7 = latest
Windows 8 & 10 = latest
Kontakt 6:
Windows 7, Windows 8, or Windows 10 (latest Service Pack)
FOR ALL SYSTEMS:
1GB free disk space

Additional hard drive space according to the library's size
SUPPORTED INTERFACES
Stand-Alone | VST | Audio Units | ASIO | CoreAudio | WASAPI | AAX Native (Pro Tools 10 or higher)
For your own protection this library is provided as individual personalized files including a
Digital Water Mark - DWM!