Powerful Synthesizer Focused on Distorted Sounds
DJ Promo and DJ Free-K approached Rob Papen with the idea of a synthesiser that focused more on 'distorted' sounds with an easy to use layout. Renowned for delivering fresh, cutting edge and musical plugins for producers, Rob Papen invited the DJs to his studio for a brainstorming session resulting in a list of 'must have' features and tools for a brand new synth. Armed with this list and several more brainstorming sessions later, Rob Papen and his development team created a powerful new virtual synth RAW.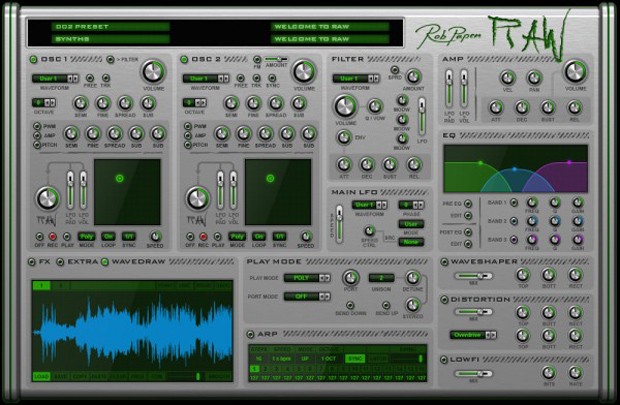 RAW FEATURES:
RAW has two oscillators each with an X/Y field, (as included in Blade and BLUEII) to distort the waveform using Phase Distortion. But that's not all, you can also draw two of your own 'waveforms' and use them as LFO waveforms enabling the creation of unique 'wobble' movements that are perfect for for DubStep and other electronic music styles.
RAW has all the great Rob Papen filters to shape your sound further, but in a refreshing twist, 'EQ', 'Waveshaper', 'Distortion' and 'LoFi' have also been added on a voice synthesis level. Other FX such as Chorus, Phaser, Flanger, Stereo delay and the amazing HQ Reverb of Rob Papen can all be added to your sound and of course, the cool Arpeggiator/Sequencer, Easypage and preset bank manager have all been included as standard.
In true Rob Papen style, RAW comes with many great presets with mainly contributions from several well known DJs and Producers for instant user inspiration!

Mac:
Windows:
Windows 7-10
32 bit & 64 bit
Product activation:
An internet connection is required to authorize / activate the product.