Shape Sound Like Never Before
Reformer Pro allows sound designers, producers, musicians and performers to design, automate and perform any sound in real-time, like never before. Whether you already hear the sound in your mind, or you're looking to experiment and search for the never-before-heard, Reformer Pro gives you powerful sonic tools to bring your sound to life.
Reformer Pro also utilises the world's first Dynamic Input technology, taking procedural, sample-based audio processing to new heights and into previously unexplored territory.
Overview
You do your best sound design work when you can manifest what you hear in your mind. Reformer Pro offers a whole new way of interacting with sound.
Analyse sound libraries with the Analysis Tool.
Perform sounds in real-time via the world's first Dynamic Input – using a microphone, MIDI or directly from the UI.
Replace or add texture to pre-recorded audio in your DAW.
Automate your audio directly from the timeline.
Select or mute any sound from within your libraries.
Perform impacts and add extra definition using the unique Transient Engine.
Create constantly evolving soundscapes and variations.
Features
Turn your sound libraries into a performable sound palette
Switch between an audio input and Dynamic Input for different ways of interacting with your own libraries
Use a microphone, automation or midi to control your libraries
Perform impacts and add extra definition using our unique Transient Engine
Trigger transients directly, based on frequency via velocity-sensitive midi input
Add variation quickly and easily
Use high-quality libraries
Reformer Pro ships with our fantastic Krotos Bundle, that's over 3.8 GB of high-fidelity sounds waiting for you at start-up. Libraries include: Bengal Tiger, Electronic, Leather Foley, our Fruit & Veg Collection, Gun Foley and more
Looking for even more variety? All Reformer libraries are compatible with Reformer Pro. Shop the entire assortment here
Blend and control up to four libraries in real-time with the X/Y pad
Perform to picture in real-time and achieve seamlessly synced, sculpted results
Render single shots or set up automation to create audio that evolves with your scene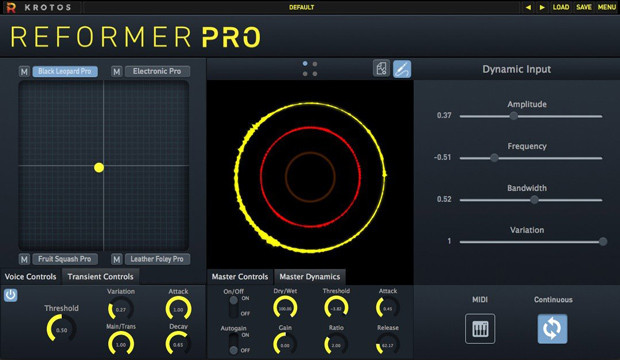 Set individual parameters for each library
Choose response times for each library using the parameter bar
Tweak playback speed and volume to refine results
Select or mute any sound within any Library
Perform sound libraries like instruments in real-time
Analyse your own libraries, packs, and collections for use in Reformer Pro with our Analysis Tool
Include up to 1 GB of samples in every Reformer Pro library that you create
Draw from a broad and diverse library or aim for consistency and focus with micro libraries
Analyse at the sample rate that's ideal for you
Replace or add texture to pre-recorded audio in your DAW
Create constantly evolving sounds using 'continuous mode' – perfect for environmental effects or electronic textures
Combine with Extended Library View for a comprehensive range of results from a single library
System Requirements
Mac - 2.4 GHz Intel Dual Core Processor, 4 GB of RAM, OS X 10.9 or later
Windows - 2.4 GHz Intel Dual Core Processor, 4 GB of RAM, Windows 7 or later
Comes with the Krotos Bundle for FREE, that's over 3.8 GB of high-fidelity sounds to get you started.
The system requirements can be found in the product description or on the manufacturer's website.



This product requires an activation!
You can either "soft" activate on your computer without addditional hardware or transfer the license to an iLok USB dongle which has to be purchased separately. The iLok dongle can be used to run the protected software on different computers. Your licenses can be easily manged using the iLok Licence Manager. To protect your investment against theft or loss we recommend the iLok Zero Downtime protection with TLC.
An internet connection on any computer and a free user-accout at www.ilok.com is required to authorize the product.
Please check with the software manufacturer which iLok version is required at least if you want to use a hardware iLok!