Regroover Essential 1.7 - Sampling Reimagined
Split your grooves and extract previously unreachable sound elements! Regroover is an Artificial-Intelligence beat machine that extends traditional music sampling.
Use Regroover to:
Unmix your samples and extract distinct sound layers.
Play around with the A.I. engine and get previously unheard sounds.
Craft the isolated beat elements and form your unique rhythmic signature.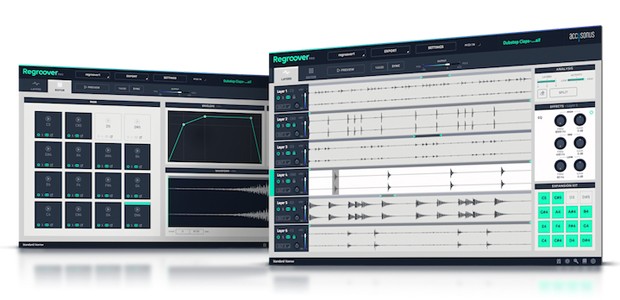 Unmix your loopes and create new beats and music - Grab the live vibe of an isolated hi-hat pattern or extract that punchy snare you always wanted. Regroove your old sound libraries and produce astonishingly-fresh tunes.

Play or program the sounds from inside your loops to produce altogether new rhythms and grooves - Use Regroover's MIDI functionality to create inspired beat variations you can remix on the spot

Dial in the volume, panning and effects of individual layers of your mixed beats for better balance or more variety to your looped patterns - Craft the sound of individual sound components and add your favorite effects. Swap kit elements of the original groove with new ones

Explore the A.I. capabilities and extract strange and new sonic elements for experimental grooves and soundscapes - Play around with the A.I. engine and obtain new, previously unheard sounds. Reveal and capture the underlying micro-rhythms and hidden tempo patterns of each audio clip
Please go to "More Info" for a Comparison Chart regarding to Regroover Essential and Regroover Pro!
Mac
macOS 10.13 or higher
64 bit
RAM: 4GB or higher (8GB recommended)
Windows
Windows 10 or higher
64 bit
RAM: 4GB or higher (8GB recommended)
Product activation:
An internet connection is required to authorize / activate the product.