Regroover Pro 1.7 - Your samples, reimagined
Discover the magic inside your drum loops which you've wanted to extract for years. Create new sounds from old or simply adjust the volume of individual elements inside a loop. Regroover uses Artificial-Intelligence to extract layers from within your previously recorded beats and samples. Once Regroover analyzes the file, you are able to make your own drum kits and combine them with external sounds to make new beats, loops and your own unique Expansion Kits.
Use Regroover to:
Unmix your loops into distinct sound layers.
Get previously unheard sounds from inside your loops.
Craft the isolated beat elements and form your unique rhythmic signature.
Regroover Pro Only Features:
Grab the magic kick, snare or clap and place it on its own trigger pad.
Or Build your own Expansion Kit with any element inside your loop which makes for rapid-fire MIDI triggering of samples to make new beats and grooves.
Create Regroover Projects with both external and found sounds from inside your loops.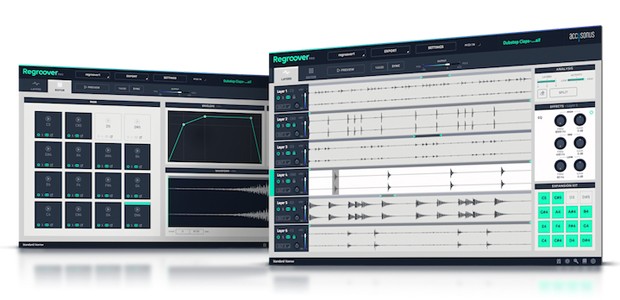 Unmix your loopes and create new beats and music - Grab the live vibe of an isolated hi-hat pattern or extract that punchy snare you always wanted. Regroove your old sound libraries and produce astonishingly-fresh tunes.

Play or program the sounds from inside your loops to produce altogether new rhythms and grooves - Use Regroover's MIDI functionality to create inspired beat variations you can remix on the spot

Dial in the volume, panning and effects of individual layers of your mixed beats for better balance or more variety to your looped patterns - Craft the sound of individual sound components and add your favorite effects. Swap kit elements of the original groove with new ones

Explore the A.I. capabilities and extract strange and new sonic elements for experimental grooves and soundscapes - Play around with the A.I. engine and obtain new, previously unheard sounds. Reveal and capture the underlying micro-rhythms and hidden tempo patterns of each audio clip
---
Features in Version 1.7
Extract any sample (or loop) layer via simple drag and drop (Pro only)
Create and extract new beat variations in real-time by moving "Layer Markers" (Pro only)
Enhanced export menu options, including several pattern/layer mixdown options (Pro
only)
New unique Transient Shaper optimized for beat processing (Pro only)
New analog-inspired Saturator (Pro only)
New Stereo Enhancer for every layer (Essential and Pro)
Improved compressor and gate effects (Essential and Pro)
Better Presonus Studio One Integration (Essential and Pro)
Mac
macOS 10.13 or higher
64 bit
RAM: 4GB or higher (8GB recommended)
Windows
Windows 10 or higher
64 bit
RAM: 4GB or higher (8GB recommended)
Product activation:
An internet connection is required to authorize / activate the product.