Rust 1
Rust Vol. 1 is an eclectic collection of metal impact and tuned percussions recorded in a variety of natural environments. This first volume focuses on classic small objects and found sounds. You will find metal racks, paint cans, soda cans, magnetic balls, steel pipes, brass hardware, a musical saw and odd bits of furniture, along with large structures like mine shaft gates, steel tunnels, towering stairways and massive structural I-Beams.

There is a full range of user controls to allow you total sonic control, as well as a custom set of sound-designed ambient textures and sustains. The powerful Uberpeggiator allows complex, adaptive arpeggiations and you will find tempo-syncing resonant filter and volume LFOs build into nearly every preset.
Soundiron also included a parametric EQ and convolution reverb with over 50 room and FX impulses to choose from instantly. The Megamixer preset lets you dynamically layer and blend up to 10 instruments at a time, each with custom range and tuning to create your own ensembles, drum kits and acoustic blends. The UI also features tons of custom convolution reverb impulses of a wide variety of halls, rooms and special effects.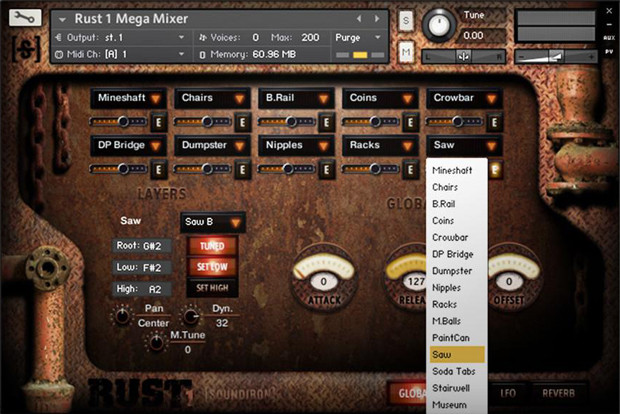 Contents
Black Diamond Mine Shaft – Bare handed pounding on the sides of a sand mine air shaft, outdoor

Gigantic Bottles and Iron Chairs – metal and glass pounding on tile and glass surfaces in a large hall

Brass Rail – Bare hands playing on a thin 4 foot long brass railing, muted and sustained in a dry room

Saint Louis City Museum Caverns – Bare hands slapping on interior walls of giant steel tunnels

Coins – A whole lot of quarters in a small, bright hall

Crowbar Strike – A standard 24" crowbar on concrete, close mic'd in a dry studio room

Dolphin Point Bridge – Bare hands on the railing and support beams of a 100 foot long pedestrian bridge over a bayfront waterway

Dumpster / Junkyard Orchestra – Hands, sticks, mallets and hammers against dumpsters and other junk

Galvanized Nipples – galvanized steel pipes played against each other in a dry studio room

Metal Racks – Large steel mesh equipment racks, played with drum sticks and wire, recorded in a semi-dry studio room

Monkey Balls – Hematite egg thingies, banging together in a small, dry room

Tuned Paint Can – An empty steel paint can, played bare handed in a small, dry studio room

Bowed Saw – A standard saw played with a 4/4 scale violin bow in a small, bright hall

Soda Can Tabs – Soda can tabs being plucked in a large, bright hall

Stairwell Railing – Long steel handrails being struck with hard felt mallets in a dark basement stairwell, close-mic'd

Tower Step Bang – Heavy work boots kicking a steel step in a 5 story glass tower, recorded from 40 feet up

UMSL Observatory kinetic sculpture – Bare hands slapping on the steel sides of a gigantic outdoor wind sculpture

Willow Bridge – A long pedestrian bridge over a creak, played with bare hands, drumsticks and mallets
This library is designed for the full retail version of Native Instruments Kontakt 4.2 or later.
Using this library requires a full version of Native Instruments' "Kontakt"!
Please notice: This library can not be played with the free "Kontakt Player"! To use this "Open Kontakt" format, you need a full version of "Kontakt", which is included in products such as Komplete or Komplete Ultimate.
Please check the product description for the required Kontakt version.
The following list shows, whether the respective Kontakt version is compatible with your operating system:
Mac
Kontakt 4:
OS X 10.6 & 10.7 = until 4.2.4
OS X 10.8 and higher = no longer supported
Kontakt 5:
OS X 10.6 = until 5.0.3
OS X 10.7 = until 5.3.1
OS X 10.8 = 5.0.3 - 5.5.1
OS X 10.9 = 5.3.0 - 5.6.6
OS X 10.10 = 5.3.0 - 5.7.3
OS X 10.11 = 5.5.1 - latest
Mac OS 10.12 = 5.6.1 - latest
Mac OS 10.13 = latest
Mac OS 10.14 = latest
Mac OS 10.15 = latest
Kontakt 6:
Mac OS 10.12 - 10.15 (latest update)
Windows
Kontakt 4:
XP = until 4.2.4
Vista = until 4.2.4
Windows 7 = until 4.2.4
Windows 8 & 10 = no longer supported
Kontakt 5:
XP = until 5.2.0
Vista = until 5.2.0
Windows 7 = latest
Windows 8 & 10 = latest
Kontakt 6:
Windows 7, Windows 8, or Windows 10 (latest Service Pack)
FOR ALL SYSTEMS:
1GB free disk space

Additional hard drive space according to the library's size
SUPPORTED INTERFACES
Stand-Alone | VST | Audio Units | ASIO | CoreAudio | WASAPI | AAX Native (Pro Tools 10 or higher)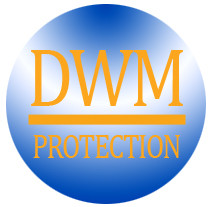 For your own protection this library is provided as individual personalized files including a
Digital Water Mark - DWM!