Audio Repair for Music and Post Production
Used on countless albums, movies, and TV shows to restore damaged, noisy audio to pristine condition, RX is a post-production powerhouse. With version 8, RX brings more power and intelligent processors for music and post than ever before. Visually identify and repair problems with the standalone RX Audio Editor application, or use the real-time plug-ins in your favorite DAW or NLE.
In addition to industry-leading repair tools for post, RX 8 Standard introduces groundbreaking new features for music production. Use Guitar De-noise to manage aspects of guitar performance like amplifier hum and interference, fret squeaks, and pick attacks—resulting in a clean, controlled recording. Leverage the improved source separation tech of Music Rebalance to mix musical elements of a stereo audio file independently, or automatically create individual stems for more nuanced mixing and processing. Prepare your production audio for broadcast at optimal loudness with an all-new Loudness Control module. Whether you're cleaning up musical performances, performing last-minute mix edits, or preparing your audio for delivery, RX 8 Standard gives you the tools to get it done in record time.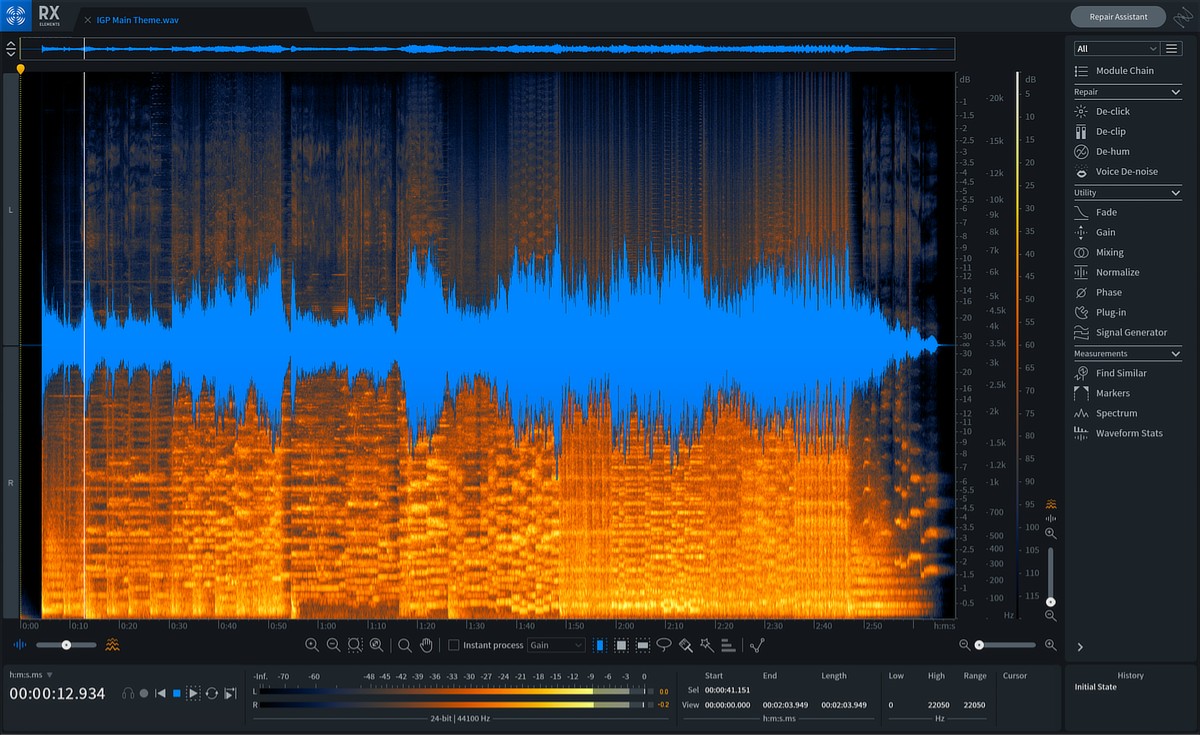 Perfect for music and smaller post production studios
Includes everything in RX Elements
Quickly remove amp hum, squeaks, fret noise, and other guitar issues with Guitar
De-noise
Isolate and remove vocals or rebalance mix elements with Music
Rebalance
Prepare your processed files for delivery with Loudness Control
Process multiple files or folders more efficiently with Batch Processor
Independently adjust time and pitch with Variable Time and Variable Pitch
Eliminate noise issues with the magic of Spectral Repair
Remove instrument, click-track, or vocal bleed with the De-bleed module
Easily fix vocal issues like sibilance, plosives, breaths, and mouth clicks
Instantly repair multiple files at once with Composite View
28 modules, 14 plug-ins, and much more
Rebalance the musical elements of a mix
Are the vocals too quiet or the drums too loud? Can't find the original stems to your song? With Music Rebalance, no mix is "final." Using an algorithm trained with machine learning, Music Rebalance can intelligently identify vocals, bass, percussion, and other instruments and allows you to individually enhance or isolate elements of an audio track, making remastering without multitracks possible. Isolate or remove vocals from your song, or for more problematic mixes, separate each musical element into separate stems for individual processing.
Refine your guitar recordings for clean, authentic performances
As one of the most pervasive instruments in modern music, a clean, articulate guitar track is pivotal to a high-quality music production. RX 8 Standard introduces Guitar De-noise, a quick and easy way to manage guitar-produced sounds that can interfere with your mix when affected with limiting or compression. Reduce the prominence of electrical amplifier noise and hum, fret squeaks and pick attacks to clarify your guitar recordings—without removing the all-important human performance element.
Finalize your audio levels for delivery
Loudness is more important than ever in the age of streaming media and remote podcasting. That's why RX 8 includes an all-new Loudness Control module. With preset targets for virtually every current broadcast loudness standard, a Loudness Gate that prevents periods of silence from skewing your loudness readings, and numeric and histogram displays for integrated, short-term, and momentary loudness (and more), your music, film, television, and podcast audio is sure to be clear, intelligible, and appropriately loud.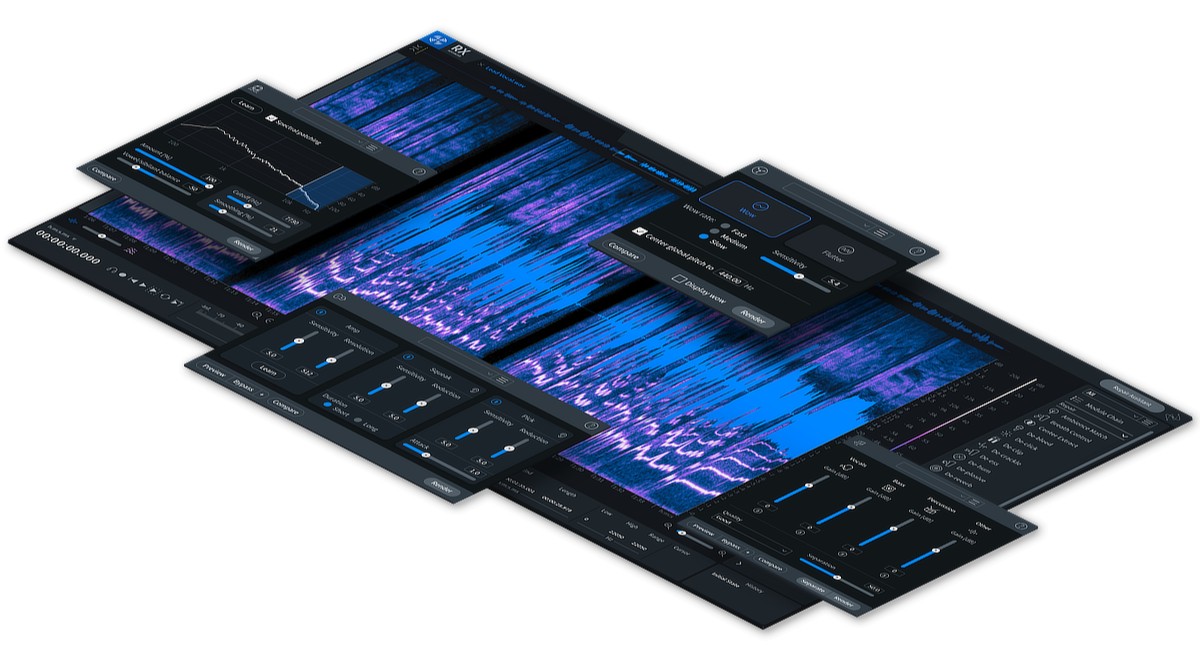 RX 8 Standard: Features
Guitar De-noise - Allows you to refine your guitar recordings for maximum clarity in seconds. Manage sounds that can unintentionally be emphasized by the effect of compression or limiting, like electrical amp noise and interference, distracting fret or string squeaks, and harsh pick attacks.

Music Rebalance - Music Rebalance is a powerful tool that intelligently identifies vocals, bass, percussion, and other instruments in a mix and allows for independent gain adjustment of each element—you can even isolate or remove vocals.

Loudness Control - Prepare your recordings for final delivery with the detailed level readings and loudness management power of the all-new Loudness Control module.

Batch Processor - Process several audio files in one pass with the overhauled Batch Processor.

32 Audio Tab Limit - Time is precious when editing audio in post. To help you tackle more work faster, RX 8 doubles the previous 16-tab limit, now allowing you to view and edit up to 32 files within RX Audio Editor, so you can cover more ground in less time with greater efficiency and in-app real estate.

Horizontal Scrolling - Horizontal scrolling is now built into the intuitive Spectrogram Display. Use the scroll gesture on your trackpad or mouse with your cursor to scroll through your audio across the X-axis or lightning fast edits.

Repair Assistant - Representing the latest advances in iZotope's assistive audio technology, Repair Assistant is a game-changing intelligent repair tool that can detect noise, clipping, clicks, and more.
Variable Time - Adjust the time stretch amount of an audio selection without altering its pitch.

Variable Pitch - Adjust the pitch of an audio selection while preserving the time and length.

De-bleed - Remove headphone bleed from an acoustic guitar track, click track bleed from a vocal take, and fix other signal bleed issues.

De-ess - Tame overly aggressive sibilance. The Spectral De-ess mode transparently attenuates sibilance with iZotope's Spectral Shaping technology.

Mouth De-click - Remove distracting mouth noise with the low-latency Mouth De-click.

Spectral Repair - Visually paint away audio problems like ringing cell phones, birds, and squeaky bass drum pedals.

Voice De-noise - Fine-tuned for vocal application, reduce unwanted steady state or changing background noise like air conditioning, refrigerator hum, and amp hiss.

De-plosive - Transparently repair unwanted plosives with a single click.

Spectral De-noise - Attenuate amp buzz, tape hiss, and other unwanted steady state background noise.

De-click - Clean up vinyl clicks, soften up click-y bass guitars and more. The low-latency algorithm enables you to use De-click right within your DAW or NLE without introducing sync issues.

De-clip - Repair digital and analog clipping artifacts to restore distorted audio.

De-hum - Remove ground loop hum and line noise.

Composite View - Fix problems picked up by multiple microphones by editing multiple files at once.
Specifications
Operating Systems
Mac: OS X 10.13.6 (High Sierra) - macOS 10.15 (Catalina)
Windows: 8 & 10
Plug-in Formats
AU, AAX, VST2, VST3. All plug-in formats are 64-bit only.
Mac:
macOS 10.13.6-11.0
64 bit
Intel processor
Windows:
Product activation:
An internet connection is required to authorize / activate the product.