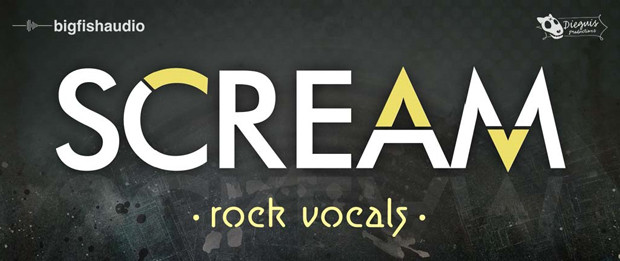 Scream is a massive collection of Rock Vocals containing 6 different vocalists for creating today's hottest Acoustic Rock, Pop-Rock, Singer-Songwriter, Adult Contemporary, Folk Rock, Indie, Alternative and Hard Rock Styles. Whether you're needing a catchy vocal hook, wanting some layered vocal pads or simply wanting to create a wall of background vocals to punch the listener in the face, Scream is the perfect icing on the cake for Commercials, TV, Film Trailers, Sound Design, Video Games and all manner of Rock music styes.
Scream was recorded using six different vocalists (2 Male Vocalists and 4 Female Vocalists ) in order to deliver the ultimate in versatility and creative freedom. Create unique and authentic vocal parts quickly and easily by choosing from Background Vocals, One-Shot Vocals and Phrase Vocal parts.
Background Vocals enables you to quickly and easily add that perfect vocal line or background part to your song. You can also create powerful walls of background hooks, pads and harmonies by stacking and layering various background parts together to create unbelievable depth and texture in your tracks.
One-Shot Vocals provides you with an enormous selection of melodies, hooks, yells, calls, one-liners, sustains, whispers and so much more. You can use these One-Shot Vocals individually or mix n match to create an unlimited variety of song starts, hooks and melodies which add depth and dimension in your production.
Phrase Vocals are a breed unto themselves and are the perfect way to create unique vocal sounds, layers, textures and SFX on records, video games, ring tones, film trailers and all manner of media sources. Use these vocal phrases one at a time or layer them to increase the depth, complexity and beauty.
Let Scream spark your creative flames, push your tracks over the top and inject all of your projects with today's hottest Rock Vocals.
MULTI-FORMAT
Formatted for Everything (ACID, Apple Loops, and WAV)
Six Vocalists Recorded (2 Male Vocalists and 4 Female Vocalists)
Massive Collection of Vocals (Acoustic Rock, Pop Rock, Singer Songwriter, Indie, Hard Rock and more)
SCREAM has been formatted in today's most popular file types: ACID, Apple Loops and WAV. With these formats, you can work with every major sampling/looping device on the market! Every file has been carefully edited to loop perfectly without any complications. Take advantage of the additional info and tagging using Apple Loops with Garage Band, Soundtrack or Logic. Stretch the ACIDized WAV files in Sony's ACID Pro. And, of course, the industry standard WAV files can be loaded into almost any digital audio or sample playback program.
KONTAKT (KLI SERIES)
Create Without Limits (Song and Instrument Kits)
Arrange and Customize (Custom Kontakt Interface)
Tweak and Explore (Sliced Loops and FX Editor)
SCREAM Kontakt version is part of the KLI Series and includes a custom user interface with various features to help make it easier to customize the included loops and sounds exactly how you want. You'll find all loops automatically sync to your host tempo. Each loop is presented in three different ways. First, with the "Kit Combos" you'll find each loop as part of a complete construction kit laid out across the keyboard for easy and quick arrangements. Second, in the "Single Instruments" you'll find the various instruments grouped together; giving you the option of having the construction kits content in just a few instruments. Third, each loop has its own patch in the "Sliced Loops" section with our custom loop editing interface. Rearrange, remix, or completely rework each loop to fit with your music exactly how you want. Finally we have included a demo section for quick auditioning of the entire library.
TEXTURED SERIES:
The Textured series is a compilation of sonic layers that embody emotional elements of realism and fantasy, fused to create tracks so full of life, you'll be able to feel the soul of the music as it comes alive. This series knows no musical boundaries and enhances all musical genres its placed with. So whether you're needing a few rhythms and textures to add dimension to your existing tracks or want that one of a kind melodic hook that can jump start the creative juices.
This Multi Format Library (included formats listed on top) does not include any playback software for your computer. A compatible software is required to load and play the sounds of this product.
Important: "Full Kontakt" - Format can NOT be used by the free Kontakt Player!
You need to own a registered full version of Kontakt (e.g. included in Komplete or Komplete Ultimate packs!)
Product activation:
An internet connection is required to authorize / activate the product.