Soundtoys 5 - The Ultimate Effect Rack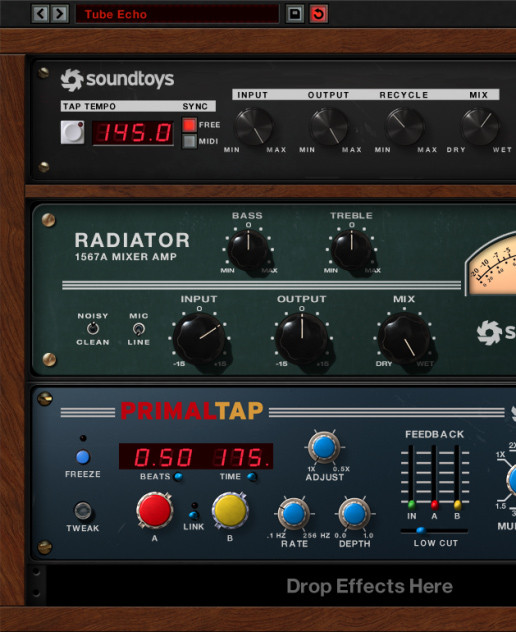 Saturate, compress, and distort with Decapitator, Radiator, and Devil-Loc.
Get a virtual history of echo and delay hardware with EchoBoy and PrimalTap. Transform your vocals with Little AlterBoy.
Recreate classic studio pitch, chorus and widening effects with Crystallizer and MicroShift. Take modulation to new levels with the beat-synced rhythmic effects of PanMan, Tremolator, FilterFreak, and PhaseMistress.
All of these individual elements are proven, powerful tools, trusted by professional mix engineers, musicians and sound designers everywhere. But combined in the new Soundtoys Effect Rack, they are indeed the ultimate effects collection.
The new Soundtoys Effect Rack is the centerpiece of Soundtoys 5
It turns a tried-and-true collection of powerful individual plug-ins into a virtually unlimited creative multi-effects system.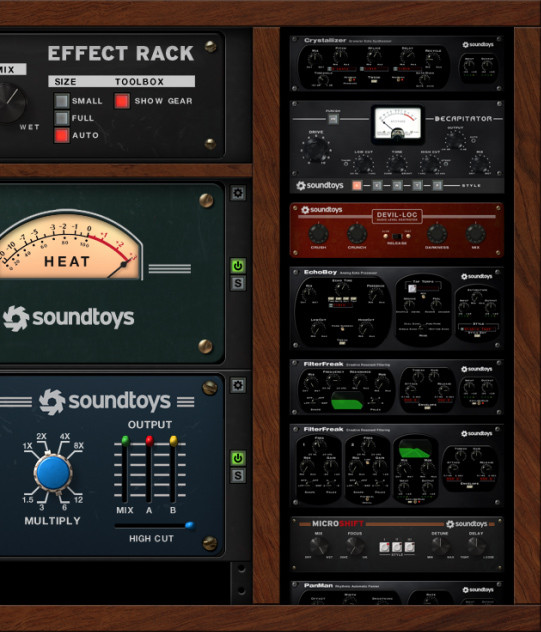 The Effect Rack makes it simple to build your own custom effect chains and define your signature sound. And when you've created the perfect combination of effects, the Rack's global controls let you treat the whole rack as a single plug-in.
Lock rhythmic effects to a single tempo, or let them run free. Fine tune the input and output levels, and use the global mix control to blend your effect in with the dry signal. Then experiment with the powerful new global Recycle control. By mixing the output of the rack back into the input, you can build your own modulated reverbs, over-the-top delays and other unique ambience effects that would require complicated routing to accomplish in most DAWs.
Work Smarter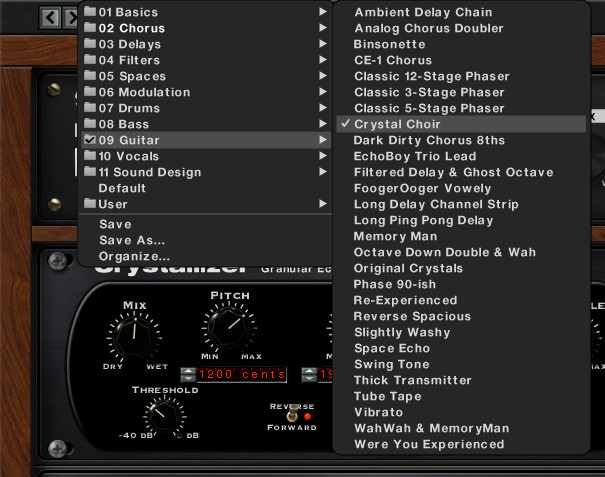 The Effect Rack integrates all of the individual Soundtoys effects into a single plug-in, which improves workflow by displaying an entire custom effect processing chain at once. You won't need to juggle multiple plug-in windows to adjust parameters, add new effects, or change their routing. The Effect Rack keeps everything right at your fingertips.
Choose from Soundtoys's range of carefully-crafted presets to find the perfect jumping-off point. Or quickly design, save and recall combinations of your favorite Soundtoys effects—all in one self-contained plug-in.
You no longer need to use a hardware dongle.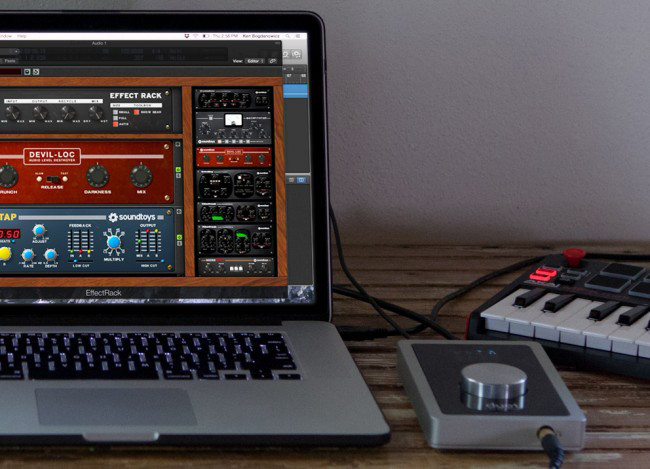 Set yourself free to work wherever, and however you want.
With computer-based authorization, free up precious USB ports for audio interfaces and MIDI controllers. Studio pros can still use Soundtoys 5 with their iLok USB keys to manage all of their plug-in licenses.
All Soundtoys 5 plug-ins come with two activations. Use one at the studio, and the other on your home machine or laptop.

Soundtoys pride theirselves on building simple, elegant effects that give you instant inspiration. But when you're ready to go beyond the basics they also let you open the hood and get some grease on your hands.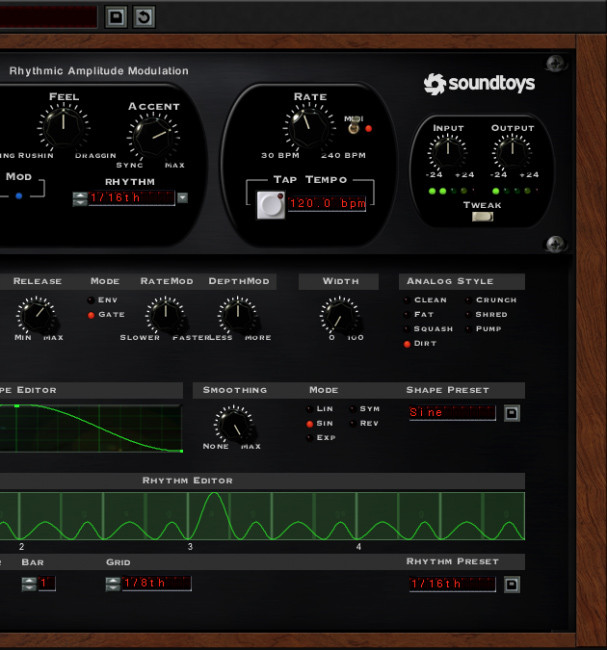 Slide open an effect's Tweak panel to access special circuit-level controls. Or design your own unique modulation patterns.
Many Soundtoys effects offer special Tweak panels which expose deeper editing features. Here you can find advanced options for a plug-in, like a choice of saturation styles, fine control of an effect's groove, or a selection of different delay algorithms.
The modulation effects offer powerful shape and rhythm editors here for creating complex motion. And in Soundtoys 5, they've redesigned their Tweak panels to make advanced controls easier to find and use. The result: an incredibly customizable set of sonic tools that you'll want to use on every project.
Effects that move to your rhythm - with any shape you can imagine
An LFO (Low Frequency Oscillator) is at the heart of every modulation effect — it's what gives tremolos, phasers, panners and sweeping filters their characteristic motion.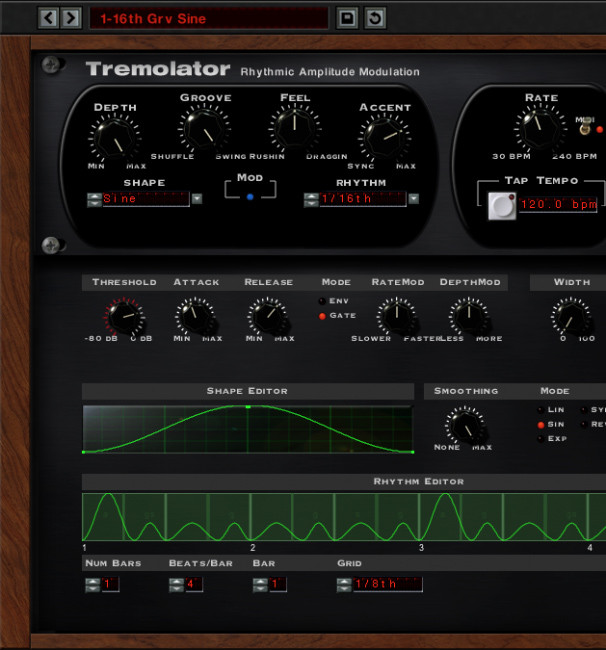 The included library of LFO shapes goes far beyond standard modulation effects, giving you curves based on vintage modulation effects, amps and instruments as well as more abstract shapes. You can also draw and sculpt your own shapes using the Shape Editor. Use it to dream up completely new LFO shapes.
Soundtoys' Rhythm Editor is like a rhythmic modulation sequencer. Choose length and step-size, then start clicking to make a new pattern. You can turn individual steps on and off to create pauses or rests, and adjust the level and length of each step to humanize your pattern and give it some musical variation. You can even choose the number of beats per bar to create some funky syncopation or odd-time-signature grooves.
Soundtoys have spent the last decade creating one of the world's greatest gear collections. That means they actually own and use the hardware they draw their inspiration from.
Soundtoys look to the past for inspiration. But they build each of their plug-ins to stand solidly on its own with features designed for modern studios.
As a result, they are happy to say that Soundtoys effects are used, trusted and recommended by professionals in all aspects of audio production. Now with Soundtoys 5 and the Effect Rack, they've brought all of these acclaimed effects together to see how much further they can go.
Specs
Current Version: 5.2.0
Plug-in Formats (both 32 and 64-bit):
AAX Native, AAX AudioSuite, VST, and Audio Units (AU)
Supported Sample Rates:
Minimum: 44.1 kHz, Maximum: 192 kHz
System Requirements:
Operating systems: Mac OS X 10.10 or later; Windows 7 or later
An internet connection is required at the time of activation.
Supported Hosts:
Pro Tools (10.3.5 or later), Live, Cubase, Nuendo, Sonar, Logic, Digital Performer



This product requires an activation!
You can either "soft" activate on your computer without addditional hardware or transfer the license to an iLok USB dongle which has to be purchased separately. The iLok dongle can be used to run the protected software on different computers. Your licenses can be easily manged using the iLok Licence Manager. To protect your investment against theft or loss we recommend the iLok Zero Downtime protection with TLC.
An internet connection on any computer and a free user-accout at www.ilok.com is required to authorize the product.
Please check with the software manufacturer which iLok version is required at least if you want to use a hardware iLok!