*VSL Upgrade policy – get your personal upgrade discount in our shop!
Based on available registrations in your VSL User Account VSL Starter/Special Editions and Bundles might qualify for an upgrade/complementary discount. To check for any possible discount simply enter your VSL login email in our basket when requested. Any available discounted price will be calculated immediately. By upgrading from an Edition or Section you can complete any Bundle discounted!
Please allow up to one work day for delivery of personal upgrades or discounted licenses.
Special Edition Vol. 1 PLUS
Articulation Expansion to Vol. 1
The Special Edition Volume 1 PLUS (former labeling was "Special Edition PLUS Standard Library") features additional articulations for the string, brass and woodwind instruments included in the Special Edition Volume 1.
As a user of the Special Edition Volume 1 you may quickly and conveniently add articulations you find very useful to improve the variability of your orchestrations. These samples are not included in the Special Edition Volume 1, but have been specifically selected for this collection. For example, while the solo violin's articulations in the Special Edition Volume 1 include staccato, détaché, sustained, sforzato, tremolo, pizzicato, legato and portamento, the PLUS collection supplements these with the addition of the following articulations: Short détaché, fortepiano, snap-pizzicato, col legno, half and whole tone trills, Repetition Performances (legato & spiccato), fast repetitions (150, 170, 190 bpm), artificial harmonics (staccato & sustain), and ponticello (staccato, sustain, tremolo).
Please note that the Special Edition Volume 1 PLUS contains some Matrices that resort to Patches from the Special Edition Volume 1. The prior installation of the Special Edition Volume 1 is therefore required in order to load these Matrices.
Included Instruments
Solo violin
Solo viola
Solo cello
Solo double bass
Violin ensemble (14 players)
Viola ensemble (10 players)
Cello ensemble (8 players)
Double bass ensemble (6 players)
Piccolo
Concert flute
French oboe
English horn
Clarinet in Bb
Bass clarinet
Bassoon
Contrabassoon
Triple horn
Horn ensemble (4 players)
Trumpet in C
Trumpet ensemble (3 players)
Tenor trombone
Trombone ensemble (3 players)
Bass trombone
Tuba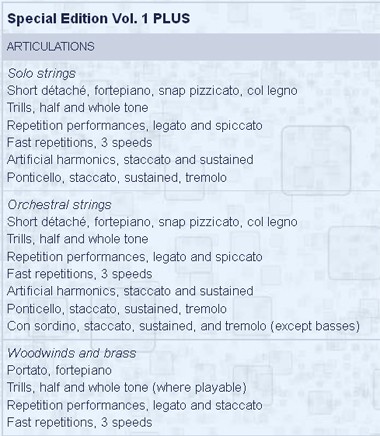 Mac:
macOS 10.10.5 or higher
64 bit
Intel Core i3
RAM: 8GB (16GB recommended)
SSD hard drive
Windows:
Windows 8-10
64 bit
Intel Core i3 or AMD Athlon 64 X2
RAM: 8GB (16GB recommended)
SSD hard drive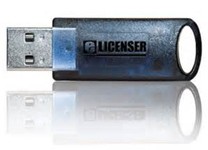 Product activation:
Vienna Instruments require the ViennaKey!
This USB protection device by eLicenser (by Steinberg compatible) is not included in any collection, it is a separate item you have to get additionally. So you'll have to order at least one ViennaKey or Steinberg eLicenser with your first VSL purchase. Each dongle can store up to 100 product licenses.
Additionally an internet connection on any computer is required to authorize a VSL product.