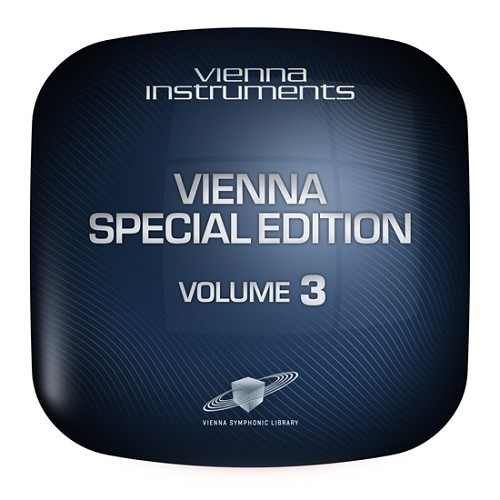 Special Edition Collection Vol. 3
*VSL Upgrade policy – get your personal upgrade discount in our shop!
Based on available registrations in your VSL User Account VSL Starter/Special Editions and Bundles might qualify for an upgrade/complementary discount. To check for any possible discount simply enter your VSL login email in our basket when requested. Any available discounted price will be calculated immediately. By upgrading from an Edition or Section you can complete any Bundle discounted!
Please allow up to one work day for delivery of personal upgrades or discounted licenses.

Special Edition Vol. 3 - Appassionata & Muted Strings
Apart from the lush and cinematic Appassionata Strings with a wide variety of playing techniques in normal and muted variations, the Special Edition Volume 3 focuses on "con sordino" (muted) recordings of Vienna's other famed string collections: Solo Strings, Chamber Strings, and Orchestral Strings.
Additionally, you'll find an alternative Harp to the one included in the Special Edition Volume 1.
All instruments offer Vienna Symphonic Library's famed Legato Performances – real note transitions, smoothly and authentically performed by the algorithms of the Vienna Instruments software player. Single note articulations include staccato, détaché, sustained, sforzato, tremolo, and pizzicato.
If you've already purchased Special Edition Volume 1 or Volume 2 and want to expand it with especially lyrical, silky shimmering string sounds, this Volume is the perfect choice.
Included Instruments
Appassionata violins (20 players) – normal & con sordino
Appassionata violas (14 players) – normal & con sordino
Appassionata cellos (12 players) – normal & con sordino
Appassionata double basses (10 players) – normal & con sordino
Solo violin – con sordino
Solo viola – con sordino
Solo cello – con sordino
Solo double bass – con sordino
Violin chamber ensemble (6 players) – con sordino
Viola chamber ensemble (4 players) – con sordino
Cello chamber ensemble (3 players) – con sordino
Double bass chamber ensemble (2 players) – con sordino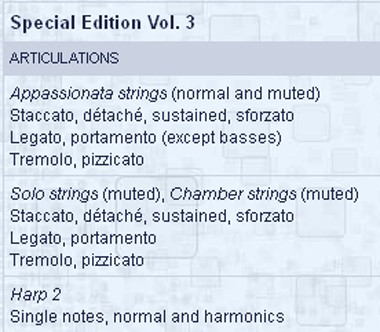 Amazona.de 18.07.2012

Fazit
Mit den Special Editionen 3 und 4 hat die Vienna Symphonic Library ab sofort zwei neue Auswahl-Pakete im Programm, die vor allem mit hochwertigen Aufnahmen und Samples überzeugen können. Zu kritisieren gibt es im Prinzip nichts, allerdings sollte man sich bewusst sein, dass man mit jeder Edition "nur" eine Auswahl bestimmter Instrumente erhält. Wer von Null startet, braucht entweder alle vier Editionen oder sollte sich nach günstigeren Einsteiger-Paketen umschauen. Wer schon einiges im Rechner hat, der kann seine Klangpalette mit den Special Editions gezielt erweitern. Die Qualität ist dabei sehr gut und in keinster Weise zu beanstanden. Daher ein klares Gesamturteil: Sehr gut!
System Requirements
PC Windows 8.1/10 (latest update, 64-bit), Intel Core i3 or AMD Athlon 64 X2
macOS 10.10.5 (latest update) or higher, Intel Core i3
8 GB RAM
VIENNA KEY (Vienna Symphonic Library USB protection device) or other USB eLicenser (e.g., from Steinberg or Arturia)
free hard drive space according the library size
Other configurations may work but are not actively supported.
Recommended
Windows 10 (latest update, 64-bit), Intel i5/i7/i9/Xeon
macOS 10.12 (or higher), Intel i5/i7/i9/Xeon
16 GB RAM
SSD (M2, Sata 6 or USB3/3.1 UASP Support) or separate HDD (7200 rpm or faster)
AU/VST/AAX compatible host (also works stand-alone)
AAX version requires Pro Tools 10.3.5 or higher
88 key master keyboard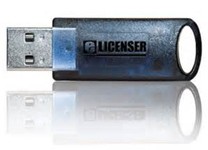 Product activation:
Vienna Instruments require the ViennaKey!
This USB protection device by eLicenser (by Steinberg compatible) is not included in any collection, it is a separate item you have to get additionally. So you'll have to order at least one ViennaKey or Steinberg eLicenser with your first VSL purchase. Each dongle can store up to 100 product licenses.
Additionally an internet connection on any computer is required to authorize a VSL product.