Stylus RMX™ - Realtime Groove Module
Stylus RMX is a groove-based virtual instrument plug-in for Macintosh and Windows. Stylus RMX is the first product to offer the combined power of Groove Control™ with Spectrasonics Advanced Groove Engine (S.A.G.E.™) technology giving users dramatic control over groove production and performance. Spectrasonics' in-house development team created the instrument from the ground up, with dozens of additional features including the ground-breaking Chaos Designer™, a completely redesigned multi-page user interface, an updated core library of sounds, all with a focus on realtime groove creation and performance.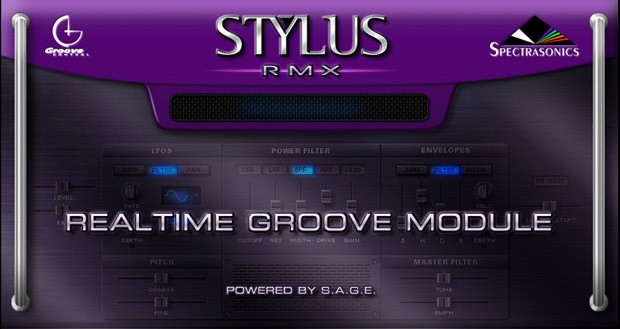 Additional Core library
The massive additional 7.4 gigabyte core-library in Stylus RMX has thousands of cutting-edge grooves and sounds that were created by Spectrasonics' international sound design team, and produced by Eric Persing. The core library contains nearly triple the amount of sounds originally offered in the original Stylus, and contains all the original material as well. The sounds and grooves in Stylus RMX offer a much wider range of modern musical genres than the original Stylus. Mixes of grooves are broken down into individual tracks called Elements for flexibility and infinite combinations.
Also added to Stylus RMX are thousands of additional Kit modules, 250 Kit patches, as well as user Kit construction....Users can create their own customized multitrack remix grooves and kits, save them into the plug-in, and even share them with other Stylus RMX users on different platforms and hosts. RMX 1.5 even comes with 500 addtional Multi grooves!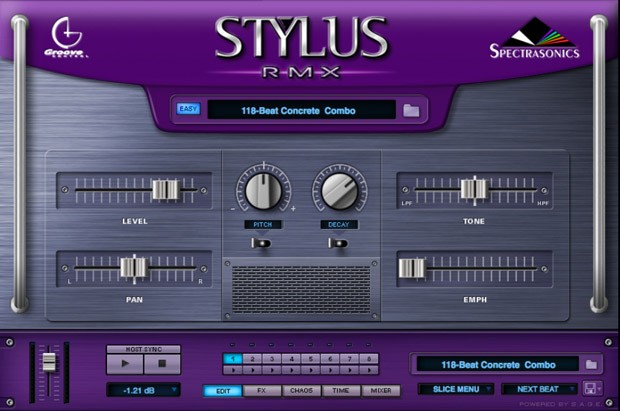 Xpanded and Xpandable
Stylus RMX Xpanded now includes all five Spectrasonics "S.A.G.E. Xpanders", bringing the total number of included grooves/sounds to nearly 10,000. The RMX platform has huge third-party library support with hundreds of available titles and can also can be expanded with REX files – which opens the door for musicians to utilize their own audio loops within the powerful S.A.G.E. Environment.
Chaos Designer™
Of the many additional capabilities in Stylus RMX, possibly the most innovative feature is the Chaos Designer™. With simple controls, the user can introduce musical Chaos into the groove, which allows it to have constantly evolving variations— giving the impression that the audio grooves are improvising. The results can be subtle or extreme by setting the simple to use controls. A Capture feature allows the spontaneous audio chaos patterns to be made into a MIDI file, dragged and dropped into the host sequencer, and played back again for further editing by the user.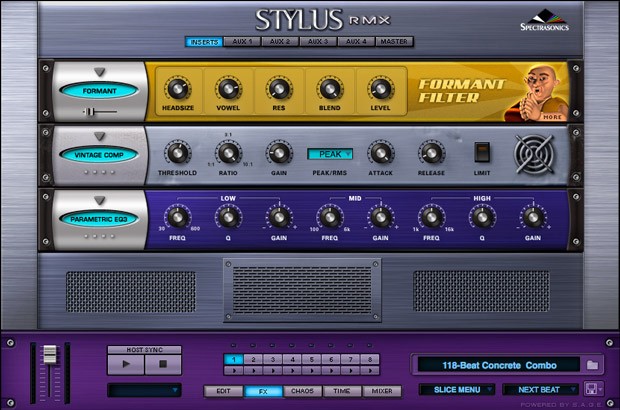 Features
First product using the S.A.G.E. technology (Spectrasonics Advanced Groove Engine)
Realtime auto-sync to the beat so grooves are always in time, even when performed live! Groove Control is always active for optimum sound quality at virtually any tempo.
Massive cutting-edge 7.4gb Core Library, with nearly triple the sounds of the original Stylus. (the original Stylus core library also included)
Expandable! Add more grooves with additional series of "S.A.G.E. Xpanders" Expandable with Groove Control® activated sample libraries Expandable with Propellerheads REX files, which allow a user to import their own audio loops via ReCycle™.
Thousands and thousands of grooves, sounds, patches and interchangeable "Kit modules" for building grooves
500 Multi Grooves
250 Kits
World-Class integrated FX Racks w/27 professional effects: Tube Limiter, Tape Slammer, Modern and Vintage Compressors, Wah-Wah, Power Filter, 6 different Vintage/Parametric/Graphic Equalizers, Flame Distortion, Valve Radio, PRO-Verb, EZ-Verb, Spring Verb, Gate Expander, Stereo Imager, Flanger, 2 different Phasers, 3 BPM Delays, Retroplex Tape Delay and Radio Delay
Easy MIDI Control of all 20,000 parameters with MIDI Learn: simply grab the parameter and the hardware control * Hardware Controller Templates provided for Popular models by Korg, Behringer and M-Audio
Over 9 hours of professional Video Tutorials are included a visual way to quickly learn about Stylus RMX!
Integrated Documentation - A 68,000 word Reference Guide is accessible directly from the plug-in Help menu
Multipage user interface design with fully integrated Browser for easily auditioning & organizing grooves
Innovative Chaos Designer™ adds musical variations and "improvising" within stereo audio grooves!
8-part Multitimbral, each part can have dozens of grooves and samples
Multiple stereo outputs (with supported software)
Edit Groups offer unique control of individual beats within an audio loop: add ambience to just the backbeat, control the pitch of the snare inside a stereo loop, reverse only specific slices in the loop…non-destructively
Favorites Menu creation of user defined suites of grooves, perfect for project-by-project work
Built-in Mixer w/ 8 channels, mute/solo, level, meters, 4 Aux sends, output assignments
Drag and Drop MIDI files into host sequencer
User Kit building from core library, User Remixes, cross-platform/cross-host patch compatibility
Groove Menu mode allows any suite of multiple grooves to be played live from the keyboard on a single MIDI channel
Grooves can be instantly auditioned at Half Time / Double Time
Build Multitrack Grooves in realtime!
Real-time Jamming in sync!
Powerful sound design features include: multi-mode Power Filter, 3 syncable LFOs, 3 AHDR envelopes, Reverse and more
Edit Templates to browse and audition grooves using custom sets of parameter edits
Easy Edit page with Big Knobs for simple, yet powerful control of key parameters
2.0 GHz or higher processor
2GB RAM, 4GB recommended
Dual Layer compatible DVD-ROM drive
14GB of free hard drive space
Mac Users:
OSX 10.7
Intel Dual Processor
AU / VST 2.4 / AAX / RTAS (32 Bit / 64 Bit) capable host software
Audio Unit plugin requires host with support for "Cocoa" based plugins
Windows Users:
Windows Vista / Windows 7 / Windows 8
VST 2.4 / AAX / RTAS capable (32 Bit / 64 Bit) host software
Product activation:
An internet connection is required to authorize / activate the product.