Synthmaster One - more than just the little brother
Dive into an ocean of wavetables. This little beast comes with a blast of sound design possibilities, including many great presets, flexible routings and a rich set of effects.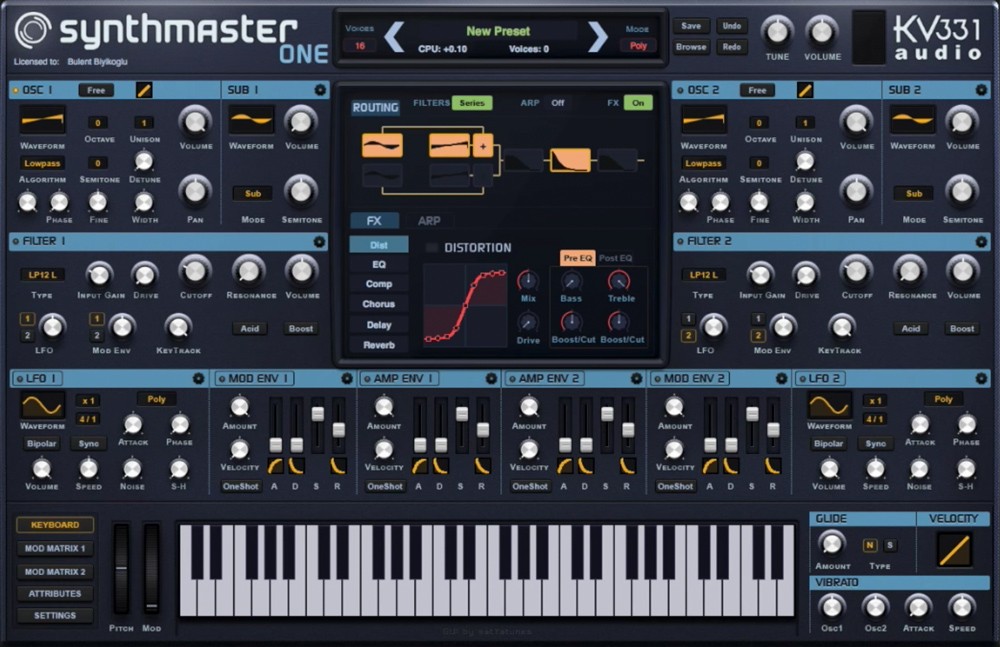 Features
1000 Factory Presets: SynthMaster One comes with 1000 inspiring factory presets from a world class team of sound designers: Arksun, Aiyn Zahev, Bulent Biyikoglu, Electronisounds, Gercek Dorman, Mirko Ruta, Nori Ubukata, Rob Lee, Ufuk Kevser, Selcuk Ergen, Vandalism, Venus Theory, Vorpal Sound and Xenos Soundworks
Semi-Modular Architecture: For each SynthMaster One instance, there are 2 oscillators with 2 sub oscillators, 2 Filters, 4 ADSR Envelopes, 2 LFOs, a powerful 16 step arpeggiator/sequencer and also 11 different efffects that can be inserted on to 6 FX insert slots. The sub oscillators can be connected to the oscillators in 5 different modes which let you use it as a regular sub oscillator or do complex modulations such as ring modulation, amplitude modulation, phase modulation or frequency modulation.
16 Step Arpeggiator/Sequencer: The arpeggiator in SynthMaster One features classic arpeggiator modes such as Up, Down, UpDown, DownUp, UpDown2, DownUp2, AsPlayed as well as Sequence, Chord and Arpeggiate modes. Each of the 16 steps of the arpeggiator has its own Velocity, Note Number, Note Length, Slide and Hold parameters.
Wavetable Synthesis: SynthMaster One implements true wavetable synthesis which opens up new possibilities for sound design. Unlike SynthMaster where you can sequence up to 16 waveforms to create a wavetable, you can import wave files that contain wavetables into SynthMaster One and use them in your projects. SynthMaster One comes with a rich wavetable library and you can extend that by placing wavetables under the Waveforms folder of SynthMaster One.
Stereo Oscillators with up to 16 voices Unison: Each of the 2 oscillators in SynthMaster One have stereo output, and can have up to 16 voices "unison". Using the "voices", "voices mix", "detune curve", "detune spread", "pan stread", "tone spread" and "phase spread" parameters, each oscillator can generate a rich "supersaw" type sound.
Zero Delay Feedback Filters: All of the 4 filter categories in SynthMaster One are developed using the zero delay feedback filter technology. With advanced filter parameters like input gain, drive and acid, you can get that "analog" sound from the filters!
Rich Set of Effects: SynthMaster features 11 different effect types: Distortion, LoFi, Ensemble, Phaser, 6 Band EQ, Compressor, Vocoder, Delay, Chorus, Tremolo, Reverb.
Microtuning: SynthMaster supports Scala tuning, so tuning can be set either for each preset or globally by loading from a Scala tuning file.
Mac:
macOS 10.9 or higher
Intel processor, Apple Silicon M1
2.0 GHz
RAM: 2GB
Windows:
Windows 7 or higher
2.0 GHz
RAM: 2GB
Product activation:
An internet connection is required to authorize / activate the product.