Syntorial - The Ultimate Synthesizer Tutorial
A New Way to Learn Synthesis
Syntorial is video game-like training software, that will teach you how to program synth patches by ear. With almost 200 lessons, combining video demonstrations with interactive challenges, you'll get hands on experience programming patches on a built-in soft synth, and learn everything you need to know to start making your own sounds with ease.
This isn't your ordinary synth tutorial. This is Syntorial.
More than just a Synth Tutorial
Interactive Learning - Syntorial engages you in 129 Interactive Challenges in which you program patches on a built-in synth. You aren't just learning how to design sound, you are becoming a sound designer.

For Musicians, Not Physicists - Syntorial will show you how each control effects sound and how you would use them when designing sounds rather than just talking about the science and physics behind synthesizers. This is information that you can immediately apply to real-life situations.

It´s all about the Ear - One step at a time, Syntorial trains your ear to recognize how each control shapes and manipulates sound. By the end of the program you'll be able to take the sounds you hear and re-create them, completely by ear.

Synth Plugin Included - Syntorial's built-in synth, known as Primer, also comes as a VST/AU plugin, included with your purchase of Syntorial. This way you can take the very synth that you're training on, and use it in any recording software that accepts VST and AU plugins.

Expandable - Along with the 199 core essential lessons that come with Syntorial, additional Lesson Packs expand your learning experience into other parts of the synth world. Check out the current lineup.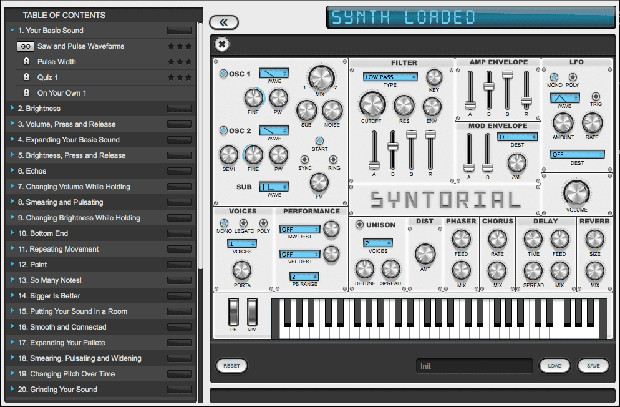 Here´s what yu get
129 Challenges - Learn by doing! Complete challenges by programming patches with Syntorial's built-in synth.

147 Videos - Everything is taught through video demonstrations using the same synth that you'll use in the challenges.

706 Patches - Program, program, program. After all, that's what it's all about, right? By the end you will have programmed over 700 patches, from simple to complex, familiar to strange.

64 Synth Parameters - Syntorial covers the most common parameters found on most synths. See the FAQ for more details.

33 On Your Own - Syntorial will give you periodic tasks to be carried out on your own with whatever synth(s) you use.

39 Quizzes - Multiple choice questions to help you retain and remember everything you learn.
What are the system requirements?
Mac with OS 10.7 or later
PC with Windows 10, 8, 7 or Vista.
iPad with iOS 8 or later
1 GB free disk space
The system requirements can be found in the product description or on the manufacturer's website.
Product activation:
An internet connection is required to authorize / activate the product.