The most powerful mix and master modular system — remastered
IK Multimedia invented T-RackS in 1999, marking the beginning of a new era by unleashing the power of a complete, affordable mastering software tool to everyone. Since they have been leading the way, setting an industry standard and crafting some of the world's best sounding plug-ins for professional applications.
T-RackS 5 MAX is the full-blown collection of all 38 available T-RackS processors covering everything from vintage compressors and EQ's to reverbs, stereo processors, saturators, precision digital tools and more.
What's new:
4 new powerful modules: Master Match, Dyna-Mu, EQual, ONE
Fully redesigned, fully resizable, flexible interface with faster workflow
New audiophile-grade audio engine, completely improved from input to output
Enhanced, extensive broadcast ready professional metering tools
Album assembly with multi-format file export
Processors included
Classic T-RackS Equalizer
Classic T-RackS Compressor
Classic T-RackS Clipper
Classic T-RackS Multi-band Limiter
EQual
ONE
Dyna-Mu
Master Match
Metering
British Channel
Black 76 Limiting Amplifier
White 2A Levelling Amplifier
Vintage Tube Compressor/Limiter Model 670
Quad Comp
Quad Lim
Quad Image
Vintage Tube Program Equalize
Opto Compressor
De-Esser
Brickwall Limiter
Linear Phase Equalizer
Mic Room
White Channel
Saturator X
Stealth Limiter
EQ PA
EQ PB
EQ PG
EQ 73
EQ 81
Master EQ 432
Bus Compressor
Precision Comp/Limiter
Tape Echo
CSR Hall Reverb
CSR Plate Reverb
CSR Room Reverb
CSR Inverse Reverb
4 new processors - the family just got bigger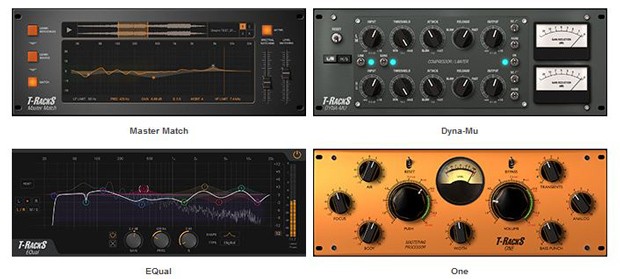 Not only have all the plugins been redesigned and adapted to take advantage of the full processing power of the new audio engine and the new sleek, zoomable GUI, but IK also created 4 new incredible processors that they know you will love:
Master Match - a new type of plug-in that automatically matches the sound of your mixes using up to 3 different reference tracks with no engineering skills required.

Dyna-Mu vari-mu compressor/limiter - based on an iconic American coveted piece of hardware that can impart an audible magic which glues a mix together.

EQual digital equalizer - a 10-band, ultra-clear, high-end parametric equalizer with curves of legendary analog British and American EQs.

ONE mastering processor - an "all-in-one" solution including an EQ, compressor, analog harmonic exciter and low-end enhancer for quick and easy professional results.
3-in-1 workflow versatility
With T-RackS 5, you have the freedom to optimize your workflow as you please with 3 working environments that will suit every need.
The standalone suite makes T-RackS 5 a complete, self-contained, one-stop mixing and mastering workstation that allows you to load a set of audio tracks and perform several operations, a typical method of top mastering studios. It's all in there: from an ever-expanding series of great sounding processors, to the most basic, but always necessary, waveform editing functions (like fades and length trimming of the audio file). Add to this a set of astoundingly precise and smooth, easy on the eye industry standard professional meters and you have everything you need to finalize your work from A to Z in one place.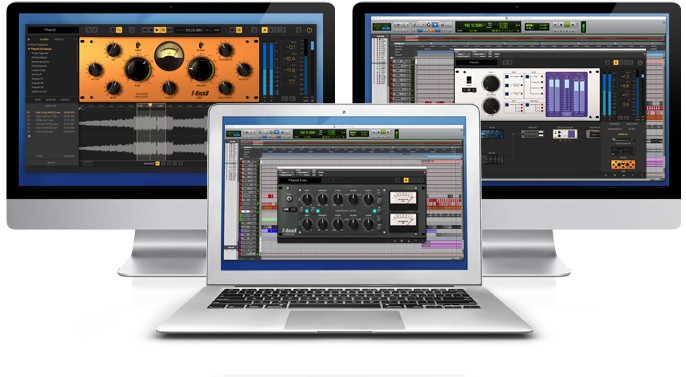 The plug-in suite allows you to tap onto almost all the standalone mode features within the environment of your DAW of choice as the most powerful channel strip or mastering chain available today as a plug-in.
All T-RackS processors (including metering) can also be used as single plug-ins in any compatible DAW for multi-track mixing and stereo mastering duties. From equalizers and compressors, to reverbs, delays, harmonics enhancers and stereo processors, the choice is yours.
New streamlined, resizable interface
T-RackS lets you get the job done faster and better than anything else. The all-new interface is designed so you can achieve everything from a single window, smoother and faster than ever. Plus, it's fully resizable at will, meaning that you can exploit the full size of your screen when working with it.
Just like in the previous T-RackS versions, the main module view shows the currently selected module, always sitting on top of the main frame so that its controls are quickly accessible. Just click on the module and tweak its parameters.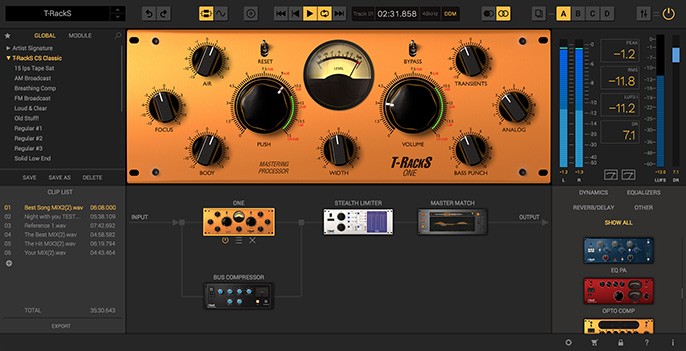 The new flexible module chain view allows you to manage all the modules in a flexible way, dragging and dropping them into the 16-processor series/parallel signal chain at will directly from the sidebar carousel showing all T-RackS available modules. Simply put, no other platform allows such unprecedented versatility.
The waveform view allows for super-fast editing operations of the waveform such as trimming, fading and looping of a selected area as well as placing snapshots for settings recall. We also made it a lot larger to help you visually perform all these tasks with greater precision.
Audiophile grade audio engine
We made T-RackS 5 more sonically powerful than ever. Now projects are supported with audio up to 192kHz / 32 bit floating point, so you can master for high-definition music platforms and distribution without ever leaving its single interface.
Plus, we added 4 dithering options for you to choose from, meaning you can optimize the dithering noise when reducing the bit-depth of your tracks to match the actual content of the song.
On top of that, T-RackS internal resampling engine has also been improved to deliver nothing less than best-in-class performance including DDM (Digital Delivery Mastering) on the way out from the final limiting stage, offering an additional layer of protection against inter-sample peaks and overshoots that could be generated by MP3, AAC encoding or similar compression and decompression processes.
Broadcast-ready metering for music and multimedia
T-RackS 5 includes a comprehensive suite of metering tools – with a completely overhauled internal engine - that provides you with immediate and complete visual information about the content of your audio material, so you can easily achieve professional results that will meet the strictest broadcast compatibility standards and will always sound great.
The new precision loudness LUFS meter, compliant with all leading professional reference standards, gives you valuable information about the integrated, mid or short term loudness of the material you are working on, so you know right away you are producing a master that has the perfect loudness for music delivery or broadcasting.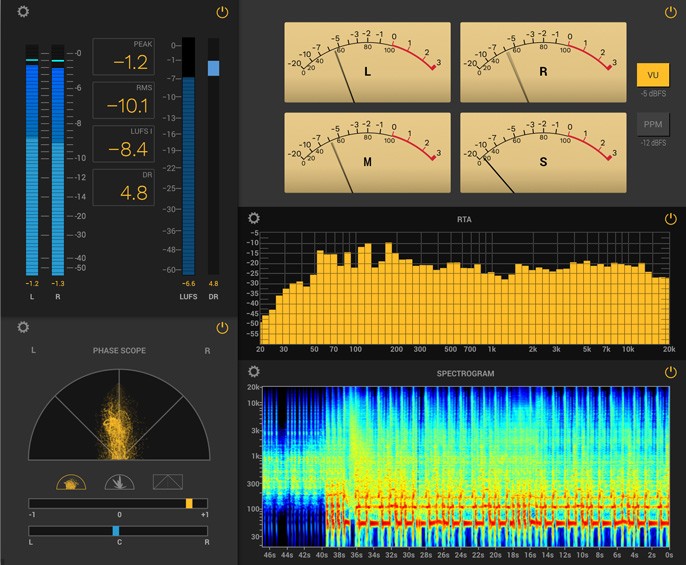 Peak, RMS and Dynamic Range meters give you useful information about the "crest factor" and dynamic response of your mixes. This way you can decide whether you want to go for a more compressed sound or a more dynamic one while still retaining the emotional impact of your songs.
The spectrogram, the real-time analyzer, the phase and correlation meters will also help you visually spot frequency imbalances and phase problems you might need to address before printing your masters for both digital and physical distribution.
M/S meters too will help you gather information about the relations between the mono and the stereo content of a track in terms of "overall energy", so you can choose whether to go for a more widespread or in-your-face kind of sound.
Additionally, T-RackS 5's new metering section can be launched as a separate floating window, like on a secondary screen, to let you keep an eye on levels while you focus on sound processing.
Album assembly
In T-RackS 5 you now can sequence and assemble your full-length production directly within the interface and create a cohesive album sequence, with suitable track metadata, like pauses, fades, track ID's, ISRC codes, CD-Text, etc. Then you can export single high quality master audio files or the whole project in various formats such as WAV, AIF, standard DDP image for professional replication plants, or Wav Cue files.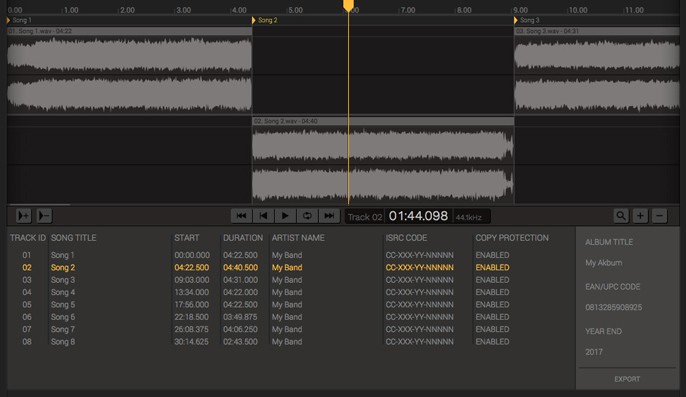 It's fast, it's intuitive, and most importantly, it brings back the fun of sequencing an album that, despite being considered by many as a tedious activity, is indeed a true art form and one of the most emotional aspects of creating a full music experience.
Mac:
macOS 10.9 or higher
64 bit
Intel Core 2 Duo
RAM: 4GB (8GB recommended)
Windows:
Windows 7-10
64 bit
Intel Core 2 Duo or AMD Athlon 64 X2
RAM: 4GB (8GB recommended)
Product activation:
An internet connection is required to authorize / activate the product.