Mix and Master with the full Power of T-RackS MAX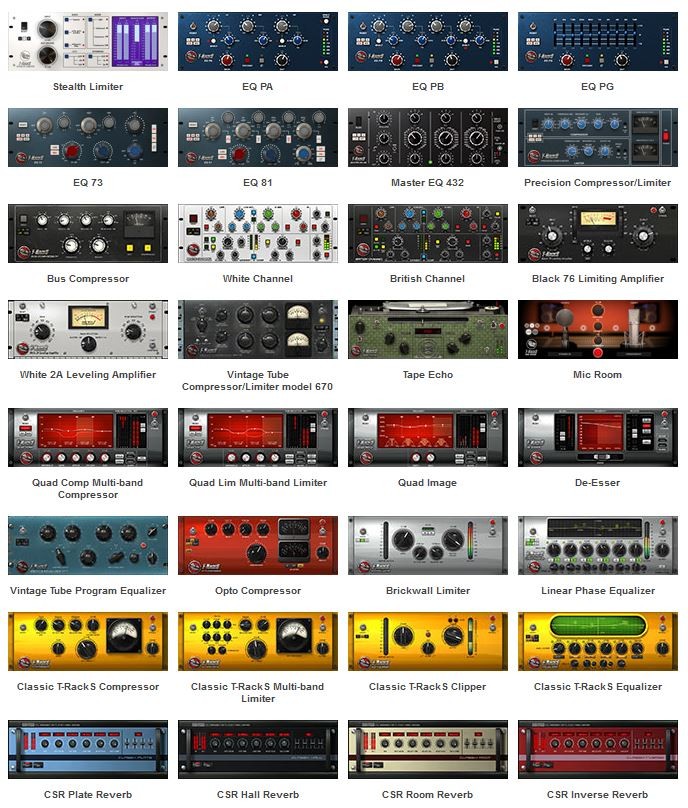 The T-RackS MAX gives you the keys to your very own professional mixing and mastering studio complete with 33 T-RackS high-end audio processor modules that range from compressors to limiters, equalizers to channel strips and more. All of the gear has been modeled after some of the most desirable production equipment of all time.
Its 33 included Processors spread from contemporary classics like the multiband Quad compressor series and near-invisible Stealth Limiter to timeless favorites like the Vintage Tube Compressor and EQ P50 series. Each one has been faithfully recreated digitally so that its controls work just like they do in real life. No matter your mixing and mastering needs, T-RackS MAX's complete selection of processors are ready to help you get professional results quickly and easily.
Processors included
Stealth Limiter
EQ PA | EQ PB | EQ PG | EQ 73 | EQ 81 | Master EQ 432
Precision Comp/Limiter | Bus Compressor | White Channel | British Channel | Black 76 Limiting Amplifier | White 2A Leveling Amplifier | Vintage Tube Compressor/Limiter Model 670
Tape Echo | Mic Room
Quad Comp Multi-band Compressor | Quad Limiter Multi-band Limiter | Quad Image Multi-band Image Processor | De-Esser Multi-band de-esser | Vintage Tube Program Equalizer | Opto Compressor | Multi-algorithm Brickwall Limiter | Linear Phase Equalizer
Classic T-RackS Compressor | Classic T-RackS Multi-band Limiter | Classic T-RackS Clipper | Classic T-RackS Equalizer
CSR Hall Reverb | CSR Plate Reverb | CSR Room Reverb
Metering
Multiple scale precision Peak Meter, peak hold and digital Over indications
Real Perceived Loudness Meter
RMS Level Meter
High-speed Phase scope with selectable display options
Spectrum Analyzer with Peak, RMS and Averaging display options
Maximum Power
Realism, sonic efficiency and professional results — T-RackS MAX's processors have everything you need to mix and master at your best. Each model features a realistic interface that has all the familiarity and ease-of-use you'd find on the original pieces of gear (if you can find them) used in the world's top pro recording and mastering studios.
Each module can be used on its own or inside the T-RackS gear chain for the utmost in flexibility. An in addition to its vast collection of processors, you also get the T-RackS Metering suite, which features a variety of useful meters including peak and RMS, a spectrum analyzer and more. It can be opened inside the T-RackS plug-in or as an individual plug-in inside your DAW host.
Mac:
macOS 10.9 or higher
64 bit
Intel Core 2 Duo
RAM: 4GB (8GB recommended)
Windows:
Windows 7-10
64 bit
Intel Core 2 Duo or AMD Athlon 64 X2
RAM: 4GB (8GB recommended)
Product activation:
An internet connection is required to authorize / activate the product.