Amazing oscillators, unique filters
FabFilter Twin 2 is equipped with the best possible oscillators, award-winning filters and an innovative interface that makes sound design a breeze! Rather use presets? Twin 2 comes with more than 1600 quality sounds that you can use right away.
Programming Twin 2 is easy and fast. The what-you-use-is-what-you-see interface shows only what you are actually using, and the graphic component buttons give you direct access to the most important settings from the impressive list of features. With all the XLFOs, EGs, XY controllers, envelope followers and MIDI sources you will ever need, Twin 2 offers practically unlimited modulation possibilities. Creating new modulation connections could not be easier: just drag and drop.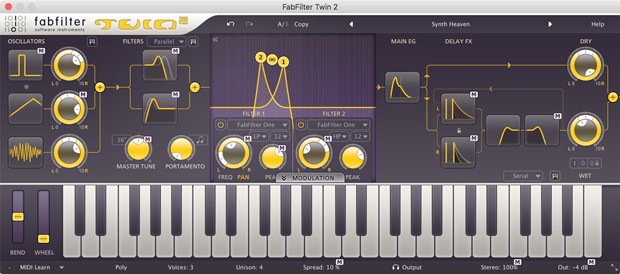 FabFilter goodies
Finally, you get all the usual FabFilter goodies: perfectly tuned knobs, MIDI Learn, Smart Parameter Interpolation for smooth parameter transitions, extensive help with interactive help hints, AltiVec and SSE optimization, and much more!
Key features
Three high-quality oscillators with PWM, hard sync, and phase sync
Four state-of-the-art multimode filters with filter panning and 11 characteristics
Extensive delay section with feedback and filter section
Over 1600 presets
Ring modulation
Revolutionary new interface, using our innovative what-you-use-is-what-you-see concept
Normal and wide interface layouts, with an option to show or hide the modulation section at the bottom
Endless modulation options, with all the 16-step XLFOs, XY controllers, envelope generators, envelope followers and MIDI sources you will ever need
Easy drag-and-drop modulation with 50-slot modulation matrix
Modulation source signal visualization
GPU-powered graphics acceleration
Side chain input
Polyphonic portamento
32-voice polyphony and unison
Highly improved MIDI Learn
Unique per-component presets
Smart Parameter Interpolation
Extensive help file with interactive help hints
Undo, redo and A/B switch features
For a Free 30-day trial Version please go to "More Infos".
Mac:
macOS 10.10 or higher
64 bit
intel or Apple Silicon processor
Windows
Windows 7-10
32 bit or 64 bit
Product activation:
An internet connection is required to authorize / activate the product.